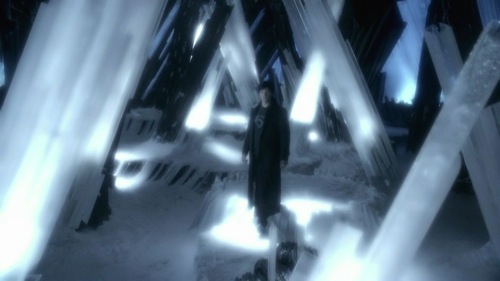 Episode: Smallville 9.01 – "Savior"
Original Air Date: September 25, 2009
Screencaps from Home Of The Nutty
The Smallville season premier represents a promising start to the new season because it is a setup for major changes for all the characters. The producer's mantra "no tights, no flights" made the show seem fresh for the first three or four years, but in the end this is a show about Superman. You can only go so long with this kind of show before you actually have to show Superman. The producers have recognized this, of course, and have forced growth and change upon Clark and the gang.
In the previous season, Clark agreed to undergo training from his father Jor-El (actually, a disembodied AI recreation of his father's personality, but that's just a really cool technicality). Lois Lane discovered his Legion of Superheroes ring and disappeared to the future (for those unfamiliar with the Legion, they are from the year 3000, so they have really cool toys). Jimmy Olsen died, but we realized he was the real Jimmy Olsen's uncle, so it's all good in regards to the Superman canon which requires Jimmy Olsen to be younger than Superman.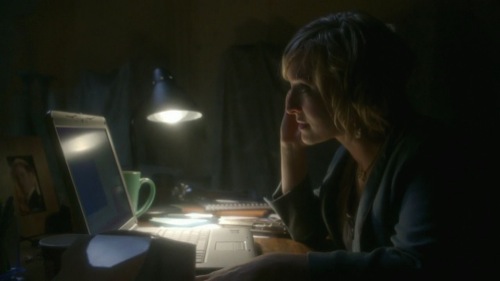 Tess Mercer (the person who took over Luthor Corp. when Lex Luthor disappeared) has been investigating ways to control Clark, who she thinks is the person foretold to enslave the entire planet. She's against the planet enslavement thing, so she has all kinds of schemes that don't make sense.
We got that out of the way, so now to the season opener:
We open with Chloe using her magic computing skills to try to track down the missing Lois Lane. Professor Hamilton shows up, offering his help in tracking down Clark. Oliver (AKA Green Arrow) has disappeared, so Professor Hamilton has taken over his empire, and he's got a sweet pad full of computer hacking equipment. He offers to team up with Chloe. He's also noticed a rip in the fabric of our universe, and the pair deduces that it was Lois coming back from the future. They also see that someone else came back with her. Who could it be?
Let's find out in the next scene, shall we? Lois suddenly appears in middle of an above ground subway (which I think means that Metropolis has a T). Another super hot woman brandishing excellent martial arts skills (Metropolis attracts a lot of those) also appears out of thin air and attacks Lois. In the ensuing battle, the subway car (T-car?) derails. But Clark shows up and saves the day. Of course, nobody sees Clark, because then he'd have to be Superman, and the series would be over.
We next see Clark in the Fortress of Solitude, undergoing training. Either that, or he got into some Kryptonian LSD, because he's got symbols and formulas floating all around his head. He also has a conversation with the disembodied voice of his father's AI program. The AI wants to know why Clark, after all this time on Earth, can't fly. Something is tying him down. Get it? Tying him down? Tying him down so he can't fly…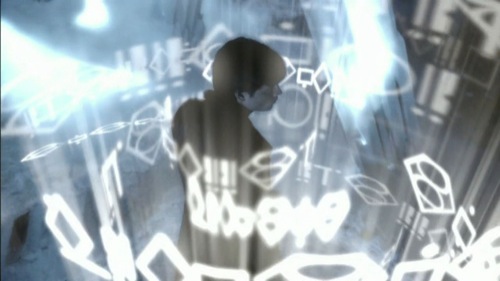 "Could it be that pushy broad Lois?" asks the AI.
"What does Lois have to do with flying?"
"Obviously, she's the reason you're distracted. You should be concentrating on becoming Superman, not worrying about getting the nookie. There's plenty of time for the nookie after you figure out how to fly. Chicks dig guys who can fly."
"So what are you saying?" asks Clark.
"You have to drop her like it's hot."
That's not the exact conversation, but that's the gist of it.
Lois, on the other hand, is recovering at the hospital. Chloe shows up to tell Lois she's been missing for weeks and maybe she should slow down a bit. Of course, this is Lois we're dealing with, so she doesn't let Chloe get a word in edgewise. She then does a version of the "hey, a pink elephant" routine, and slips away when Chloe is distracted. Fortunately, she leaves behind Clark's Legion of Super Heroes ring, which Chloe does notice and will later return to Clark.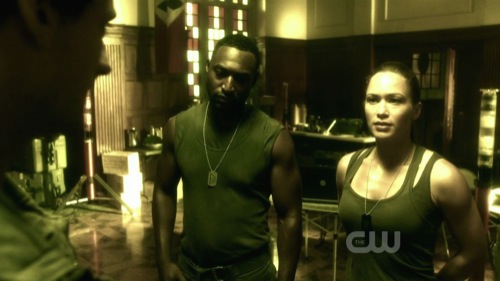 Meanwhile, strange things are going on at Lex's mansion. Tess has been captured and tortured by some sort of paramilitary organization (we know they are military because of the intergalactic symbol of military organizations: they wear dog tags and greenish black muscle shirts). It also turns out that they are from Krypton, and their leader is Zod! But it's not the General Zod we saw from previous seasons. This is a younger, sexier, more confused version.
Lois goes back to the wrecked subway car (T Car?) to figure out what happed to her. As happens so often on this show, she randomly meets a super hot guy (Brian Austin Green from the original 90210 and Sarah Conner Chronicles fame). He's a reporter but Lois assumes he's a detective. Lois also finally learns she's been missing for weeks. It doesn't faze her, though, because she's such a pushy broad — I mean, she's such a good reporter. Also, they kiss, because both actors are hot and this is a CW show.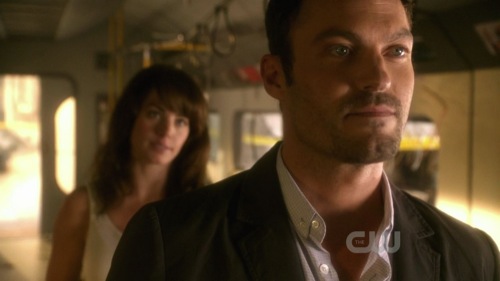 Now it's time to check in on Tess. Zod has been double crossed by his paramilitary pals. They don't understand why their superpowers aren't working on Earth. So they throw Zod in the holding cell (or it might be a guest bedroom. In Lex's mansion, these things are hard to distinguish). In the previous season, Tess had thought Zod would save the world from Clark. Now, she suspects Zod's here to destroy it (notice how I didn't specify which world?). Either way, she figures out that Zod doesn't really know what's going on, and his army mutinied on him because nobody wants to follow a clueless officer into battle.
If you've been following this show, and you are attracted to men, you might be wondering by now what happened to Oliver. I know my wife is wondering about Oliver. She wouldn't shut up about it. I mean, I understand he's got nice hair and a cute smile and abs and man-boobs or whatever, but he doesn't have any super powers. What's the big deal?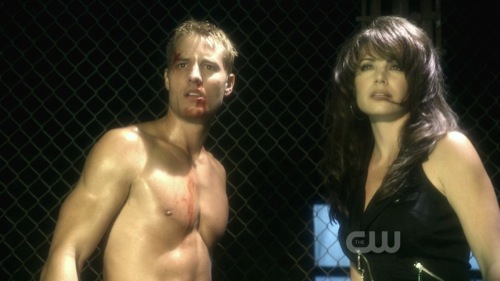 Apparently it's a big deal, so we'll have our scene with Oliver that serves no purpose except to show a bit of topless super hot man-candy: Oliver has decided to give up the Green Arrow thing and become a cage fighter. Lois shows up to explain to him that some crazy martial arts chick is chasing after her and Oliver has to save her, seeing as how he has big arm muscles. Oliver is about to tell her to stop harshing his mellow when the crazy martial arts chick appears. And this time she has Kryptonian super powers.
Not to fear. Clark appears and drags the Kryptonian back to his farm using super speed so nobody can see them. Why his farm? My guess is that it was cheaper to have them fight in his barn, which is a recurring set, than have them destroy half of Metropolis.
The martial arts super woman reveals that she is from the future, she's Kryptonian, and she has come back in time to stop him from "destroying our world." When she says "the world," it's unclear if she means Earth or Krypton or Pluto, but I'm guessing she means Kandor. More on that later.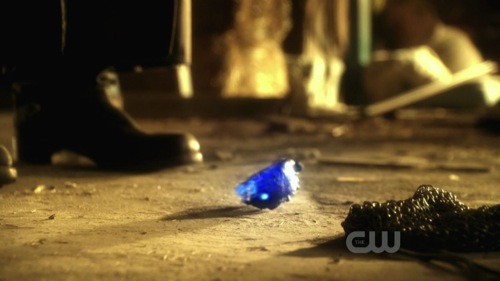 She whips out some blue kryptonite (which neutralizes the Kryptonian super powers) on the theory that if neither of them have super powers, her ninja training will allow her to give Clark the Crouching Tiger beat-down. Personally, I would have just used a gun, but apparently she hasn't seen Austin Powers, so she's going to do it old school. Plus, she probably wanted to justify all that money she spent on ninja classes.
Fortunately for Clark, his training with Jor-El included hand-to-hand combat. So, unlike previous seasons, Clark is still a Bad Mother even without his powers. He's such a Bad Mother that Ninja girl accidentally impales herself on some farm equipment. As she lies there being hot and dying, she reveals that one year from now, Clark will betray her and destroy the world (the unspecified one).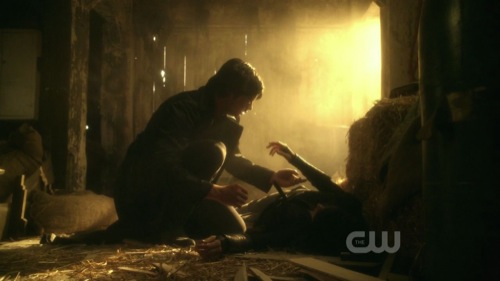 Meanwhile, back at the shirtless Man-Candy-cage-fighting place, Lois is trying to convince Oliver to go back to being Green Arrow. Nothing important happens in this scene, unless you're into super hot shirtless men.
More important goings-on can be found at Luthor mansion. Zod convinces his army to let him be their leader again. The conversation also reveals that this particular army is from Kandor (dude, I totally called it!), and the clever looks between Zod and Tess indicate that either they have a secret alliance, or that they just did the nasty when nobody was looking. It's hard to be certain.
At Clark's farm, Chloe tries to convince Clark to use the ring to go back to last season and save Jimmy Olsen's life. Clark can't do that because, as he puts it "I'm not a god!" He also lectures her on the pitfalls of deus ex machina story telling, but that's not good enough for Chloe. She was in love with the guy! So, she's pissed.*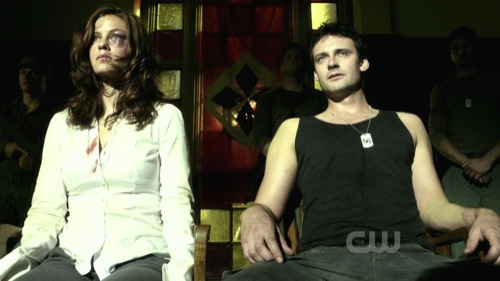 The antepenultimate scene reveals that Tess Mercer knew that Zod's army would show up and take her hostage. She had ordered her minions to stay out of sight and film what was going on. But Zod and his buddies disappeared without a trace and erased the footage her minions had secretly filmed.
We then cut to the Daily Planet. Lois and the hot reporter she pretended she didn't want to kiss introduces himself as John Corben. This name is interesting to people familiar with Superman canon, but other viewers just sit in their living rooms thinking "isn't that the hot guy from that Beverly Hills show?"
The last scene has Lois falling asleep. Her dream is a strange montage of various images, including a love scene with Zod (the new young one, not the one from last season), dead Chloe, and Oliver digging a grave.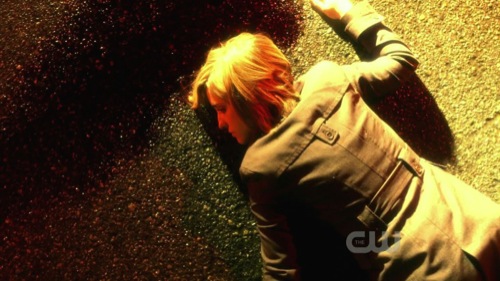 Closing Thoughts:
This is a solid season opener. It's not the most action-filled we have seen from Smallville, but neither is it the most boring. The producers have decided to jump more deeply into the mythology, which is a good thing.  They are setting up plenty of chances to entertain both casual watchers and fans that know a lot about the Superman universe. The tricky part will be making the season finale emotionally satisfying enough to warrant all the foreshadowing and innuendo it seems we'll get throughout this season. If the producers aren't careful, they'll have a True Blood second season finale situation on their hands. And nobody wants that. They better be at the top of their game.
* I made up the deus ex machina thing. I'm pretty sure Clark doesn't know what that means.