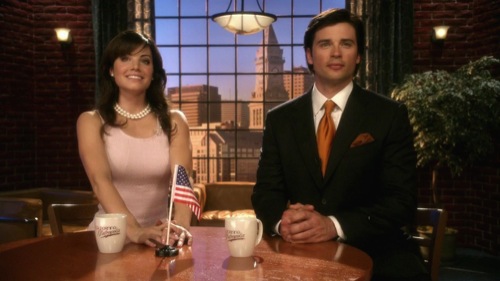 Episode: Smallville 9.06 – "Crossfire"
Original Air Date: October 31, 2009
Screencaps by Home of the Nutty.
The good news is that last episode's catastrophe seems to have been the bottom of the barrel.  This episode is an improvement.  The bad news is that Smallville had at least one more piece of junk in store for us, and this was it.
This episode opens with Lois auditioning for a morning show. Using logic you just can't argue with, she explains that, with print newspapers on the endangered species list, hosting a local morning show is a good backup. Leave it up to Lois to choose a back up job that others strive for all their lives to get.
Of course, Lois without Clark isn't very interesting. It's that whole chemistry thing. Clark originally tagged along just to help Lois during her audition. But the morning show producers see Lois and Clark interacting, and offer the job to both of them. Apparently, that whole in-love-but-can't-stand-each-other dynamic is great for ratings. For their first assignment, Lois and Clark have to find blind dates on the Internet, so they can have some of that great "I love you, no wait, no I don't" banter for their first show.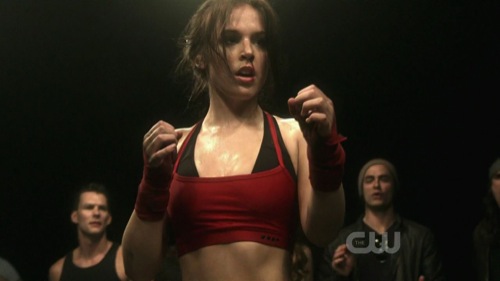 But for now, it's time to check out Smallville plot device #234: if you need to show the audience that a new character is tough as nails, show him (or in this case her) beating the snot out of someone in an illegal cage match.  Our mystery tough girl wins the match just as her pimp shows up. It turns out she walks the streets by night and beats up men twice her size… also by night.
Why can she beat up a trained cage fighter one minute, and then get slapped around by her flabby pimp the next minute? We don't get an explanation. We also don't get an explanation why Oliver wants to recruit her as his sidekick. But that's what Oliver will do the rest of this episode. He'll try to clean her up and convince her to use her fighting skills to fight for justice. Whether he wants her to stop roaming the street looking for tricks is never explained.
Meanwhile, back at the Luthor mansion, Tess is revealing that, thanks to a joint venture with a new partner, Luthor Corp will create a new building with great ideas for harnessing solar power. Major Zod shows up to explain that he's the new partner, and that he can't wait to see his dream come true. What's the dream? To harness the power of the sun. Oh, snap! Do you get it? The share holders think he means using solar power to make money for them. But we in the audience know that he really means harnessing the yellow sun so he can have super powers. It was so subtle.*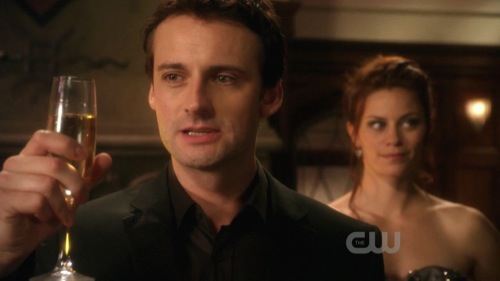 Of course, there's no explanation regarding Tess launching a major new venture without knowing the identity of her new partner. I'm starting to sense a theme here, although there is an explanation regarding what Zod wants. He wants Tess to help him find the Blur, who Zod thinks is Jor-El.
He doesn't realize the blur is actually Clark. He doesn't even know that Jor-El has a son, much less who he is.
Tess agrees to partner with Zod, but obviously she is planning on double-crossing him. Upon leaving Tess's home office, Zod confers with her bodyguard, revealing that the bodyguard is actually a Kandorian spy. Zod orders him to kill Tess. The double crosser is getting double crossed.
Over at Oliver's pad, Lois shows up to talk about her assignment to get a blind date, and how Clark is doing really well while she can't get anything. She's just getting her voice warmed up when the street fighting/street walking chick walks out of the shower wearing nothing but a towel. "We were just sparring," explains Oliver. Lois senses a little double entendre going on, and leaves in anger.
With Lois gone, the street walker/street fighter explains that she owes her pimp a lot of money, so she's not down with the whole sidekick to a millionaire thing.  Oliver is like "Dude, we're super heroes. How are we going to take on super villains if you can't even take down a flabby pimp?" She's like "Yes, that kind of proves my point."  Oliver offers to pay off the pimp, but she's a street walking street fighter. She's too cynical. She decides instead to steal his car and use that to pay off the pimp (instead of, for example, using her street fighter skills to give the pimp a limp).
Of course, the pimp sees Oliver's car and decides that, instead of letting our little sidekick off the hook, he's going to use her to steal even more money. There is no explanation for why she doesn't just bust out the cage fighting skills and get free of the pimp that way, but there is an explanation of how the pimp plans to get his money. He wants the street walking street fighting sidekick to set up Oliver.
Over at Lois's subplot, Oliver shows up for her blind date. It turns out Oliver paid off the original blind date guy so he could ask Lois to rekindle their previous affair. It's a bit uncomfortable, because Clark is listening in on a secret microphone. Lois decides to take Oliver out back where she can let him down easy, away from the Clark's prying ears (she doesn't know he's got super hearing).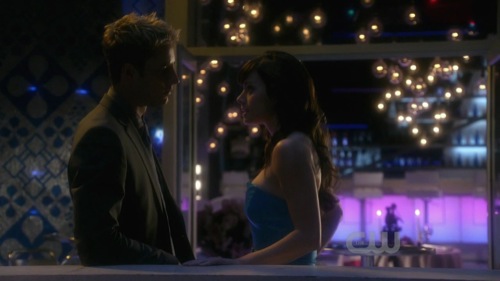 Oliver feels bad that Lois is contractually obligated to need rescuing at the end of every episode. So, when he and Lois leave the building, he sees the sidekick and walks right into the trap. He has no idea that she has betrayed him until the pimp bashes him on the back of the head.
The sidekick has a change of heart and disarms the pimp. But the guy's pimp hand is too powerful. Oliver tries to be a hero (seeing as how he's the Green Arrow), and he too gets pimp slapped. Obviously, Green Arrow's kryptonite is pimps. That leaves Lois, but she's the designated damsel in distress, so that doesn't work either.
But not to worry: just as the pimp is ready to kill everyone, Clark hears the fighting through the hidden microphone (and his super hearing). He rushes in and saves everyone at the last minute.
So that turned out okay, but did the bodyguard kill Tess? No, she's too tough for that. She killed the bodyguard, and sent his bloody dog tag to Major Zod. Oh, snap!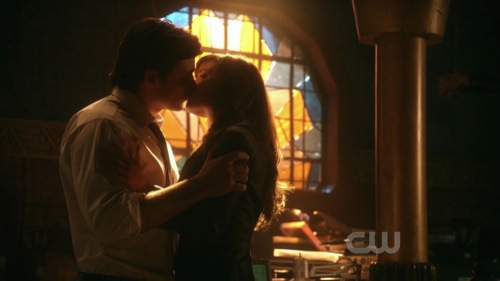 There's another loose end: Did Lois and Clark get the morning show gig? No, they went with a blonde woman instead. Just as Lois starts complaining, Clark kisses her. Why did Clark finally decide to kiss her? I don't know. There is no explanation.
* I was being sarcastic.
Rating: 2.5 / 5 Stars