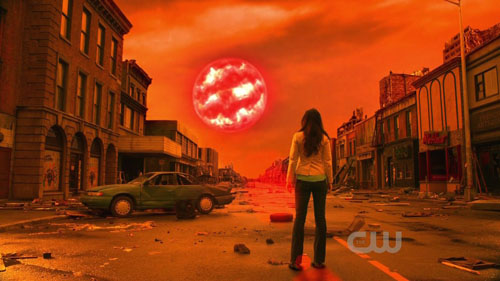 Episode: Smallville 9.09 – "Pandora"
Original Air Date: November 20, 2009
Screencaps by Home of the Nutty.
Clark arrives at Oliver's place, complaining that someone has removed Lois from the hospital (she collapsed into a coma at the end of the previous episode). Fortunately, Dr. Hamilton (who they are now calling Emile) had previously requested a copy of Lois's medical chart, and that might offer a clue.
Clark is annoyed that Oliver interfered behind his back, even if it does help their situation. But Oliver points out he is not the only person who works with Emile. It must be Chloe. But the audience is able to figure out who stole Lois. Who else would even care? Tess, of course.
Our suspicions are confirmed in the next scene, when Tess drags Lois's unconscious form into one of her secret labs. She and her best computer hacker (the one that is a mole for Chloe) strap Lois into a stolen Kryptonian machine that will allow them to see her memories. Tess is convinced Lois's coma is related to the Kandorians. Being obsessed with her self-appointed mission of saving the Earth, she couldn't resist bringing Lois in for a little experimentation.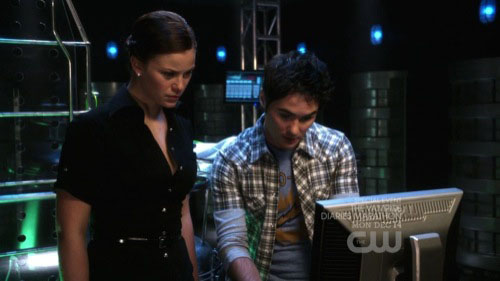 Inside Lois's coma, she is having flashbacks of her trip to the future. She appears out of nowhere in the lobby of the Daily Planet (where she had put on the Legion's ring during last season's finale and disappeared). The place looks like a nuclear bomb has gone off. And the sun is red. She wanders around the deserted streets until a Kandorian arrives.
Lois references the Red Blue Blur, but the Kandorian knows the Blur is no threat, because he's dead.
Tess decides that she has to attach herself to the memory-reading device because all they are getting on the computer screen is random flashes. She plugs in just in time to see Lois wake up in Clark's barn at the Kent farm. But it's not the farm Lois remembers. It's been turned into an internment camp.
Lois doesn't know how to do the blend-in-and-don't-cause-trouble thing, so she gets into a row with one of the Kryptonian guards (the one that will later follow her back to the present and try to assassinate Clark). The guard is about to vaporize Lois with her heat vision when Clark shows up. He trades his watch for Lois's life. Clark fills Lois in on what's been going on:
"The aliens have a leader named Zod. I tried to fight him, but I made all the wrong choices. A lot of people died." Clark is thrilled to learn that Lois has the Legion ring. He's about to formulate a plan when the Kandorians take her away. Zod wants to talk to her. Clark obviously has lost his powers in the red sun, and can't doing anything to stop them.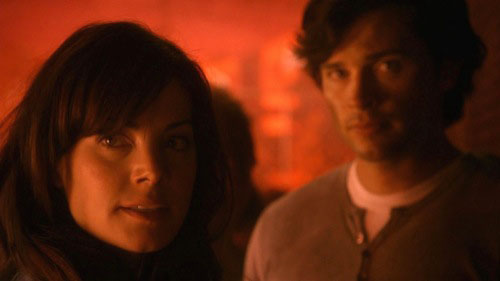 Lois is taken to the Luthor mansion where she meets Major Zod, who has now promoted himself to General (it's kind of weird that an alien invader would take over the world and set up headquarters in some rich guy's mansion. But the money the show saved by not building an oval office replica will hopefully be used on the season finale, so I'm not too bitter about it). Zod wants the names of the people who snuck Lois into the forbidden zone. In the process of telling Lois that nobody will ever take down his tower, Zod finds the ring. He keeps it as a curiosity, but he doesn't know what it is.
Tess shows up to reveal she is a traitor, working with Zod. Of course, in Tess's mind, she's not a traitor. She saved the Earth by working with Zod. She also convinces Zod that Clark will never join the Kandorians. Zod agrees, and decides it's time to execute both Lois and Clark. Tess still thinks she's not a traitor.
In fact, Zod gives Tess a dog tag, welcoming her into his army. He then pulls out his samurai sword, preparing to behead Clark. Just as he is about to slice off Clark's head, an arrow tipped with green kryptonite takes out one of the Kandorians. Then another, and another. A team of humans storms the place, using knives and arrows tipped with kryptonite. Zod flees.
Clark gets another lesson about how friends are important as Oliver reveals himself as the team leader. But it's not Oliver's "band of merry men." It's Chloe's. And she's looking cynical, impatient, and really, really pissed. She explains to Lois that, just after Lois disappeared, Zod built his tower with Tess's help. It harnesses the power of the yellow sun, and alters the radiation so the Kandorians can have super powers. The result is a red sun. Of course, the red sun also takes away Clark's powers. But Chloe leaves that part out.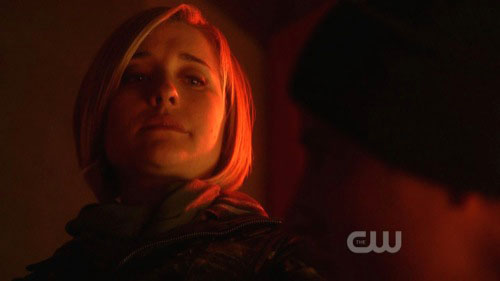 Oliver suddenly cries out in despair. Tess was shot by an arrow. He rushes to her as she dies. Despite Oliver's anguish, Chloe reveals no remorse whatsoever. "I had a shot, I had to take it," she snarls. Oh, snap!
Tess awakens into the real world, shocked at what she has seen (not so much the traitor part as the dying part), and orders her minion to erase Lois's memories, even if the process kills her. When he refuses, Tess shoots him in the back. Clark arrives just in time to knock Tess unconscious. He tries to disconnect Lois, but the kryptonite that powers the machine knocks him out. It also creates a bond so that Clark starts seeing her memories.
In her memories, Lois and Clark are planning an assault on the tower with Chloe and her gang. Clark explains to Chloe that Lois had the Legion ring, and the ring can send her back into the past. Lois lost the ring, and Clark insists they have to get it back. That way, Lois can go back to the present and warn everyone.
Chloe doesn't want to trust Clark, seeing as how he previously abandoned them and tried to fight Zod on his own. The plan instead is to get to the Watchtower, which Chloe powered down to prevent the Kandorians from finding it. Her super computers can infect the Kandorian tower and shut it down, turning the Kandorians back into mere mortals.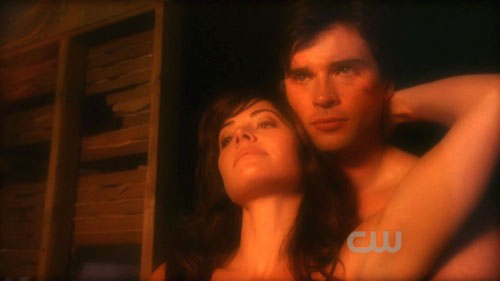 Of course, nobody mentions that Clark should also teach Lois how to use the ring to summon the Legion. That's what I would have done. Send her back, let her summon the Legion, and they can take out Zod in time for supper. But nobody asked me, so they are going to stick to Chloe's plan.
After a night of Lois and Clark passion (certain death tends to speed up the courting process), the team makes it to Watchtower. Oliver gives Lois a knife made of kryptonite sheathed in lead (which is still being referred to as meteor rock). The team activates Watchtower and makes a run for it. Chloe falls behind, and the assassin woman that almost killed Lois in the first act slices her down. Lois rushes to Chloe's aid, but Chloe dies in Lois's arms. Oliver shows up with kryptonite arrows, and the assassin flees.
Oliver convinces Lois to keep going. She makes a run for it while Oliver braces himself for the Kandorians. There are thousands of them flying towards him. Impossible odds, but that's Oliver's style: confronting death as the Green Arrow, taking down as many enemies as he can.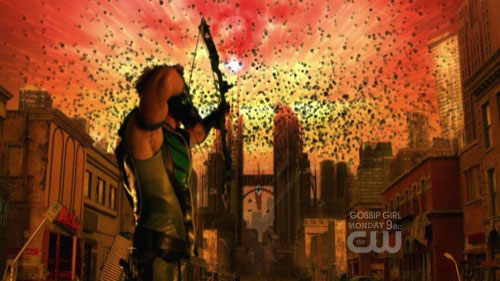 Meanwhile, Zod is dragging Clark around, toying with him. Lois slips Clark her kryptonite knife. But Zod prevents him from unsheathing it, and tosses Clark across the street like a frisbee. It looks like that's the end for our heroes (the ones who haven't already met their end), but suddenly there's an explosive crack of thunder. The sky is changing. The Watchtower has successfully deactivated the Kandorian tower. The sun is yellow, the sky is blue, and, more importantly, Clark is ready to fight. He removes the Legion ring from Zod's pocket and prepares to administer a well deserved super spanking.
But now the tables have been turned. The radiation that was powering the Kandorians might be gone, leaving Zod as weak as a human. But it also means Zod is immune to kryptonite.
But not Clark. Zod stabs him with the kryptonite knife. Lois rushes to Clark. With his dying breath, Clark shoves the ring onto her finger. The female assassin shows up just as the ring begins to take effect. For reasons I hope will be explained next episode, she still has super powers under the yellow sun, and she super speeds towards Lois. We now know how the assassin got back to the present day in the season opener. They both disappear to the present.
Clark suddenly awakens into the real world, his connection to Lois severed. Dr. Hamilton explains that he has been monitoring Clark and Lois's brain waves. He found a way to neutralize the memories Lois had while under the influence of the machine.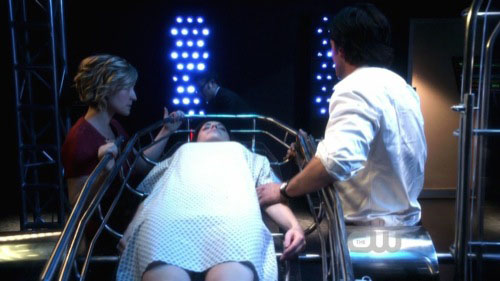 To summarize: Tess knows part of Lois's story, and Clark knows the other half. But Lois doesn't remember anything.
A few days later, Clark is hanging out at the Watchtower. He seems to have learned a lesson. He realizes that he went about things totally backwards. He tried to fight Zod, and to do it alone, but all that did was turn Zod into a more powerful enemy. Clark remembers that his father Jor-El, just before dying, told Clark to "save Zod." Perhaps he meant to save Zod from himself.
In our final scene, Zod has his army lined up, telling them how important it is they get their new tower to function. He is about to go over the plan when Clark shows up, complete with his black overcoat and black shirt with the House of El shield painted on the chest.
"I understand you've been looking for me." He states, coat billowing in the breeze his super speed has created. He looks ready to administer them a good old-fashioned beat down.
"My brother and sister Kandorians," states Zod, "he has come. Kneel before Kal-El." The entire army kneels, saluting Clark with that creepy pseudo Roman salute of theirs. The music is sinister, the soldiers are creepy, and Zod's expression is impossible to read. Clark and Zod stare each other down. Something big is about to happen. Something important. But today we won't find out what it is. The hour is up.
Rating: 4 / 5 Stars