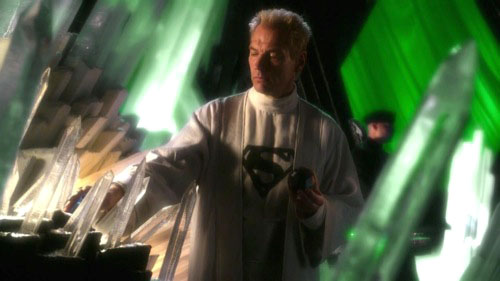 Episode: Smallville 9.07 – "Kandor"
Original Air Date: November 6, 2009
Screencaps by Home of the Nutty.
Oh, yeah, baby! The moment we've all been waiting for. Can you feel that? Can you feel it? A good episode of Smallville. Yeah, baby! Can you feel it?
I have to admit, I am a bit biased because I am totally into the Krypton back story. So, any episode that deals with Clark's Kryptonian ancestry probably gets an extra free star without me even realizing it. But on top of that, this episode got back to the whole decent story telling thing. You know, plot holes to a minimum… characters doing things in character. It's good stuff.
So let's get started: Our first scene takes place on Krypton, 40 miles from the Kandorian border. It's 20 years before the destruction of Krypton. Major Zod and his soldiers are defending Kandor from the forces of Black Zero, while some scientist type keeps getting in their way. Jor-El shows up to tell the scientist to stop. Jor-El explains to Zod that he is stopping the "experiment" because it's an abomination and he means to atone for his mistakes. Just as he gets to the meat of his speech, a mushroom cloud goes off. Zod and Jor-El duck for cover just as the shockwave blasts past them. They are the only survivors. Kandor has been destroyed.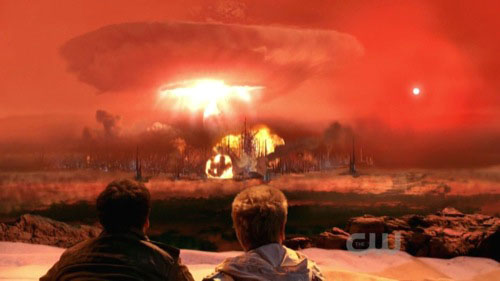 We cut to Zod, now back on present day Earth. He is explaining to his soldiers that this is the reason they can't remember anything after the day Kandor was destroyed. These soldiers are clones who were created as part of the experiment Jor-El had been trying to stop. And Zod blames Jor-El for the fact that, when they were brought back to life, they didn't have their Kryptonian powers. Then the opening credits roll.
What did I tell you? THAT is how you tell a story. You open with a bang, and you keep on hitting. Ready for more? Let's get to it:
Chloe is in the "Watch Tower," doing her magic hacking thing when Clark shows up. He admits to kissing Lois, which Chloe declares explains why she left town. There's even a nice little nod to the Superman legacy as Chloe says, with a straight face "you've had a thing for Lois since, like, the 1930s." Kapow! Nice one.
But Chloe has more important things to worry about. Chloe called Clark because her mole in Luther Corp discovered that Tess is looking for the missing Kandorians. Furthermore, she has discovered the satellite image of another giant Kryptonian object buried in some desert location. Oliver shows up so he can give Clark a ride in his private jet.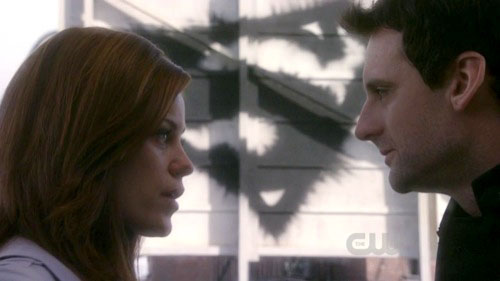 Meanwhile, Tess has a little meeting with Zod. He acknowledges that, seeing as how Tess killed his assassin in the last episode, she's tougher than he thought. But he still wants to find Jor-El, and she better help out!
Clark and Oliver, having wandered the desert for a while, find the Kryptonian object they were looking for. It's a spaceship. But that's not all. There's a dog tag with the House of El insignia (the Superman S). Clark realized his father, Jor-El is on Earth.
But where is Jor-El? He's back at the Kent farm. Chloe is there, waiting for him. He identifies himself, and Chloe gets all excited with "you're Clark's father!"
"You are mistaken," replies Jor-El, "I have no son." Obviously, Jor-El is a clone too. Chloe explains the whole back story about Jor-El having a son, and sending him to Earth just before Krypton was destroyed.
Jor-El explains he has been to Earth before, and he has fond memories of the Kent farm. That's why the real Jor-El sent Clark to Smallville as opposed to, say… Burma (of course, those of us who were watching about four seasons ago already knew that).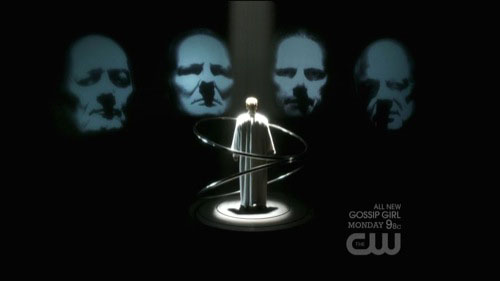 Jor-El explains what happened, as we fade into a scene straight out of the 1980 Superman movie (or was it Superman II?). Jor-El is stuck in those weird rings, talking to those giant disembodied heads. It turns out that he had been ordered to create cloning technology. The idea was to develop the ability to clone Krypton's best and brightest, and stick them inside a snow globe (which is referred to as the Orb). If Krypton were ever destroyed (for example, by Black Zero), the orb could be preserved, along with certain objects containing data and technology, and thus the essence of Krypton would live on.
In the experimental phase of the project, the leaders of Krypton decided to clone a bunch of soldiers while they were in the middle of a battle, which is weird. But it's more dramatic that way, so I'll leave it at that.
But Jor-El saw the folly of basically resurrecting the dead, instead of using the technology for things like curing disease (apparently the house of El has a thing about bringing back the dead). So, Jor-El put a stop to the experiment. The council of giant disembodied heads has decided to execute Jor-El for his disobedience. Zod shows up at the last minute to talk them out of it. His argument is so persuasive, they decide to have Jor-El clone himself and Zod, too (this explains why they could remember more than the soldiers. You see, they were cloned, like, years later).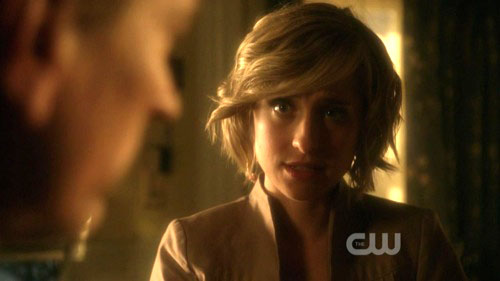 Chloe interrupts the story:
"Dude, that's pretty cool, but your friend is a dick. Zod later became a general and blew up the whole planet."
"Oh," replies Jor-El, "that's because he asked me to bring back his dead son who died when Kandor got nuked. I refused, because I have this thing about resurrecting the dead."
"Couldn't you bend the rules just a little?"
"Didn't you see the first Superman movie from 1980? Only Lois gets to be resurrected. That's it, man. Only Lois."
"Oh, right. I forgot."
Okay, maybe I got a bit too snarky, I admit it. This was actually some powerful stuff. But let's check in on Clark. He's having trouble with the fact that his dad is on Earth, but hasn't come by to say hello (he doesn't realized this Jor-El is a clone that was made when his father was a newlywed). He speculates that he doesn't want to ever see Jor-El. Fortunately for Clark, Oliver has had to deal with a fatherless childhood, so he knows how to set Clark straight.
Back at the Kent farm, Tess has sent her goons after Jor-El. He uses the Vulcan nerve pinch* to render Chloe unconscious and hide her, but he is unable to save himself.
The goons stuff Jor-El in Tess's wine cellar. With Jor-El tied up, it is safe for Tess to explain that she opened the Kandorian orb thinking the Kandorians would save the Earth (more proof that she's a bit — a lot — off her rocker). Jor-El explains to Tess how messed up in the head she is. But she doesn't miss a beat. She informs Jor-El that Zod thinks Clark is Jor-El. Zod thinks that Jor-El has Kryptonian powers, but has stolen them from the rest of the Kandorians. The only way to save Clark is for Jor-El to pose as "the Blur" and allow himself to be killed. Then, Zod will think he's gotten revenge and the powers.
Clark shows up at the Kent farm to find that Chloe is unconscious. Upon waking, she explains that Jor-El was with her, but she thinks he knocked her out to protect her. After reviewing some security footage (Clark is annoyed that Chloe has secretly wired his farm with security cameras, but he gets over it because he wants to find his father), they realize that Jor-El is with Tess.
Clark rushes to the Luther mansion. In his anger, he picks up Tess by the neck with one hand and nearly strangles her. But he gets control over himself. Still, the damage is done. She now knows his true Kryptonian identity. She is happy to finally get verification that Clark is, as she sees it, the savior of Earth. After a bit of prodding, she tells Clark that Zod took Jor-El.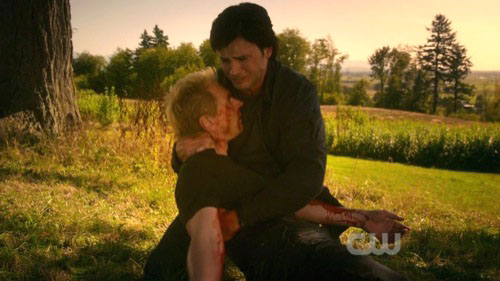 Clark rushes to save Jor-El, who Zod is interrogating. Zod sees through Jor-El's ruse, and realizes that Jor-El has a son. Furthermore, it's Jor-El's son who is running around as "the Blur," saving the citizens of Metropolis. In a fit of rage, he beats the living daylights out of Jor-El.
Clark finally gets Tess to reveal where Jor-El is. He rushes to save his father, but he's too late. Jor-El is stumbling about, barely hanging on to life. Clark arrives just in time to catch his father as he stumbles to the ground. The camera pans out to reveal they are under the same tree where Jonathan Kent (Clark's adopted father) died. Clark cries out to his father "Don't go! I can save you!" Jor-El, barely hanging on to life, puts his hand to his son's face. "Save.." he whispers, barely able to get it out, "save… Zod."
* actually, it looked like he did something to her carotid artery, but "Vulcan nerve pinch" sounds better than "Kryptonian carotid artery pressure point maneuver."
Rating: 4 / 5 Stars