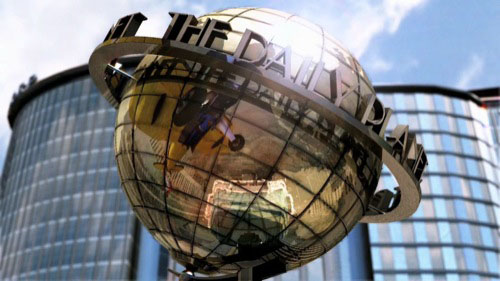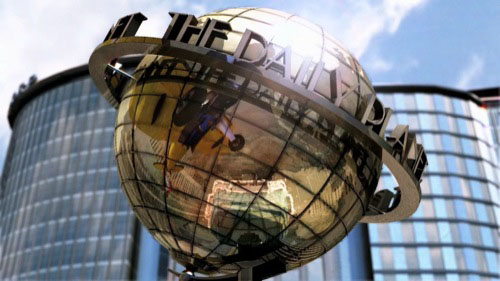 Episode: Smallville 9.22 – "Salvation"
Original Air Date: May 14, 2010
Screencaps by Home of the Nutty.
This is a fitting finale because it personifies the duality of Smallville: sometimes this season makes your über-geek feel all warm and shiny, and sometimes it sucks rotten duck eggs. This episode is a microcosm of that duality. It hits the highs and the lows of the show as we've come to expect during Season Nine. The real trick, however, is that they do it all in one episode.
Ever since Michael Rosenbaum left the show, the producers have had difficulty maintaining focus. This is partially due to the fact that the show was originally conceived around the evolution of both Lex Luthor and Clark in relation to one another. Also, Rosenbaum's portrayal of Lex Luthor pretty much stole the show, so his absence leaves a hole that the show is still having trouble dealing with. Nevertheless, the producers have done an excellent job of recasting the central focus of the show into Clark's evolution from small town kid to iconic hero. As a result, Season 9 has been a good season all things considered. The same is true with this episode. Overall, it's an excellent conclusion to the season, and an interesting setup for next season, but it's got a good share of lame moments, just to remind us that it's Smallville.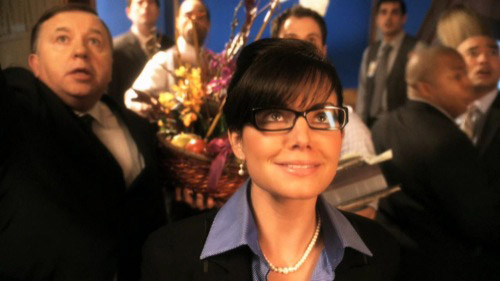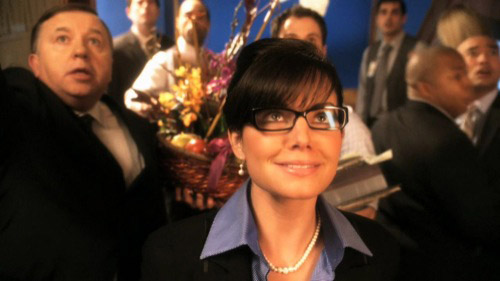 We start off with a peek into the future. It's 2013 and the Daily Planet is in full busybody mode, with Lois Lane the busiest of the bodies. She's ordering people around, she's thinking and talking and generally acting like the Lois Lane we expect to see in a few years, once she has been fully established. A whoosh of air and spinning chair tell us that Clark has rushed into action, but there is also a pair of glasses sitting on the desk to make sure we didn't miss the point. Lois smiles and rushes with the rest of the staff to the window, presumably to watch Clark — perhaps Superman — save the day.
This is a great scene. If the producers are giving us a taste of what the show might be after the flights and tights make an appearance (that is, after it's changed from a story about Clark to a story about Superman) then they've shown us that it just… might… work.
But that's all we get: a taste. Clark wakes up. It was all a dream. But there's one more treat to help us get our geek on before the opening credits. Clark sees a note that his mother left for him: "In case you decide to stay." Clark opens the attached package just as we cut to an extreme close-up of his eyeball, and see the Red and Gold superman insignia reflected on Clark's eyes. They even piped in some music from the Superman movies to make it extra special for us comic book nerds. We may not have seen the iconic tights, but at least we know Clark's finally got a pair.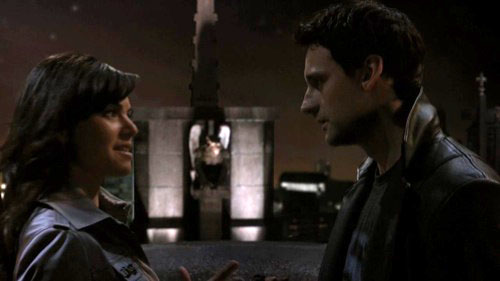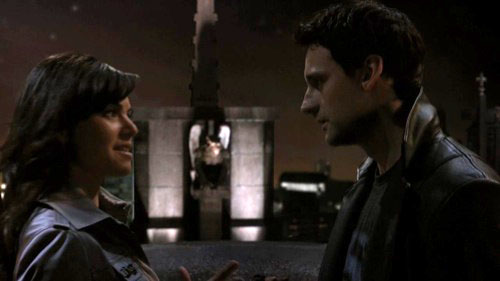 Now it's time to settle in for the boring part. Lois rushes to the Daily Planet roof to finally find out who the Blur is, and is visibly creeped out to find out it's Zod. Yep, he's up to his old tricks, and wants to trick Lois into finding the Book of Rao for him. He also convinces her that Clark is a lying bad guy.
Meanwhile, at Watchtower, Chloe, Oliver, and Clark are trying to figure out how to deal with the Kandorians, who are about three seconds from going on the warpath. If Clark uses the Book of Rao, it will transport the Kandorians to a different plane of existance, but Clark will also be transported with them. Chloe tries to convince Clark to use the Book, instead of staying and fighting, which is totally out of character for Chloe, but you have to try to build tension somehow (even if you fail miserably).
Clark decides to go to the Fortress of Solitude and see if he can get the Jor-El AI to start talking to him again. Before he gets there, Zod has destroyed the console beyond repair. He also used his heat vision to barbeque Tess. It seems Tess had been tracking Zod, and finally decided not to be evil any more. She attacks Zod with a pair of brass knuckles made from kryptonite (technically that makes them kryptonite knuckles, I guess, since there actually is no brass involved), but Zod got far enough away from the radiation to be able to fry Tess with his heat vision from a distance.
So Clark sees that the control console for his Fortress of Solitude has been destroyed (so he can't use the Book of Rao even if he wanted to), and Tess is almost dead. He rushes her to the hospital where she confesses there is another way to use the Book of Rao. When Tess was in league with Zod (back in her evil days) she built a console for the tower he was going to use to turn the sun red. When Clark destroyed the tower, Tess rebuilt the Kryptonian console, and secretly installed it atop Watchtower.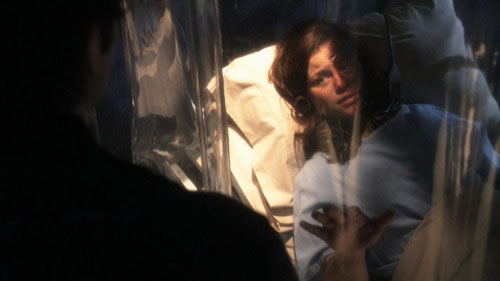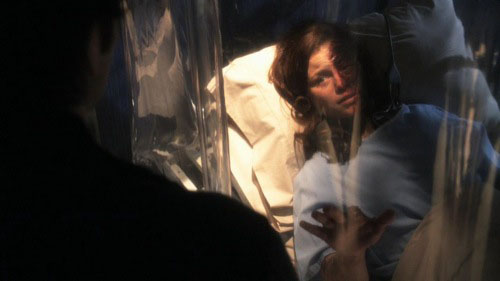 Meanwhile, the Kandorians launch their war, destroying various icons of human civilization (the Great Pyramids, for example). Chloe springs into action, convening a conference call which serves as a great way to (1) get all the other heroes who have appeared in this series to appear on the finale without requiring the actors to actually come to the studio and (2) provide some great product placement for various computing devices.
Clark declares he will use the Book of Rao even though it means exiling him from Earth. Clark had thought his destiny was on Earth, but the rest of the team needs to fulfill that destiny in his absence. It's Clark's great moment to show leadership, and this scene could make you all giddy about Clark finally getting his super leadership skills to go along with his super powers. Instead it falls a little flat (it's hard to be inspirational when you're giving a speech to a bunch of computer screens instead of real people), but it's not a total loss. Any time you get Hawkman and Green Arrow in the same room (or at least on the same conference call), you're gonna get some great quips. Like when Green Arrow suggests they lay low instead of going on the offensive:
Hawkman: I've been around long enough to know the best way to win a war is to strike first.
Green Arrow: No, that's the best way to win a bowling tournament, Tweety.
Hawkman: As expected, Mr. Greenjeans has finally turned yellow.
Badda bing, badda boom! Hawkman wants to attack an army of supermen. Gotta love that guy.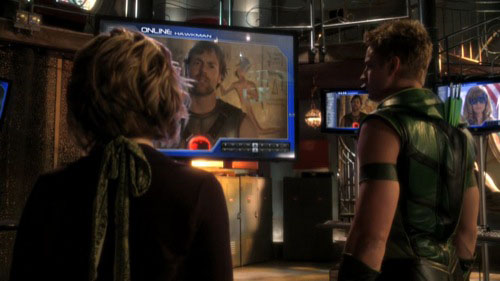 Lois, meanwhile, has returned to the Daily Planet to do some research, and is starting to conclude that maybe Zod is the Blur, and maybe Clark's big secret is that he is some kind of evil guy who is hoarding the Book of Rao for nefarious purposes. Over at the hospital, Tess is barely clinging to life. There is some mysterious person knitting in the hallway outside of her room. We presume she's an old lady, since she's knitting and she's dressed in old lady clothes. But we don't know for sure because her face is covered. In fact, everything except her hands are covered, so it could be anyone.
Green Arrow tries to convince Clark to tell Lois his secret before he gets transported to this alternate planet (seeing as how everyone else knows his secret anyway), but Clark decides it's best to keep insulting the audience. That doesn't mean he can't say goodbye. That leaves Green Arrow and Chloe alone in Watchtower, trying to figure out what to do next, and it's a good thing, because the Kandorians have taken out Watchtower's communication satellites. That means the rest of the Justice League is out of touch, there is no way to contact Clark when he's needed, and Watchtower is easy prey if the Kandorians decide to take it out.
Oliver reveals that he has a secret weapon. He had been working on a super secret satellite to give to Chloe as a present. It's not activated yet, but if he can get to the base tower, he'll be able to get it on line and get Watchtower working again. Chloe gives him some old fashioned walkie-talkies, and tells him to keep a low profile. Oliver responds that, being Green Arrow, he's covered in skin tight green leather, but he'll do his best.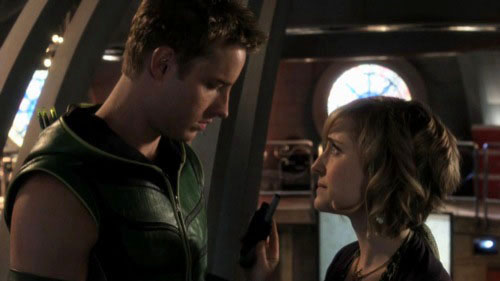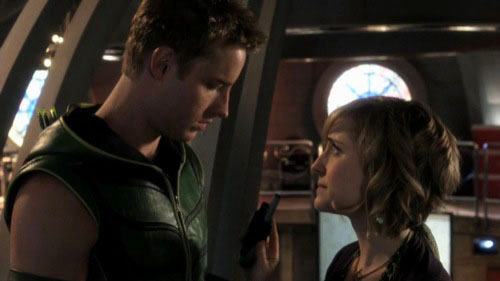 I mentioned in the beginning of this review that this episode represents both the highs and lows of Smallville. We've finished the lows. Now it's time for this episode to start getting good. Lois has rushed to the Kent farm to continue her investigation, and discovered Clark's journal, complete with Kryptonian writing and a diagram of the Book of Rao. Clark arrives just in time to continue to lie to her, and make cryptic statements about going away and hoping she'll be okay. That's enough for Lois to reluctantly conclude that Clark's secret is a bad thing.
Elsewhere, Tess dies, and the mysterious old lady sneaks into her hospital room. Green Arrow has made it to the building that will power up his new satellite, and manages to get it going. This allows Chloe to use the building's motion sensors to see that Green Arrow is surrounded. He's climbing around in the air ducts, trying to get away from the bad guys, but it's no use. Kandorians tend to be rather fast. But just as Chloe watches the computer icons descend upon Green Arrow's position, he gets out a final message: "Chloe, they're not Kandorian!"
Clark is finally ready to use the Book of Rao, but when he gets to the rooftop where Tess's secret second console is located, the Book of Rao is missing. Turns out that, in addition to being a bossy chattermouth (but in a cute way), Lois is also a talented pickpocket. Clark speeds away to find her. She is meeting up with Zod, thinking he's the good guy. But as she talks to Zod, she starts to doubt that someone so creepy could be the Blur she's come to love and admire. Zod loses his temper and tosses her across the street like a used snot rag.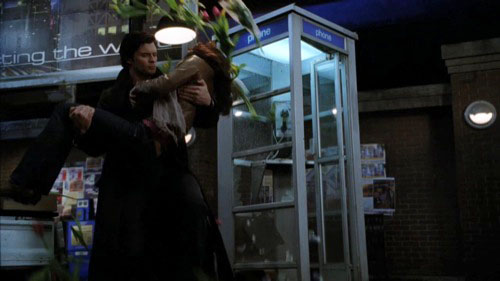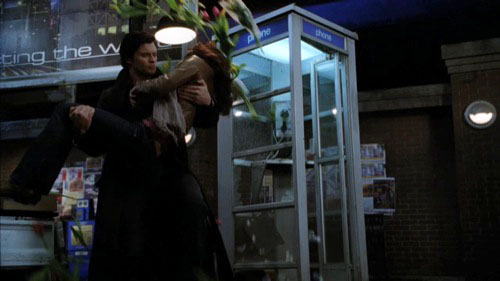 She's certain to die when she smashes into the phone booth at the end of the block, but Clark rushes in to save the day. He punches Zod hard enough to send him flying into the horizon (finally, some indication he will be Superman after all), and speeds over to the phone booth, catching Lois at the last minute. As she regains consciousness, he conceals himself in the shadows, and Lois gives him the Book of Rao. Clark leaves to save the day, but not before planting a romantic kiss. Lois realizes the Clark is the Blur (finally!!!).
When Clark gets back to the rooftop, Zod — along with his army — his waiting for him. In another display of Superman potential, Clark tricks Zod into revealing that he's a power hungry tyrant who murdered the mother of his own unborn child. The army finally realizes that perhaps Zod is totally nuts, and decides to let Clark lead them to the new world. Clark activates the Book, and the Kandorians start to ascend to their new plane of existence. Zod, however, has other plans. He pulls out a knife made from blue kryptonite. You'll recall that blue kryptonite neutralizes Kryptonian super powers. It also apparently neutralizes the the effects of the Book of Rao.
Clark realizes it was Zod's plan the whole time. He admitted to being evil so that Clark would activate the Book of Rao, be transported to his new home, take the other Kandorians with him, and leave Zod behind to rule the Earth as he pleases (which no doubt will involve a lot of kneeling before Zod). But he acted too soon. Clark is close enough to the blue kryptonite that he also is immune to the Book of Rao. Zod attacks in a fit of rage, figuring that, without super powers, his military training makes him more than a match for Clark. But he didn't see the season opener, apparently, where Clark revealed that Jor-El's training included hand to hand combat. Clark is now a tough guy even without his powers.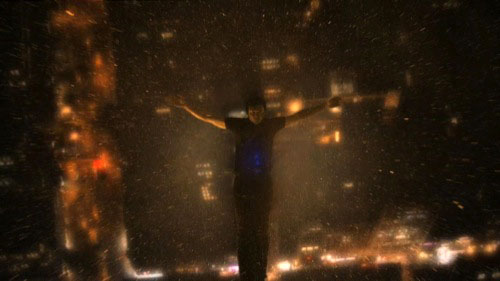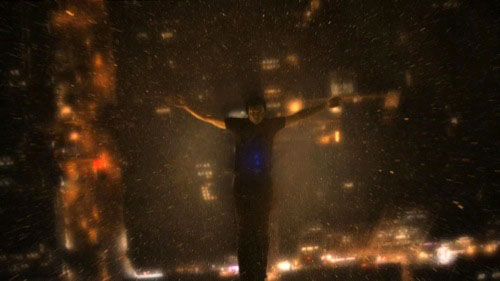 Nevertheless, Zod's got crazy person strength on his side. He's almost ready to push Clark over the edge of the building, which will take Clark away from the radiation of the blue kryptonite, which will remove the immunity from the Book of Rao, which will cause him to ascend while Zod stays behind. Instead, Clark allows Zod to stab him, lodging the knife in his stomach. He then falls off the side of the building, taking the knife with him. Because of the blue kryptonite, Clark will not be able to survive the fall. On the other hand, he has removed the blue kryptonite from Zod's presence, which causes him to ascend. Zod screams in rage as Clark watches him ascend. Clark's body even disappears into shadow as it plummets to the Earth, forming a cross as he falls (a little gift for viewers who are totally into symbols of redemption and sacrifice and all that stuff). Thankfully, the Kandorian story arc, which started with so much promise but got really annoying in the end, is over.
So we have to wait all summer to see the identity of that mysterious person waiting for Tess to die, to find out who all those people chasing after Green Arrow were, and, most importantly, how Clark is going to survive his fall. There's also the question of whether he'll put on the tights next season or learn to fly (or both). That's the season finale. Time to hit the convention circuit!
Rating: 3.5 / 5 Stars