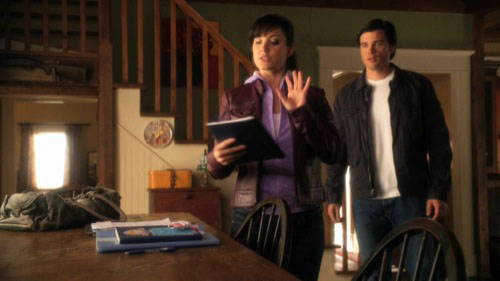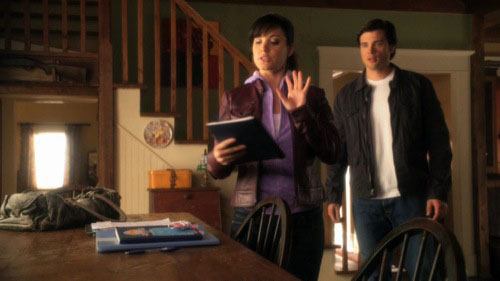 Episode: Smallville 9.21 – "Hostage"
Original Air Date: May 7, 2010
Screencaps by Home of the Nutty.
With only two episodes left before the season finale, Smallville has a lot of loose ends to tie up. But they decided not to do it in this installment. Let's get right to it:
Clark is tearing his house apart, looking for the Book of Rao. Chloe is trying to help via cell phone, but with Watchtower destroyed in the last episode, and only partially rebuilt, she's not much help. But more on that later. First, Clark has to stumble across Lois wandering around his house. She came to let Clark know she found a big story. Now that they have been fired from the Daily Planet, she found a way for them to stay afloat: freelancing. Clark is a bit distracted by the need to save the world from super-powered homicidal maniacs, so he doesn't catch on to all her talk about needing "a higher purpose." They decide they need to take a break in their relationship.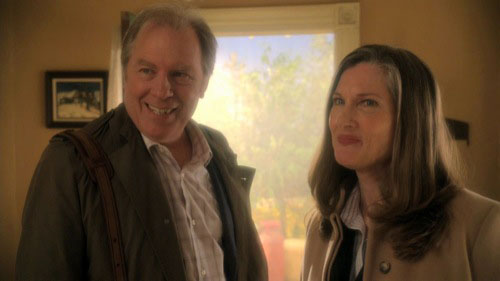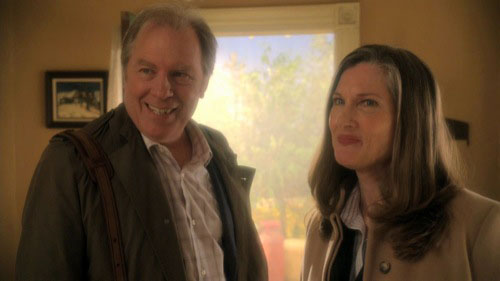 To add to the complications, Clark's mother shows up out of the blue. It turns out the Senate is in recess, so she has decided to visit the farm. And she brought Perry White with her. It looks like she has a new lover. Perry White made an appearance a few seasons ago as a formerly great but now burned-out reporter following a story about aliens with super powers. Clark successfully got him off the trail, but also convinced him to clean up his act, including giving up drinking.
The result is that his mother is getting some action from the future Chief.
Clark and Mrs. Kent wax poetic about the good old days and admit they both miss Clark's father. Clark talks about his troubles with the Kandorians, and his mother replies that it's good he has someone special in his life. Of course Clark doesn't have the heart to tell her that he and Lois are "on a break." Meanwhile, Lois and Perry are hitting it off famously, bragging about the stories they are pursuing. It turns out they are following the same story (the Kandorians looking for the Book of Rao story). Since Lois doesn't have Clark (them being on a break and all), Perry and Lois decide to team up and track down their collective clues.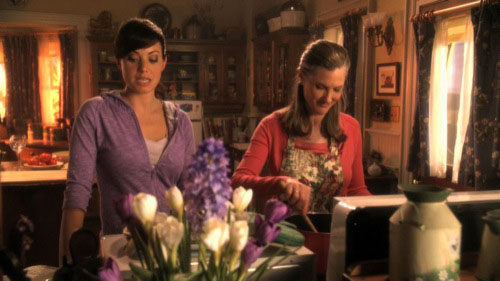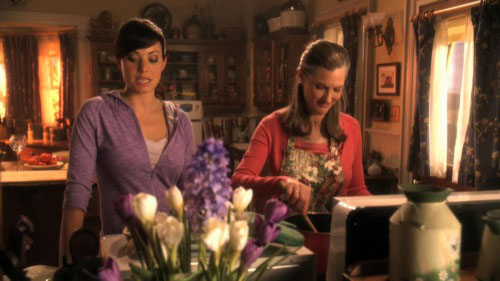 But before they can spring into action, it's time for a nice dinner at the Kent farm. Now that Mrs. Kent is ready to move on after her husband's death, she wants to enjoy the farm, and spend time with Clark. She and Lois have a little conversation about finding your true purpose in which we learn that Mrs. Kent was a lawyer before she fell in love with John Kent and became a farmer. Lois is supposed to learn from this story that sometimes your purpose in life is right in front of you, so you don't have to give up everything and go looking for it. But it goes right over Lois's head.
Meanwhile, Chloe has been tracking down the Book of Rao, and dug up information on the Red Queen. She's pretty sure that the Red Queen is not part of the Checkmate organization (so I can withdraw my statement from the previous review about there being too many cooks in the kitchen). Instead, the Red Queen is freelancing, and also looking for the Book of Rao. Clark wants to act on this information, but he's promised his mother he would stick around for dinner. While he's waiting for dinner, Perry White reveals to Clark that he wants to ask Mrs. Kent to marry him. Clark doesn't have much of a problem with this, but Clark's pretty sure that Mrs. Kent will turn him down.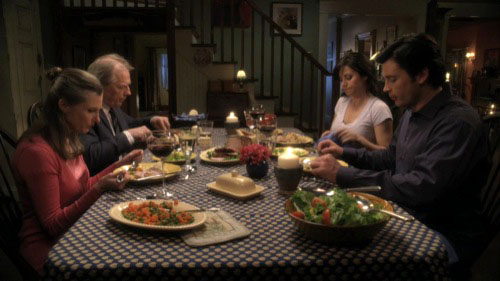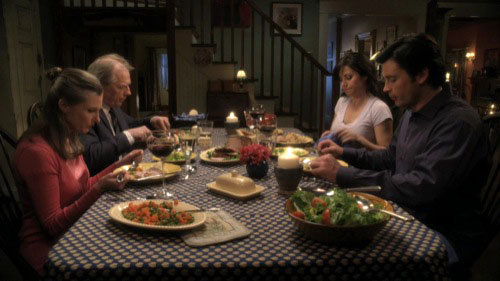 So now it's finally time for this great home cooked meal, and it's really awkward. For example, I noticed that Lois is left handed in this scene. I don't know if the director did this on purpose, but they put Lois on the right, which means that her left hand is going to bump into Clark's right hand when they are trying to cut their food. Is this the director purposely trying to make things look even more awkward? If so, brilliant move. If not, then how could Mrs. Kent would be so inconsiderate towards left handers?
Anyway, the dinner goes badly, and Lois can't hold it in any more, so she declares that she and Clark are finished as a couple (because she needs to do something that has meaning and Clark just doesn't get it). She storms away, with Perry following close behind (because "a story has just come up"). He drops his research papers by accident, revealing to Mrs. Kent the Kryptonian symbols, but she doesn't say anything.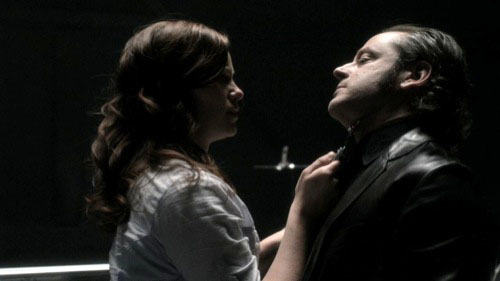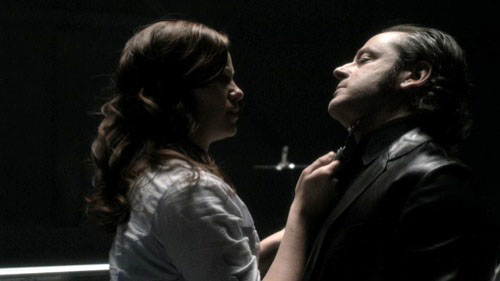 Meanwhile, in other news, Tess is has been kidnapped, and she and Oliver are being tortured by Maxwell Lord. But Oliver declares his love to Tess, which tips her off that it's all a trick. It turns out this was all a dream engineered by Lord and his mind control powers in order to find out where Tess has hidden the Book of Rao. Tess snaps out of it, to find the real Maxwell Lord standing over her, using his mind meld thingy. She jumps off the table, gives him the beat down, and flees. Lord gets a call from the Red Queen, and is forced to admit that he let Tess get away, and that he was unable to figure out where she was hiding the Book of Rao.
Back at the Kent farm, Clark's mother is consoling Clark about Lois, pointing out to him that, considering the fact that she is his true love (and considering the fact that all the other recurring characters on the show know his secret), perhaps he should trust his secret identity with with Lois.
Lois and Perry arrive at her apartment to learn that her apartment has been robbed. But the thieves didn't find what they were looking for. Not to worry, though. Lois grabs a cell phone and calls a Mexican restaurant. For some inadequately explained reason, she knows this Mexican restaurant is actually a "direct line to the Red Queen." But instead of explaining how she knows that, or if she knows that why she didn't call before, she badgers the guy on the other end until he arranges a meeting.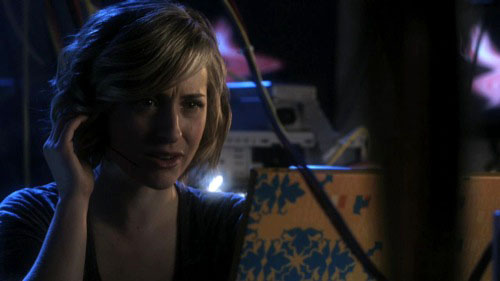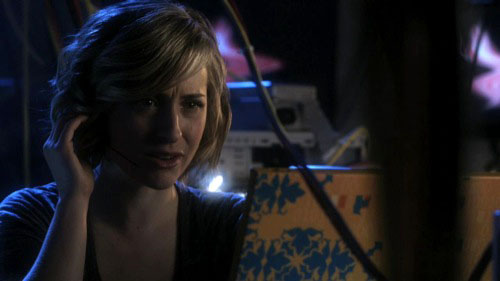 Elsewhere, Chloe calls Clark and explains that she is seeing a lot of "chatter" about a "meeting" and the "guests of honor" are Perry and Lois.
"Wow," states Clark, "it's amazing how much exposition we have dumped on the audience in the last minute. I'm amazed they haven't changed the channel."
"Well," replies Chloe, "we only have one more episode before the season finale, so we've got to do something."
"You're right," replies Clark, "I'll just ignore how emotionally unsatisfying it is for the audience when the writers create a dead end and the only way they can get out of it his have the characters suddenly spouting off all the answers with no explanation for why they would know all this stuff."
"You mean like how Lois would know that the Mexican restaurant is a secret line to the Red Queen?" asks Chloe.
"Yes," replies Clark, "or how you would suddenly find out that Lois and Perry are going to be in danger and call me and tell me about it so I can rescue them at the last minute."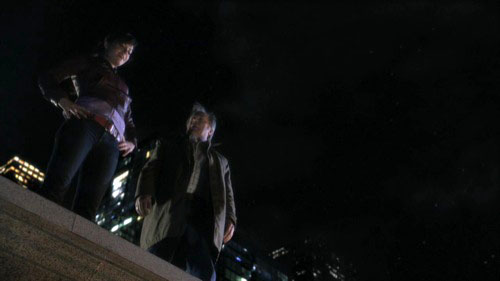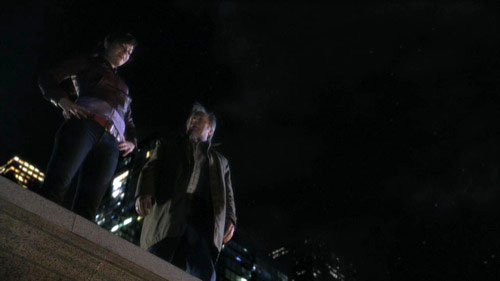 Clark shrugs his shoulders and rushes to where Lois and Perry are meeting up with the Red Queen. They spot the Red Queen on a rooftop, and try to climb up after her (because going inside and taking the elevator is for wimps). In the process, Perry nearly falls off the roof. Clark shows up in time to rescue him, but he hangs back and lets Lois do the rescuing. She seems to have found her higher purpose — which is to rescue people — and looks all proud and heroic. Clark, standing out of the way, hidden in the shadows, looks proud.
A few blocks away, the Red Queen is getting into her getaway car (the limo with the strange lighting). Clark stops the car, rips the door off the hinges, and demands the Book of Rao. Her identity is still hidden in the limo's bizarre lighting scheme. But the Red Queen's got some tricks. She uses kryptonite, and makes a clean getaway.
Meanwhile, Tess has been spooked by her ordeal with Maxwell Lord. She goes to her secret hiding place and gets the Book of Rao that she's been hiding all this time. The Red Queen shows up, gun in hand, and we finally learn that Mrs. Kent is the Red Queen. After a brief lecture about how Tess should be a little less evil, she gets away with the book of Rao. The next morning, it's a brand new day at the Daily Planet. Lois's heroics got her job back, and Perry White has a new lead on another story. When she sits at her desk, Lois finds a note from the Blur — "it's time to finally meet."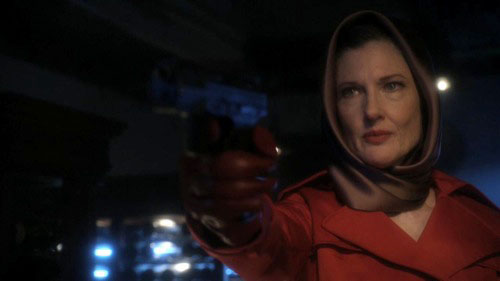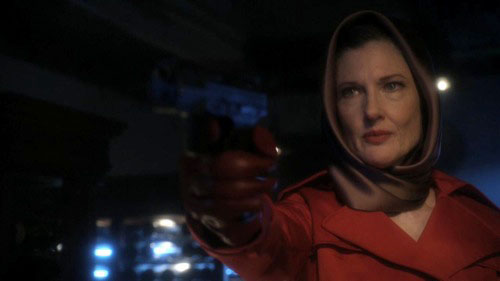 Over at the Kent farm, Clark is saying goodbye to his mother, who has to get back to Washington. "maybe next time you can ease up on the kryptonite," says Clark (is this the first time they have referred to it as kryptonite instead of meteor rock?). Mrs. Kent explains that while in the Senate, she found out about a group called Checkmate. She was unable to use her Senate contacts to help Clark, so she sprang into action as the Red Queen. Now that she has the book of Rao, she gives up her Red Queen identity. She also gives the book of Rao to Clark, who now realizes Jor-El sent it with him to Earth so Clark could save us all. The only problem is the way to do it. The book of Rao can transport all the Kryptonians to a parallel plane of existence. The only problem is that, if so utilized, it doesn't just transport the bad ones. It will affect all Kryptonians, including Clark.
So, now we are ready for the season finale.
Rating: 2.5 / 5 Stars