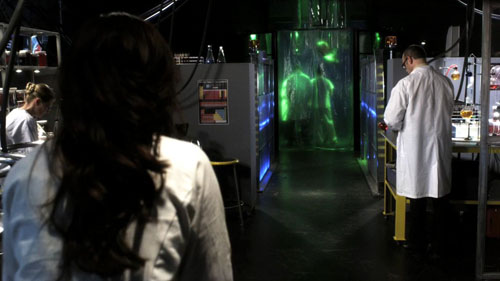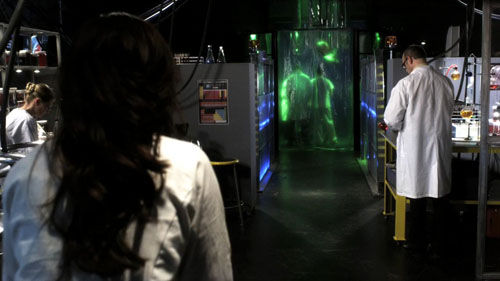 Episode: Smallville 9.18 – "Upgrade"
Original Air Date: April 16, 2010
Screencaps by Home of the Nutty.
This installment marked the return of Metallo, the Kryptonite powered cyborg we first met in Smallville episode 9.02 (appropriately titled "Metallo").
The action starts with some random scientists talking about cyborgs, huddling over a green glowing cyborg experiment thingy. Lois has disguised herself as a henchman and snuck into the secret lab, but — being Lois Lane and all — she is discovered. Of course, she wouldn't be Lois Lane if she didn't cause a ruckus. In the resulting melee, the cyborg is able to escape, and the lab is blown up, and Lois barely escapes with her life. She falls down an elevator shaft, but not to worry: the escaped cyborg is waiting at the bottom of the elevator shaft and catches her. We see that it's John Corbin, aka Metallo.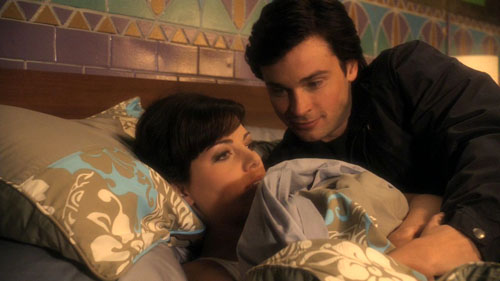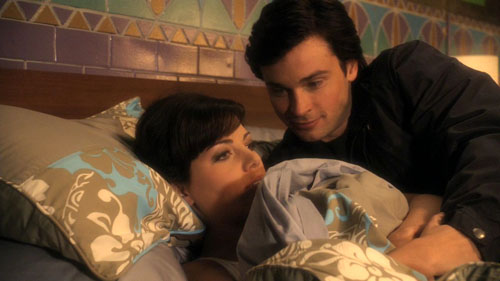 In the next scene, Lois is awaking in her own bed, with Clark hovering over her. He asks her what's going on, but she doesn't remember the previous night. Before Clark can give her a proper guilt trip about following dangerous story leads without keeping him informed and bringing him along so he can save her as the actors' contracts clearly specify, she gets a phone call. It's Zod pretending to be the Blur, pretending to give Lois a lead. The prospect of forcing Clark to rescue her at the end of the episode is too much to resist, so she rushes to an abandoned warehouse.
At the warehouse Lois finds John Corbin struggling to stay alive. He explains that the scientists were working for Tess, trying to figure out a way to control his mind and make them do his bidding. They gave him some upgrades, but weren't able to complete the mind control implant. More importantly, if Corbin doesn't find more kryptonite to recharge his cyborg body, then he'll die.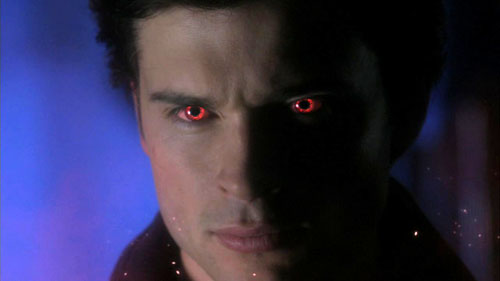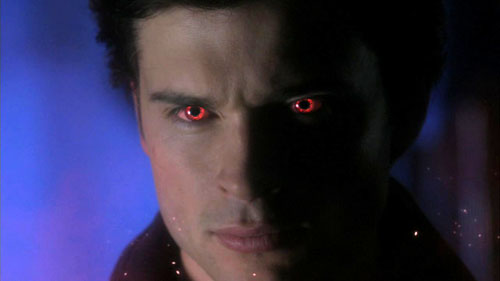 Meanwhile, Clark is retracing Lois's steps from the previous night, and stumbles into the wreckage of the abandoned lab from the opening scene. It turns out they also had red kryptonite in the lab (for those unfamililar with the Superman mythology, red kryptonite has unpredictable effects, usually turning Clark into a bad guy). We can tell by the way his eyes glow red that Clark is about to go on an evil bender. He first heads to Watchtower and hacks into Chloe's computer. He discovers the stores of Kryptonite that Chloe and Oliver had been stockpiling to fight the Kandorians.
Being evil, Clark assumes Chloe has betrayed him. He waxes eloquent about how Chloe can't be trusted, and uses his heat vision to burn his S emblem into the wall and destroy all of Chloe's superhero-headquarters equipment. He then rushes to the first stockpile of kryptonite, where he runs into a refueled John Corbin. Corbin's body full of kryptonite weakens Clark, but before he can do anything about it, two fireballs come out of the sky and destroy the entire warehouse, Corbin with it. It turns out Zod has been following Clark, and he used his heat vision to kill Metallo.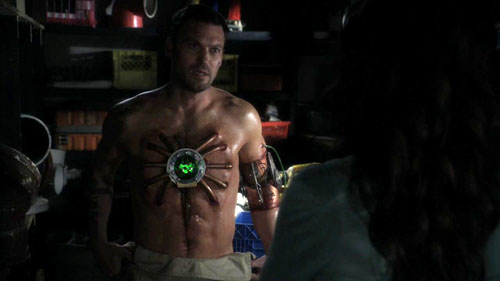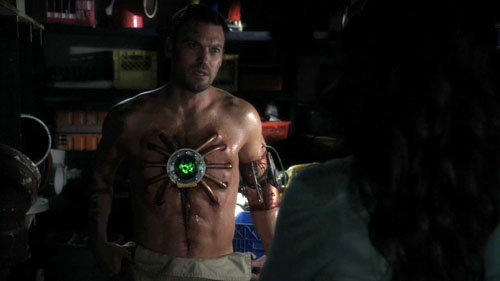 Zod and Clark fly away to do whatever it is evil Kryptonians do for fun. As they leave, Lois arrives. She rushes into the warehouse to find that Corbin is alive… and naked. After the requisite jokes about "you look good… I mean strong… I mean… alive," Corbin reveals his mistaken belief that the Blur tried to kill him. On the other side of town, Chloe finds the red kryptonite in Tess's warehouse. She also finds Tess. They decide to temporarily team up to turn Clark back to normal.
Elsewhere, Tess's henchman have found Corbin and Lois. They stick an attachment onto Corbin's upgraded chip, and now they can control his mind.
Meanwhile, Clark has been chumming up to Zod. Anyone familiar with fiction — especially superhero fiction — knows that bad guys tend to act like morons in order to advance the plot when the producers have written themselves into a corner. This, for example, is why bad guys like to tie up the hero and give a speech explaining their evil plans and then leave the hero alone in a room so he can escape, instead of just shooting them in the back of the head and dumping the body in a swamp. It's part of the fun of the genre.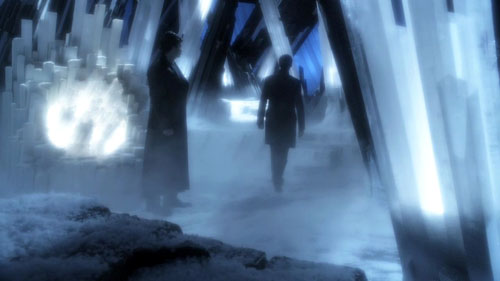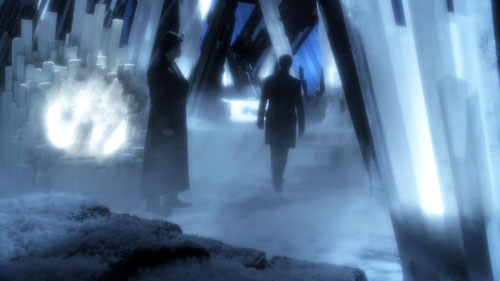 So Evil Clark, not wanting to disappoint us, decides to show us his evil moron side and take Zod to his Fortress of Solitude. Fortunately, the Fortress's computer isn't working (perhaps it senses how much of a moron Clark is being). Zod reveals that Kryptonians knew all the secrets of the universe. You see, Krypton's religion is science, so their "bible" basically contains all the secrets of how the universe works (instead of all that silly "thou shalt not kill" and "turn the other cheek" foolishness we humans are used to). Now that Zod has seen the Fortress of Solitude, he realizes Jor-El probably snuck a copy of the all-knowingness-bible into the super computer he built for Clark. We can see the evil lust for power germinating in his conniving Kandorian brain.
Meanwhile, Tess and Chloe have figured out how to conrol John Corbin/Metallo. Chloe teleports him to the Fortress. The ensuing battle between Metallo, Clark, and Zod knocks the mind control chip loose, but Corbin still fulfills his mission, which is to stab Clark with black kryptonite, nullifying the effects of the red kryptonite and returning Clark's good old-fashioned Midwestern farmboy values. Zod gets away.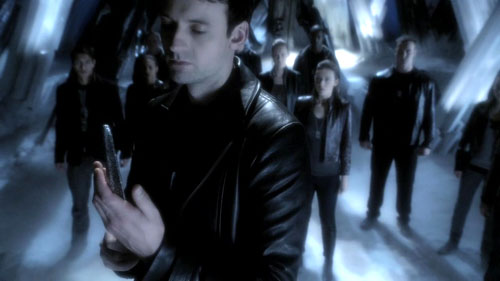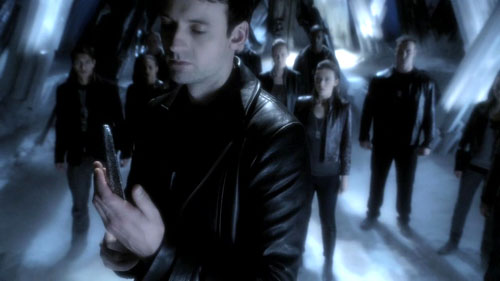 Time to tie up the loose ends:
John Corbin meets up with Lois. He tells her that she is the only person who's been honest with him (and not tried to use him as a mindless super soldier), so maybe they could get a romance going. But Lois already has Clark. So she rejects Corbin, but she gives him a bunch of red kryptonite to soften the blow.
Elsewhere, Tess and Zod are getting it on. Apparently, this red kryptonite thing was all part of their plan. Zod is feeling pretty good about his evil geniusness, but Tess reveals that she has discovered a secret rebellion in his army of Kandorians, stating that some of the Kandorian soldiers are now looking to Clark as their leader. In our closing scene, Zod has gathered his soldiers (the ones that are still loyal). He uses a kryptonite knife to cut himself. Presumably, he's going to use his blood to give his army their kryptonian powers, the same way Clark's blood transfusion a few episodes back gave Zod his powers. Then they are going to kill the traitors amongst them.
Rating: 3 / 5 Stars