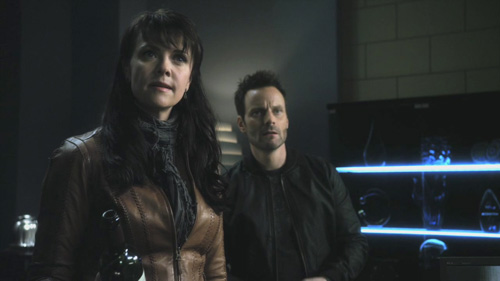 Episode: Sanctuary 4.05 "Resistance"
Original Air Date: November 4, 2011
Screencaps by gallicka.
The Sanctuary team learns life on the outside is not an easy road to travel in episode 4.05, "Resistance". Spoilers abound as Tesla returns.
An episode centered on the antics of the deliciously impish Tesla is always delightful. He has speedily become one of the favorite supporting characters in the Sanctuary world due in large part to the brilliant portrayal by actor Jonathon Young. He possesses a genius for the feel of the part, which blends historical elements of the real Tesla's life with the fantastical and whimsical magnetic vampire of the Sanctuary universe. Tesla is one of only a handful of Helen Magnus's true peers.
The SCIU, Homeland Security's new abnormal hunting division, arrives at a retrieval to take the abnormal into custody. But, wait: did our heroes expect this move? The tranquilizer Henry shot into the abnormal carried a tracking beacon. They trace it to the middle of the New Mexico desert — according to Magnus, the true Area 51. Biggie wants Magnus to wait for Will to return from Hollow Earth before she infiltrates the secret facility, but she is unwilling to delay.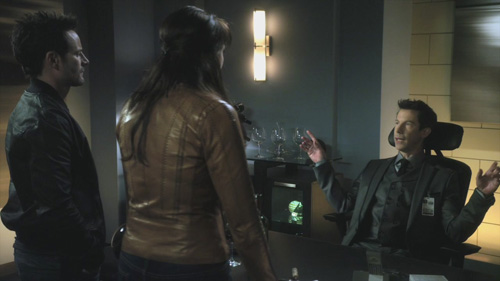 Henry and Magnus break into the high security compound. As Henry hacks the computer system, they're caught. Apparently, security was not as unaware of their presence as it appeared. They are confined in the facility director's office. Helen thinks this is unusual, but notices the office décor is familiar. The door opens and they come face-to-face with the director — none other than the absentee Nikola Tesla, last of the vampire race, thanks to Magnus's generous re-vamping (Episode 3.16, "Awakening").
Tesla claims the purpose of the facility is to study Hollow Earth abnormals left after the invasion. Helen is upset that after all the times she's come to Nikola's rescue, he would align with the Sanctuary's enemies. Because of their friendship, he's willing to overlook the "whole breaking and entering into a restricted facility affair". He boots them out of his office.
Magnus thinks Tesla actually wants their help. "I've known him for over 100 years. He only acts this way when he's really rattled." The power surges, an alarm sounds, a portal opens, tentacles reach out and devour their SCIU escort.
Helen bursts into Tesla's office and confronts him about the incident. He confesses that the creature showed up about 12 hours before. Tesla couldn't ask for their assistance directly because co-operating with the Sanctuary is now a federal offense.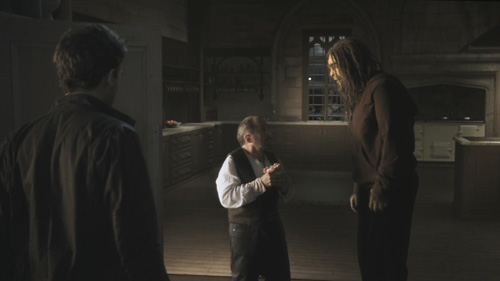 Will returns from his Hollow Earth trip and encounters a small, rude, and annoying abnormal Biggie is minding. The abnormal claims to want a lift back to Hollow Earth. Will's expedition to return abnormals through Chile was busted by government officials. No more can return to Hollow Earth until a new passage is found.
In a recurring theme for their relationship, Magnus and Tesla are exploring dark, narrow corridors together. They encounter the creature, but drive it back. Helen notices it's using an interdimensional event horizon to travel. She realizes Nikola has been up to something.
He confesses he hasn't been entirely candid about his work at the facility. Tesla used government money to fund his own research. He leads them to his personal lab. With the popular Sanctuary catchphrase "Wait for it" (a phrase the creators weave into as many episodes as possible), he reveals a rift node. He used Adam Worth's design and research to build a stable energy node that draws power from the rift. "Power — as much as you need whenever you need it… Unlimited clean energy."
One of the great elements in this episode was the weaving into the storyline tidbits from the historical Tesla's research and goals. Finding a source of clean electrical energy that would provide limitless power that every person could utilize was a dream of the living Nikola Tesla.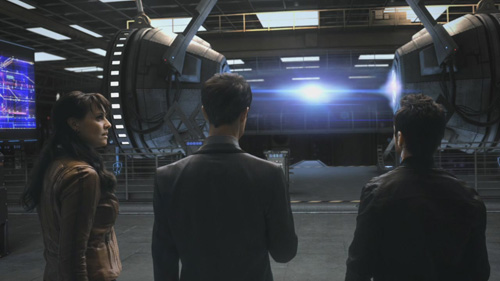 Twelve hours ago, he ran a test. According to Nikola, it's a rough coincidence to the first appearance of the tentacled creature. Helen suggests the solution is turn off the power generator. Nikola, in his unfailing genius, designed the system to be self-sustaining — no off switch. Helen replies, "Luckily, I brought the foremost expert in taking things apart – Henry." Tesla is not happy about Henry playing with his toys.
Biggie, fed up with the endless chatter of Galvo, locks him in a closet. Will discovers what he's done and makes Biggie let him out. Galvo tells them about a group of abnormals he lived with and suggests they track them down.
Forced to work together, friction arises between Henry and Nikola. Henry thinks Tesla betrayed his friendship with Magnus, working for her enemies. Grudgingly, Tesla admits Henry's idea to shut down the node by collapsing the magnetic field might work. They switch the node off, but it begins to power up again, self-sustaining. Tesla's excited about finally creating wireless electricity and refuses to disable the power until he's had a chance to study it: "Every advancement in human history has had some kind of toll."
This time, it's Will who's locked Galvo in a closet. Biggie has news — he's located the Chalkstone group.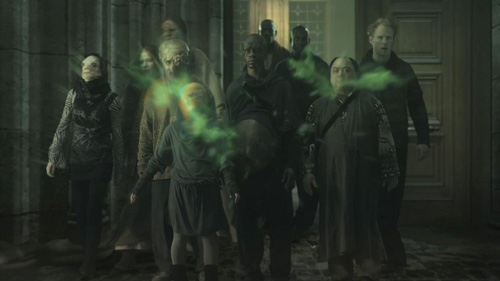 Tesla and Magnus argue over what is the best way to oppose the government's abnormal policies — working from the inside as he has done by accepting the director's job or from the outside as she chose, believing it the only way she could continue to operate without betraying everything the Sanctuary stands for. Passionate or fanatical?
Biggie and Will arrive at the appointed time to collect the Chalkstone group. As they watch, the group is destroyed by an advanced energy weapon.
Tesla and Henry form a plan to disrupt the magnetic field. One problem: it requires titanium, which means they have to risk encountering the creature to retrieve it. In the confrontation, Henry is nabbed by the creature. The toll becomes personal and even Tesla is bothered by that cost.
Biggie and Will realize someone set them up. At the same time, Galvo goes missing.
Magnus and Tesla are preparing to collapse the field when they pick up a signal — Henry's tracking signal. They devise a daring rescue mission. Nikola will travel through the portal to search for Henry (his vampire DNA will protect him from the radiation) while Helen distracts the creature.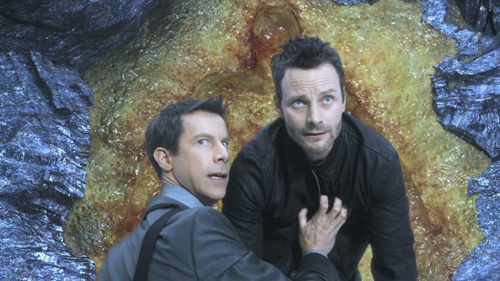 Biggie finds Galvo. Galvo defines the old adage looks can be deceiving. He's tougher and stronger than he acts, a first rate con artist. He used Biggie and Will to find the Chalkstone group so his abnormal group could kill them. As he prepares to blow Biggie away, Will the cavalry shows up and stuns Galvo.
Magnus leads the creature on a merry chase and a vamped-up Nikola enters the rift. Henry's alive but trapped. Nikola must free him before the gateway closes. As he breaks Henry loose, the creature returns. It follows them through the rift and grabs Nikola, attempting to drag him back. Helen collapses the field, saving Tesla's life once again, another recurring theme in their relationship.
Back at the Sanctuary, Helen gives Henry a clean bill of health after his trip through the rift. Tesla refuses to quit his job, placing him and Magnus on opposite sides of the battle. Is it an unexpected cost or an unanticipated bonus?
Tesla left a present for Magnus on Henry's tablet — detailed lists of the SCIU's future plans. Was it a one-time thank-you or does the Sanctuary now have an ally on the inside?
Many more Sanctuarys to go before we can know.