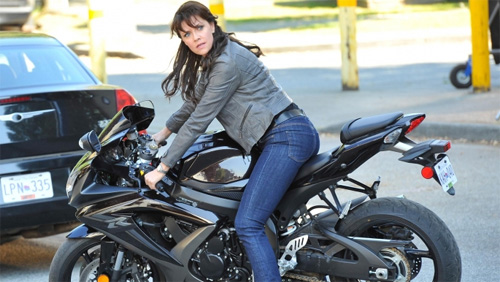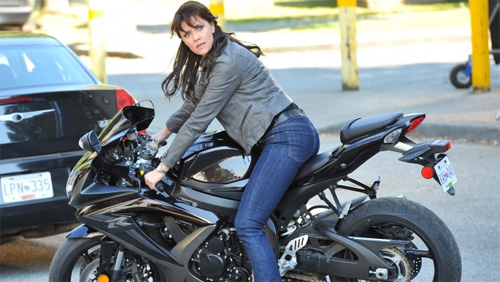 Episode: Sanctuary 4.13 – "Sanctuary for None, Part II"
Original Air Date: December 30, 2011
Screencaps by rawr_caps.
It's the Sanctuary Season 4 finale, "Sanctuary for None, Part II". Supposedly, all our questions (and Will's) will be answered when Magnus reveals her big agenda. If you haven't watched this far yet or seen this episode, major spoilers past this point!
When "Sanctuary for None, Part I" ended, Magnus had revealed the existence of abnormals to the world (something she claimed she would never do), a move that didn't make Addison happy. He confronts Will about Magnus's actions. Will had no idea that Magnus planned to make this move. He gets a call from Helen. She did it because she thought it the only way to derail Addison and his SCIU agenda. Magnus doesn't believe imprisoning the abnormals is the government's end game. Will refuses to believe Addison would be party to that kind of plan. Magnus insists the decision will come from high up and Addison won't be given a choice. She signs off by affirming Will is in the right place, at SCIU, for this moment.
Magnus and Henry discuss the situation. It reminds Helen of the 1943 Nazi invasion of the Warsaw Ghetto. They razed the entire area and sent most of the population to death camps. The government won't allow the abnormal homeland to exist. Henry is worried about Biggie and Kate's continued presence inside the homeland. Magnus directs Henry and Tesla to discover SCIU's next move and what their final solution is.
Addison receives a video call from one of his superiors and is told of plans to weaponize the containment technology Tesla created for SCIU. His bosses aren't interested in only controlling and detaining the abnormals, but plan to kill them all. The realization that the technology will also be used against human foes is the line in the sand for him. He attempts to strike a deal with Will. He'll let Will in on the complete plan if Will tells him what Magnus is doing. Will can't because he doesn't have access to the Sanctuary since Addison forced him to come back to work for the government. He offers to find information if Addison lets the Sanctuary have access to the databases and gives his word as one Harvard man to another. Addison gives Will his personal ID card.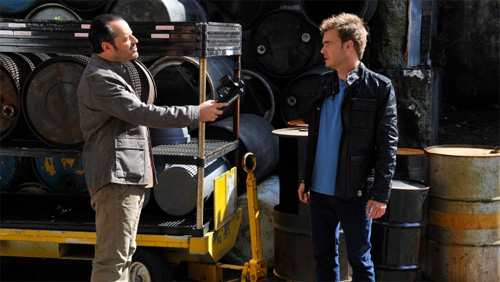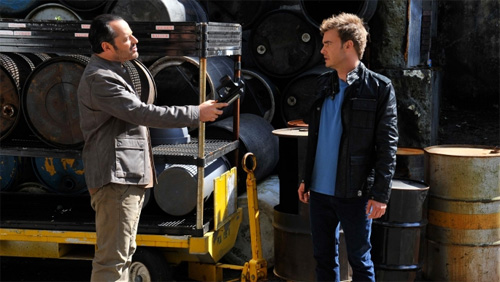 Caleb allows Biggie into his inner circle. Biggie learns Caleb has his own agenda and the war hasn't ended for him. He shows Biggie a vial of mysterious blue fluid — Caleb's own end game to the conflict.
Henry acquires an unusual looking device the Sanctuary bought on the black market. SCIU has placed the devices all around the fenced-in homeland. Henry has no idea what it does, but Tesla knows. He designed it for SCIU. It's a multi-spectrum containment device — "the ultimate invisible dog fence". Tesla claims the design is effective, but harmless, at containing any sort of creature. Henry poses a question — What if SCIU pumps 50 million gigawatts of electricity and makes the devices talk to each other? If they turned it into a giant electrified web? Tesla replies it could happen with deadly results, but that wasn't what it was meant for when he designed it.
At the homeland, Magnus meets with Bruno, who is helping smuggle supplies to the imprisoned abnormals. Bruno is a refreshing breath of fresh air in the dismal situation. Magnus tells Caleb she didn't know SCIU would react this way, which if one has been listening carefully, we all know is a big, fat lie. She doesn't really trust Caleb. She tries to persuade him to let the Sanctuary help get his people out safely, warning him that SCIU might electrify the grid, creating an electrical storm inside the homeland. But Caleb refuses.
Magnus meets with Kate and Biggie. They agree Caleb would rather die as a martyr than yield. Magnus thinks his concern for the safety of his people is a lie; otherwise, he would accept the Sanctuary's help. She assigns them to find what Caleb is hiding, but Biggie already knows.
Bruno breaks in and searches Caleb's office. He's caught — by Biggie. He has the vial. Menacing, he tells Bruno it's not a good idea to steal from Caleb and that Bruno needs a lesson in loyalty. Biggie's had a 180 degree attitude change from the conversation with Magnus and Kate. Will the real Biggie please stand up?
The Sanctuary's roof alarms sound. An armed Magnus discovers the disturbance is Bruno. Biggie ordered him to bring the vial to Magnus. Yea! Biggie is the good guy we know and love him to be. Biggie stands outside the mission. He's having a secret meeting — with Kate! Kate: "I'll admit you had me fooled. I really thought you'd gone to the darkside."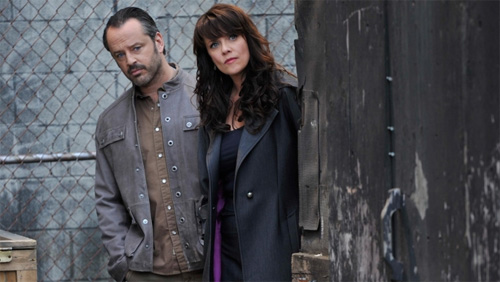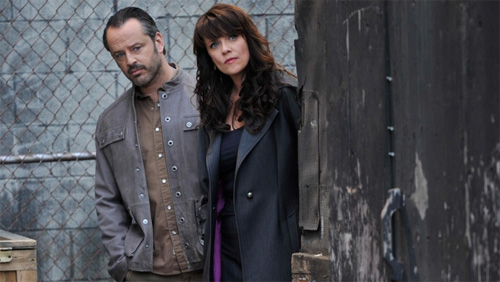 I'm not sure all of us were fooled, but many fans feared Biggie had indeed gone over to the dark side. We couldn't believe Biggie would go evil, but it's nice to have it confirmed that he didn't. He knows Caleb will find out he took the vial, but he wants vindication for what the cricksorum made him do. He didn't feel it was safe to confide in Magnus or Kate, and he's determined to finish what he started.
Will and Abby discover all of the Sanctuaries except three — theirs, London and New York — have closed down. Neither believes Magnus could have stayed 113 years in seclusion, not affecting events of the world. Using his skills, Will deduces that Magnus lived under an alias, so nothing she did would alter history and that alias was Helen Bancroft, her mother's maiden name. Turns out, Helen Bancroft travelled the entire world, especially locales with Sanctuaries. Will realizes the reason she had Feliz shut down Wall Street was to liquidate all her assets without anyone knowing. Helen has her own end game plan.
Telsa analyzed the fluid in the vial. The compounds are Praxian-based, a probable weapon of mass destruction. It contains recessive DNA in the form of a replicating virus that will alter human cells, turning them to abnormals.
Will meets with Magnus. He reveals what he and Abby discovered about her second past. Will is still upset Magnus wouldn't trust him. She couldn't trust anyone. He says it was supposed to be different between them. She tells him what she's learned of Caleb's plan. He's planning a new age of the deadliest races ever known and SCIU is intent on genocide of the abnormals — Magnus' worst nightmares about general knowledge of abnormals manifested. Will wishes she'd trusted him enough to include him. He has information for her too. Whatever SCIU's planning, it's happening tonight.
Magnus has a plan. Will wants to help her, but she refuses. She wants Will to evacuate the abnormals still in the homeland while she deals with Caleb. She promises to see him again when everything is over, but to Will, it feels like a good-bye.
Caleb discovers the missing vial and goes into a rage. He sends his men after Biggie. For her protection, Biggie locks up Kate. Biggie puts up a valiant fight, but even he doesn't have the strength to overcome Caleb's gang of super strong abnormals.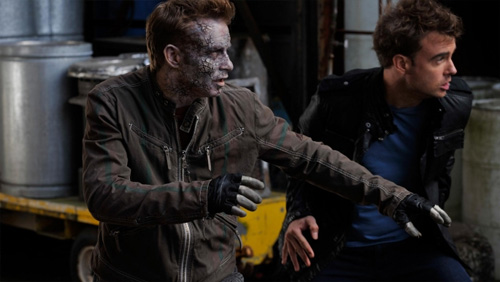 Will wants Addison to give him the security codes for the electric fence around the homeland. It's the moment for Addison to choose sides. Will calls Henry and Tesla and requests they cut all power to the Fifth Ward. Henry works on that project while Tesla implements the kill codes for the "death fence".
A moment with Helen alone in her office. She selects a gun from her collection, then surveys her domain as if she expects never to see it again. Meanwhile, Abby and Will prepare to breach the SCIU perimeter.
The front gate of the Sanctuary chimes. Caleb has dumped an unconscious Biggie there. Magnus welcomes Caleb and his men to the Sanctuary, then pumps him full of bullets. She calls a warning about their "company" to Henry and Nikola. Henry grabs one of his big stunners. He's going to start conventional and go HAP if he needs to. Nikola is going vamp all the way.
The Battle for the Sanctuary begins. This action-packed sequence is one of the best in the episode and showcases some of the reasons fans love these characters. We get Magnus creatively shooting around corners, guns in both hands. Tesla and Henry cooperate in a bout of total abnormal butt-kicking. At the end, Tesla addresses him as Henry, the first time he's used his name without making a joke, a sign Henry has earned Tesla's respect. Helen activates a program on her computer. Will finds and frees Kate, both worried about Biggie's fate.
Magnus meets Tesla in the main lab. He's noticed that all the residents are gone. She bids Nikola to leave, then kisses him. He realizes it's a good-bye kiss, but there's no more to be said between them. He seals the lab door. Caleb and a couple of his men enter. She turns to face them alone. As always, Helen has a few cards still to play. She's rigged some of the lab equipment as guns. She fires on them, but Caleb grabs her and tosses her across the lab. Guess no one ever told him a gentleman doesn't hit a lady.
Addison lets his superiors know the strike teams are ready, but he also gives Will a warning that his team is out of time. Helen calls Caleb's attention to the computer monitor. The autodestruct has been activated, and there's less than a minute. Magnus types into her tablet, driving a high-powered drill through Caleb. She hurries to put on Henry's FOSS vest, then looks at the countdown and utters one last, "Bloody Hell" as the last seconds tick off.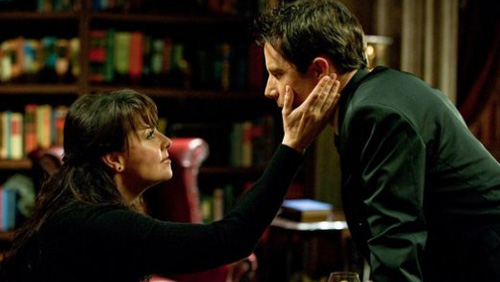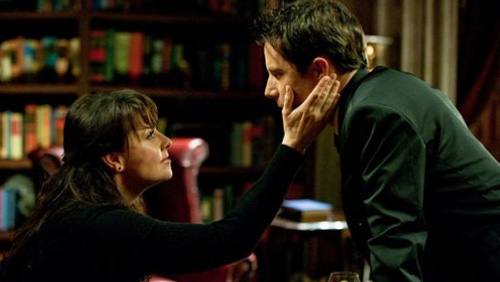 Henry and Tesla escape out a door and then an explosion rocks the Sanctuary. The entire Sanctuary is destroyed. Will and Abby with Kate in tow arrive in time to see the explosion. Addison, watching from his office window, sums it up for us, "Hell of an exit".
There's still a bit more, an Easter egg of sorts. Some time later, Will follows a signal on his phone that leads him deep into an underground passage. Eventually, he's met by Helen Magnus. Of course she didn't die — how could we have thought such a thing? She admits she broke the promise she made to him of "no secrets". Once again, she offers him the chance to explore a special world full of wonder. She leads him down another tunnel. She built a brand new, shiny, literally underground Sanctuary, completely different from the old.
This episode was classic Sanctuary filled with the intrigue, action, humor and twists fans love about the series. A lot of my Sanctuary friends loved the reveal at the end, but my jury is still out. They might be changing the vibe of the show, yet the gothic, steampunk feel has been one of the drivers of the show's past success. The season arc had viewers watching from Will's point-of-view, so we didn't figure out anything until he did. Many times viewers were left feeling as frustrated as Will about what Magnus was up to. Viewers like clear enough clues that they can figure out what's going on, even when the characters can't. The trail of clues was so obscure and buried that no one could follow. Now, I realize every time Magnus talked about the Sanctuary going underground, she really meant that, not just that the Sanctuary would be operating under the radar.
And so it begins — with held breath and crossed fingers, the wait for word of a fifth season pickup. Syfy has been unpredictable about pickups for the past couple of seasons and seems to enjoy putting fans and the cast and crew of shows on pins and needles, drawing out the decision needlessly. One thing I appreciate was the show's decision to reveal Magnus is alive, a gift of respect to loyal viewers instead of ending on a cliffhanger where we might never have known her fate. Here's to hoping for a fifth season of our favorite abnormals' antics on Sanctuary.