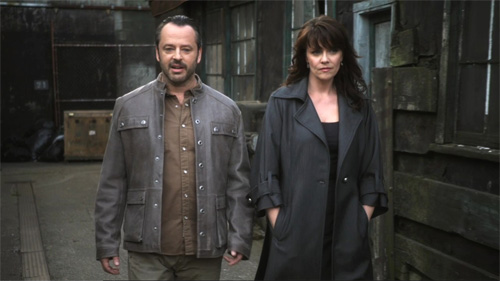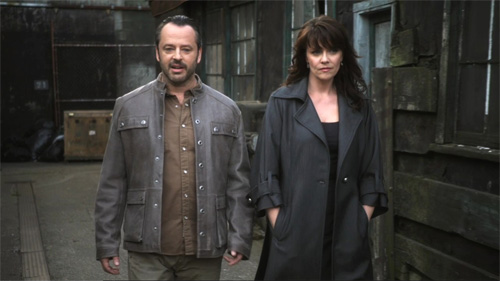 Episode: Sanctuary 4.12 – "Sanctuary for None, Part I"
Original Air Date: December 23, 2011
Screencaps by rawr_caps.
The two part season finale, "Sanctuary For None", kicked off with "Part I" in Sanctuary episode 4.12. Caleb, leader of the abnormal insurgents, asks Magnus for her assistance to broker a peace deal between his people and the surface governments. Addison reactivates Will's status as a federal agent, and Tesla resurfaces.
Feliz arrives at the Sanctuary, begging Magnus to let him resign as her banker. Will comes to the rescue of an abnormal being threatened by a gang of humans. The odds are considerably evened when a group of abnormals show up in their support. Their leader is Caleb, the abnormal insurgent most wanted by human authorities. He has Will deliver a message for Magnus.
Helen finds Nikola sitting in her study, engaged in a futile attempt to get drunk. SCIU found out about his little side projects and his appropriation of funds and "unhired" him. He's decided the Sanctuary is the perfect place to hide out and drown his sorrows.
Will recounts the incident with Caleb's people to Magnus. She goes to meet with the charming, charismatic abnormal leader. He's ready for peace, to end the war. And Magnus is ready to help him. She explains to Will that Caleb wishes to set up a homeland for abnormals inside the Fifth Ward. Magnus has pledged him her full support. Will is skeptical; it doesn't sound like a great plan to him.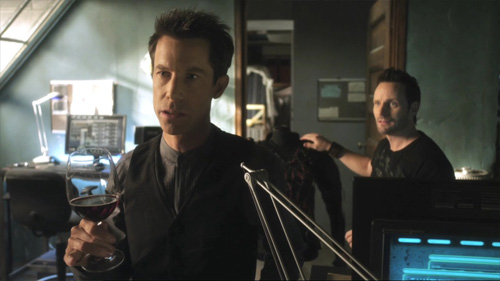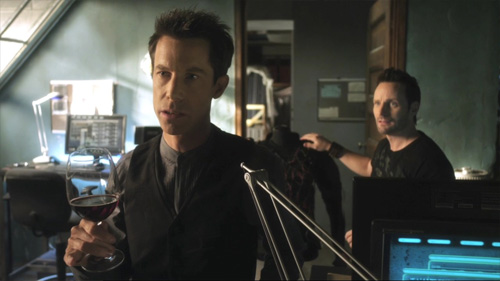 Helen calls Addison but he's not interested in peace with the Hollow Earth abnormals. Will suggests she needs to move more slowly — give people time to adjust to the new arrangement. But she's moving ahead full steam with the homeland project and recalling Kate from Hollow Earth. All hands on deck for Captain Magnus.
Henry is not happy when he discovers Tesla in his lab fiddling with the FOSS. Nikola tells his sob story to Henry. Henry asks where's his stuff? And Tesla responds: "You mean my life's work, my genius made manifest, my exquisite symphony of scientific innovation? The bastards stole it." Henry commiserates, finding an unexpected bond with the depressed Serbian electromagnetic vampire. He tries to distract Tesla with the cave rock from Bolivia, but Tesla's too lost in his self-pity party.
Caleb and Magnus choose an area for the homeland. Kate will be the Sanctuary's liaison on the site. Magnus introduces Caleb and his people to Captain Franklin, the police captain over the Fifth Ward. They need her support for the project to succeed. She's not so keen on the idea yet.
Will, out for a ride on his motorcycle, is cornered by Addison's people. He demands Will come work for him — he's reactivating Will's status as a federal agent. If he refuses, Addison promises extreme personal and professional rendition.
Magnus thinks this turn of events could be useful — a person on the inside at SCIU. Will realizes once again Magnus has withheld vital information from him. She still refuses to tell him what her real agenda is, but promises he'll know everything when the time is right.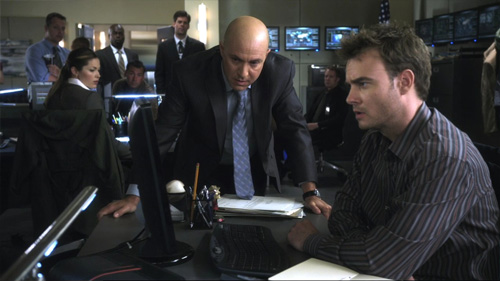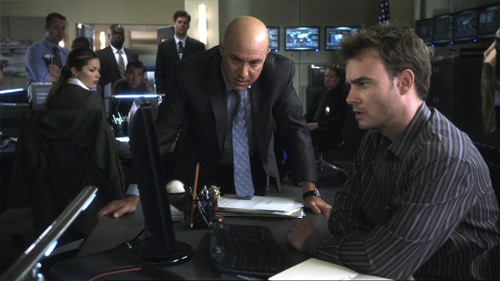 In an attempt to make Will happier, Addison has Abby transferred to the team. Will confides he always thought they would work together at the Sanctuary, not for Addison. Abby cautions him not to do anything stupid, but he counters: "Who, me? Do something stupid? I probably will." Addison holds a briefing. Will opposes his conclusions and says all his intel is just rumors. SCIU's way of "strike first" only caused more casualties and no end to the fighting.
Magnus assists Caleb in an abnormal jailbreak from a SCIU detention center. Addison shows the evidence to Will. He wants a chance to talk to Magnus. Addison gives him his first assignment — arrest and detain Helen Magnus. Will tries his code at the Sanctuary gate, but it doesn't work. Henry finally answers and reluctantly tells him Magnus retired his code, and he can't let Will in.
The abnormal community is abuzz with news of the homeland. Will, unannounced, climbs into Captain Franklin's car. She tells him she knows about Magnus's work. He asks her to set up a meeting with Magnus, because his relationship with her has hit a "rough patch". She wants to know why she should help him. Sadly, he threatens to make her life a "living hell" if she doesn't cooperate.
Henry and Biggie discuss the homeland plans. Biggie is thinking about moving to the homeland. The conversation turns into an argument. Henry doesn't want him to leave, but Biggie sees it as a chance to live life free as who he is, not hidden under a hoodie or other disguise.
Will agrees to bring in Magnus, but after that he's done — "with him, with her, with everything". The abnormal homeland appears to be progressing well. Biggie runs into Kate. She shows him the promise bracelet. Kate tries to joke with him, but he replies she should go back to the Sanctuary or Garis. Forcefully out of character, he says her place isn't at the homeland. Hurt and confused, she doesn't understand why he's acting so weird. (Neither do the rest of us.)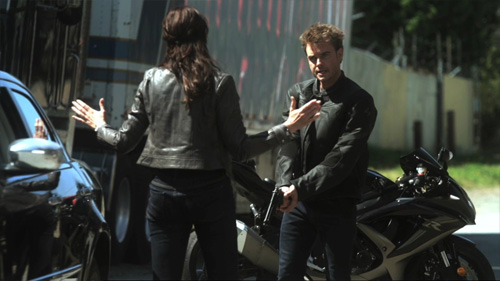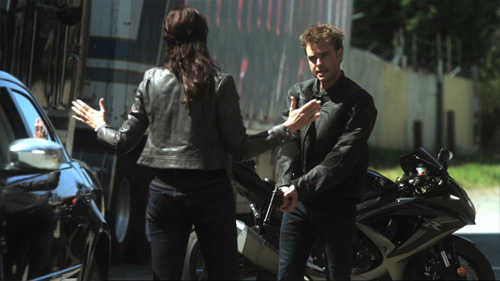 Magnus arrives to meet with Captain Franklin and discovers it's actually a meeting with Will. Magnus hops in her car and runs. Will pursues on his motorcycle as Franklin calls for backup. It's a high-speed car chase — Will vs. Magnus. When Will catches up to her, she's left him no choice and he places Magnus under arrest. She tells him he should restrain her, then slugs him. He's forced to hit her back. She kicks him and escapes on his motorcycle.
Will is not convinced Magnus is working for the abnormal cause, but she does have an agenda he's not quite clear on yet. He wants more time, but Addison tells him it's time to do it his way.
Magnus is concerned about the numbers of abnormals flocking to the homeland. She wishes to send the overflow to the other Sanctuaries. Caleb refuses; he will turn no one away, and if they need more room, they'll expand the homeland. She asks to speak to Biggie, hurt that he didn't tell her he was leaving the Sanctuary. He replied that things happened quickly and it felt right for him.
Addison puts an Eleventh Hour scenario into play. It's been planned for a while, but he's never before had the situation where so many abnormals were in one place away from prying eyes. They leak a false story that a large toxic spill has happened in the Fifth Ward. SCIU forces set up an armed perimeter around the homeland, turning it into a prison. But Helen has one more move to make. She appears on the news and outs the existence of abnormals to the world.
This season has the rest of us wondering, like Will, when the time is going to be right for answers. I've found the thread of the overall plot this season a bit knotty to follow and figure out. The cast and creators have been saying that viewers will understand as the season draws to a close, but so far, there are still mostly questions and very few answers. And there's only one hour of the season left.