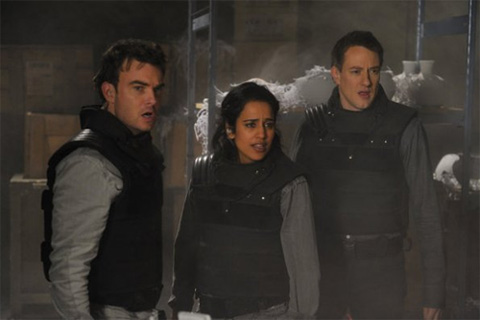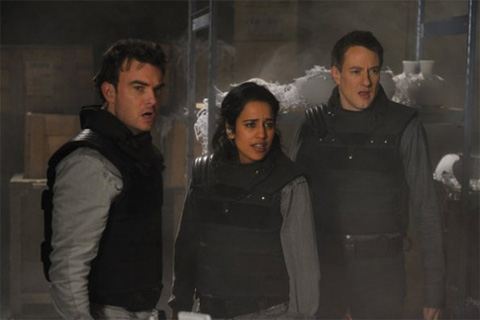 Episode: Sanctuary 4.10 – "Acolyte"
Original Air Date: December 9, 2011

Kate returns from Hollow Earth with a warning about a terrorist bomb plot, and evidence suggests Biggie may be involved. Will Magnus be able to stop the threat in time and save Biggie? Spoilers follow.
Kate has returned from Hollow Earth bringing an urgent warning for the Sanctuary team about a planned terrorist attack. Magnus sets Henry searching for potential targets and sends Will to London to find out more from Kate and Declan. Will and Kate are happy to see each other again. They capture and question a possible informant connected to the terrorist cell. No matter what they offer or threaten, he's unwilling to give up any information.
Henry's frustrated with his search for information. As soon as he gets access to priority databases, the system boots him off. As he tells Magnus, the Sanctuary has been voted off the island in a big way. He asks her if she's heard from Biggie yet. She thinks his failure to respond is just a delay; it's difficult for him to travel without attracting attention.
Declan discovers the location of the terrorist splinter cell. All the insurgents are dead; they've been executed. They realize this step means the abnormal terrorists have everything in place to carry out the attack. Kate finds part of an address label from Lisbon.
Will tells Kate she can come back topside any time she wishes. Even though there are certain things she misses about the surface, like real sunlight, she's excited to be part of what's happening in Hollow Earth. Plus, there's Garis. She runs her hand over her bracelet. It's obviously Garis's work is special to Kate.
In the PIS database (his term for the Portuguese Intelligence Service), Henry's discovered encrypted travel itineraries for Addison and other dignitaries who deal with abnormals. All the major players associated with SCIU except one are on the list. Tesla didn't get invited to this party.
Will and Kate show the informant photographs of the scene and give him a choice: Cooperate with them or take his chances with those who planned the attack. He says they weren't given any details of the attack. Their job was to send detonators to a group like theirs based in Portugal.
In a great visual effect, we sweep in on a glass-sided office tower and zoom through the panel to find Addison in his office. He hears a commotion outside his door — a lot of thuds and bumps. He opens the door to a composed Magnus who's just taken out his entire security team. She tells him she knows about the SCIU summit in Lisbon and warns him a group of radical Hollow Earth abnormals plan to disrupt it with an attack. He's surprised she's come to him. He thought her people were behind the planned attack.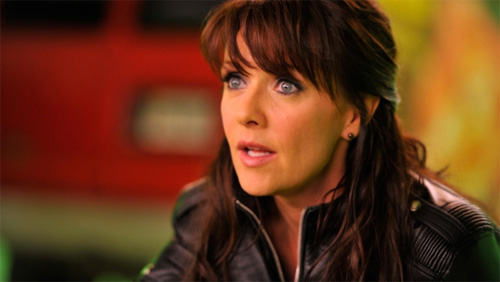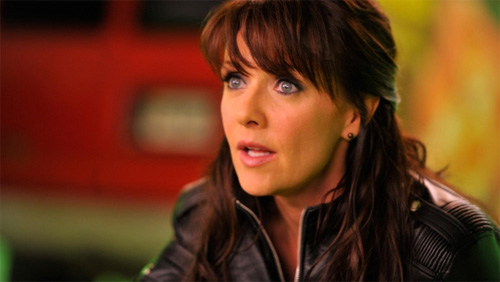 Helen's surprise is genuine. With a smug "You really don't know, do you?", he hands her a file. The file is filled with pictures of Biggie with other abnormals — known abnormal radicals. Addison claims all the abnormals in the pictures are part of the terrorist group. His latest intel says Biggie is their new leader, the one who planned the attack. Helen is floored, unable to believe Biggie would be involved in such a plot; he's been her close friend for over 50 years. Addison threatens further that if she doesn't stay out of his way, he'll come after her, too (and the Sanctuary Network).
Henry found a flash drive hidden in Biggie's room. It's a video of Biggie pledging to join the radical abnormal group. Henry thinks he must be working an angle, but Magnus doesn't believe he would do something like that without telling her. Magnus stalks out of the room while Henry follows. Her destination is the cell holding the unconscious cricksorum. She demands he talk to her. If he doesn't, she'll vent all the oxygen. Turns out, he's not in a coma anymore. Biggie was the one who went into the room every day to check the monitors, and the cricksorum was able to use his ability to influence Biggie, little by little, over time. He has remapped Biggie's brain, and it can't be undone, it's permanent.
Declan, Will and Kate lead a raid on the Lisbon warehouse. On the computers at the warehouse, Will and Kate find detailed, specific information about the attack. They think it's too specific — an elaborate decoy to cover up the true attack. Henry double-checks the travel plans of the dignitaries and finds none of them ever checked in. The Lisbon meeting was a misdirect, but it hasn't worked. Addison and his people are walking into a trap and the Sanctuary team has no idea of the location.
Helen demands details from the cricksorum. Helen has been doing a bit of research about the species. They can be neutralized by removing the specialized organ in their brain — the result is the equivalent of a lobotomy. Helen's ultimatum — give details or be lobotomized. (Yeah, it made me laugh, too, at what should've been a serious moment.)
Will receives a call from Magnus. She knows the location of the attack and is on her way there — Buenos Aires. The attack will be carried out by suicide bombers, and Biggie is one of them.
Biggie records a message from the abnormal radicals. It's good to see a Chris Heyerdahl character get focus, especially Biggie, and gives him a chance to explore more emotional depth to the character than is usually shown (grunts, humphs, exchanging wise cracks with Henry or Will). Heyerdahl has a gift for reaching out beyond the prosthetics of a fantastical creature or alien and permeating it with life as a believable thinking and feeling being with its own unique personality.
Magnus thinks Addison is underestimating the capabilities of the rebels. In her view, he should evacuate the building and postpone the summit. Addison sees that as letting them succeed in disrupting the summit. Addison: "You don't know much about terrorists, Doctor." Magnus: "You don't know much about dealing with abnormals." The crux of their relationship in two sentences.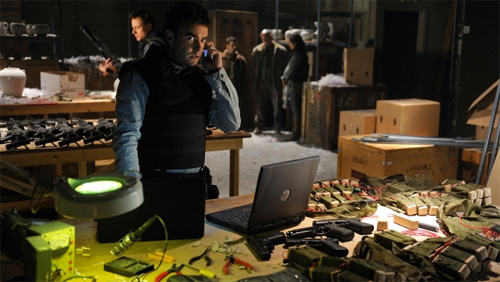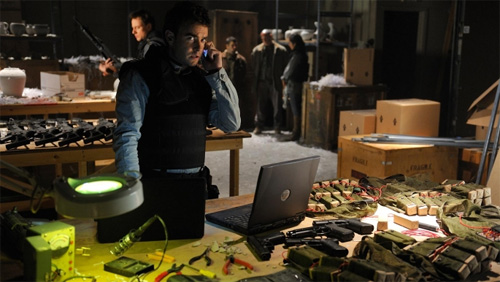 Biggie is the leader of the bombers. Kate arrives as Magnus's backup. They devise a plan to sneak past the security perimeter but are seen by Addison. Calls guards to go after them, but when they prepare to fire on Magnus, he calls them to stand down. He gets a radio call there's another security breach. Annoyed, he gives the command to evacuate.
Magnus and Kate split up to search for the bombers. Magnus finds Biggie, wearing a vest covered in explosives. She tries to reason with him, to reach the one she's known for such a long time. He's almost convinced to remove the vest, then the cricksorum's programming takes over. Addison refuses Will and Declan access to the property, telling them what Magnus pulled. Not giving up, they call Henry for another way to access the hotel. Kate hits Biggie from behind and knocks him out with a fire extinguisher. They remove the vest and discover there's only two minutes till the bomb explodes.
Henry directs Will and Declan down an alternate route to the hotel. They're racing the clock to save Magnus and Kate from the explosion Will radios Magnus to get out now. They look on in horror as the hotel explodes. We cut to a shot of a wrecked, overturned van. An unconscious Magnus is strapped in the driver's seat. Magnus opens her eyes. Will hears her response over the radio. The scared duo is relieved but Magnus says she and Kate are not okay, need help, as she reaches toward a bloody, unconscious, hurt Kate.
Back at the Sanctuary, Will is watching over Kate when she wakes. The hotel was evacuated, but most world leaders are calling for an all-out war against abnormals — what the rebels wanted. Kate's ready to go home — back to Hollow Earth. The bracelet Garis made for her is a promise band — the equivalent of an engagement ring.
With Magnus's help, Biggie's memories are returning. He catches her watching the video he recorded. He assures Magnus he doesn't feel like a prisoner; the Sanctuary is his home. Magnus blames herself for the situation. She knew there would be costs for the decisions she made for the Sanctuary, but she never intended for those she cared about to pay the price. Magnus sends Biggie out for supplies. He pulls up to a door in an alley. He knocks and when he says, From below, we rise, he's granted entry to a secret meeting of radical abnormals.
We're all left screaming at the screen and clutching our throw pillows in disbelief at this mini-cliffhanger. Biggie can't be a bad guy! Although I do love it when Chris Heyerdahl gets the chance to play evil characters; he does it so well.
For this episode, the set-up was a bit slow and dragged before getting to any real payoff. The story had a more tense, dramatic and serious tone than viewers may be used to from Sanctuary. The action sequences were well-done. Magnus, off-balance and unable to swoop in and save the day, provided an interesting twist on the usual "the day is saved by Helen Magnus" ending for a Sanctuary episode. Overall, an enjoyable, action-filled episode, especially for fans of Chris Heyerdahl.