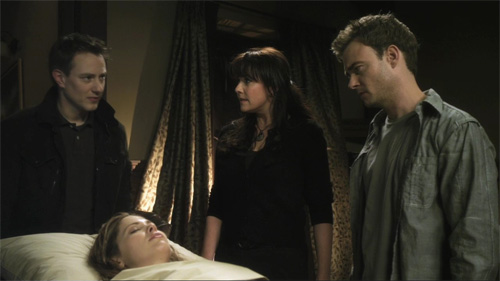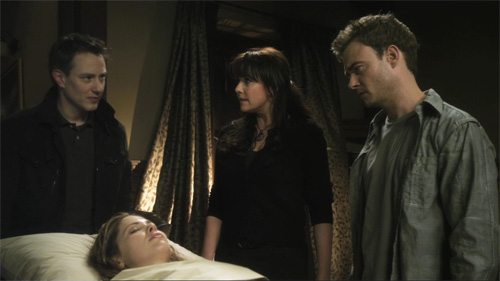 Episode: Sanctuary 4.08 – "Fugue"
Original Air Date: November 25, 2011
Screencaps by rawr_caps.
Abby requires treatment at the Sanctuary following an abnormal attack in Sanctuary Episode 4.08, "Fugue". In the fandom, this is the awaited "musical episode", written and directed by producer/writer Damian Kindler. Kindler's passion for music is well-known to fans, and he collaborated on the original songs with music composer Andrew Lockington. This kind of episode was a definite risk for the show. Would viewers see it as a Glee-ified Sanctuary or something that made sense for the tone of the show?
Will flies through a door into the hallway. Inside the room, Declan and Magnus battle an aggressive abnormal. The regular stunners aren't having much effect even at full power so Magnus retrieves the Big Gun and is able to stun the creature. Will asks Magnus if she's ever seen anything like it before. She replies with no, this is entirely new. Will covers the creature gently with a blanket as it transforms into his FBI agent girlfriend, Abby.
Magnus decides Abby needs to be held in a secure isolation room and watched at all times. It's the third time Abby has transformed into the creature in 24 hours. Magnus has no idea why it's happening, what the creature is, or if she can find a cure.
There's a marvelous inside joke buried in this episode. The opening shot for the Henry/Gavin storyline is the side of a building with a sign for a bakery that reads: Nice Buns! Kindler, Tapping and Wood — a reference to the creative trio that heads the Sanctuary production team.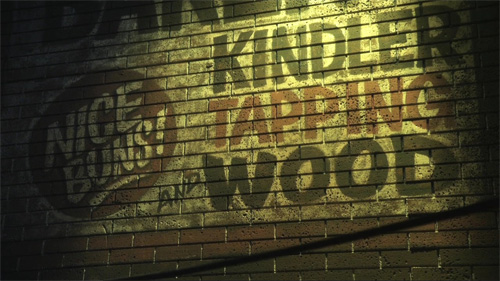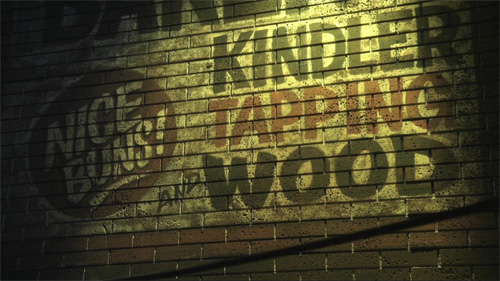 Henry and Gavin, Abby's FBI partner, are retracing Abby's steps to discover what happened to her. Henry is frustrated by Gavin's incompetence in the field, a sequence where the snarky humor fans love shines through with barbs aimed at Canadians and Henry's ability to transform into a werewolf. The plum line goes to Henry: "Don't worry, Gavin. I haven't devoured a Canadian in months."
Will is frustrated that Magnus has no clues about Abby's condition since she has been studying abnormal transformations since the 19th century. Magnus decides to reduce Abby's medication so she can emerge. She wants Will to try to talk to Abby. Magnus assures him she will find a way to help Abby and reminds him they always find a way to fix things.
Will is watching over Abby. Declan arrives to relieve him, but Will refuses to leave. Declan decides to stay. He pulls up music on his tablet and Abby responds. She can only communicate by singing and doesn't understand them when they talk. The scene kicks off the musical elements of the episode.
The musical route the creators chose was along the lines of an operetta, less breaking into song to express emotions and instead more using song lyrics to communicate dialogue and plot, more Gilbert and Sullivan than Singin' in the Rain. Pascale Hutton gets a chance to express a wider range of emotional acting than viewers have yet seen from Abby and she shows off a quite good singing ability. A lot of fans haven't welcomed the addition of the Abby character, disliking her hokey demeanor that often comes across as ditzy blonde.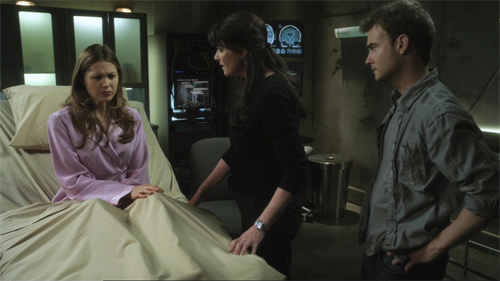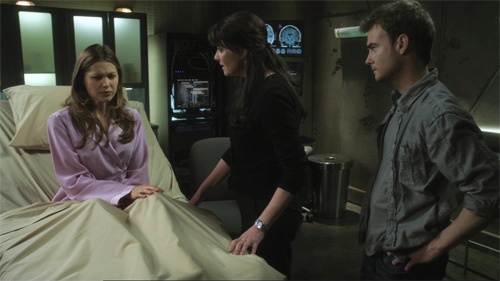 Abby's DNA is being overwritten and she can only perceive certain harmonic frequencies, which means all her communication is coming out in song. Magnus thinks they should use singing to communicate with Abby; Will, not so much. Abby wants to know if she's going to die. Magnus tells her the truth. All she remembers is waking up at the Sanctuary. Her condition is grave and they don't know how to save her, but promise they won't give up. This whole scene is set to song.
To avoid talking with him, Henry gives Gavin the task of scanning the area while he goes to talk with redlist dealers — in Gavin's opinion, criminals. As Henry walks away, Gavin get a ping on the scanner — thermal residue. Henry is able to pinpoint the location and finds a cocoon.
Back at the Sanctuary, Magnus thinks it's the cocoon of an abnormal blood tick, an extremely rare species that can partner with parasitical organisms capable of mutating human DNA. Magnus believes it was planted to test an unsuspecting human — in this case, Abby. Henry suspects it's the work of insurgent Hollow Earth abnormals who want to know if Magnus has the ability to stop the mutation. If it's successful, it could be used as a weapon to turn humans into abnormals.
Will agrees to sing to Abby if it will help her stay and not give in. Gavin shows up. Will blames him for letting Abby down as a partner, not being there when she needed backup. Later, Will is with Abby when she awakens, only it's not Abby, but the creature. Magnus and Declan are able to pull her away from Will and sedate her.
Again, this scene is done completely in song, a dramatic scene as the creature tries to keep control over Abby. It gives Pascale Hutton an opportunity to show the depth of her acting, as more attention than "I'm Will's girlfriend" is given to the character.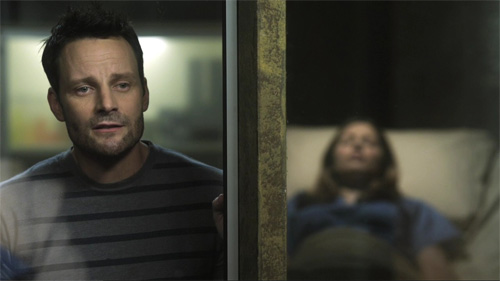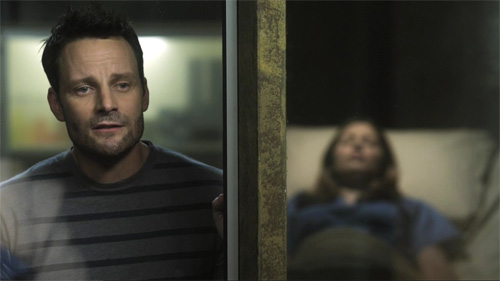 Henry encourages Will to take a break for a while. He'll watch over Abby. The scene is a ploy to insert a song from Ryan Robbins (Henry). The multi-talented Robbins is an accomplished musician and singer. It was a great treat to hear him; the only problem was that his song wasn't anywhere near long enough to satisfy.
Magnus and Declan meet with the other heads of the Sanctuary Network to discuss the situation and other issues facing them. It's a delightful production number reminiscent of classics like "I Am the Very Model of a Modern Major-General".
Will dozed off and Abby is gone. She's standing on the edge of the roof. Will reassures and pours out his heart to her, facing one of his demons, singing. She begs him to let her go, sings "I love you, Will" and falls off the edge. Before she hits the ground, she transforms into the creature. But Magnus is there to save the day, stunning it with the Big Gun.
Will confronts Magnus about telling him singing to Abby would help her stay. Magnus says it was only a temporary solution. Abby is no longer responding to music. Will realizes Magnus thinks there's no cure. She tells him he should prepare for the worst.
As Magnus diligently searches for an answer, a beautiful song begins. It's Jim Byrnes (Gregory Magnus) singing one of his own songs, "Of Whom Shall I Be Afraid?" With her father as inspiration, Magnus comes up with a solution but it could have deadly consequences for Abby. Will is outraged by Magnus's barbaric plan. He accuses Magnus of being so intoxicated by the possibility of a new life form that she's ignoring other options and willing to risk Abby's life. Will storms off, determined to stop Magnus.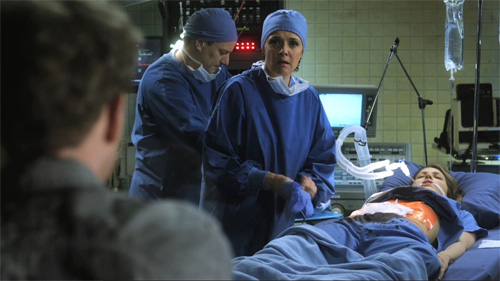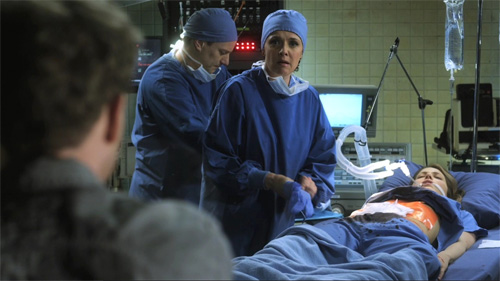 She has Henry and Declan lock him in a secure room for the duration of the procedure. Will feels betrayed by his mentor and his friends.
Will pleads with Henry to let him out. Gavin stuns Henry and sets Will free. He rushes to the operating room. As Magnus's plans go awry, Abby's systems go haywire and she flatlines. Is Will losing yet another person he loves?
Magnus is able to restart Abby's heart. Will is grateful that she saved Abby, but upset at her for taking chances with another person's life and dismissing his opinion, steamrolling on when she thought she was right, unable to compromise. Magnus is proud that he was willing to stand up to her and not compromise his own beliefs, but Will's not ready to forgive her yet.
Kudos to the cast, crew and production team, especially Damian Kindler, for pulling off this episode successfully. In an environment like that of Sanctuary, a musical episode could have become one of those we-should-never-have-done-that moments. But they found a way to make it work that still made sense and gave many involved a chance to showcase talents other than acting. However, comments I've read about the episode are very divided. Some loved it; some hated it. What did you think?