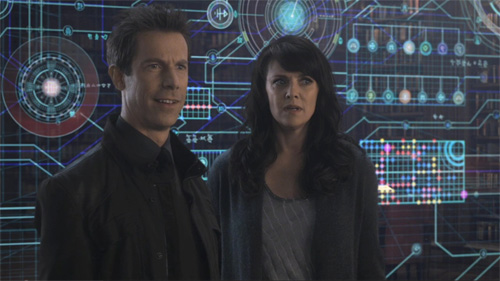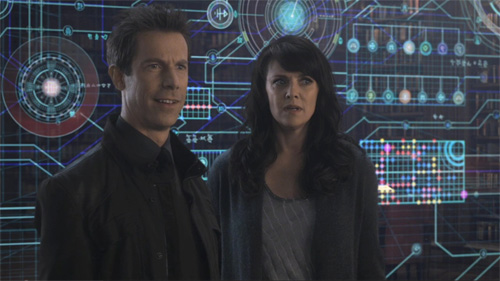 Episode: Sanctuary 4.09 – "Chimera"
Original Air Date: December 2, 2011
Screencaps by rawr_caps.
Magnus and Tesla get virtual as they track down a glitch in the Sanctuary's computer systems in the episode "Chimera". This entertaining episode is sure to be considered one of the top fan favorites of the entire Sanctuary series. Written by James Thorpe, the sharp zingers fly faster than the punches. You may have to watch it more than once to catch them all. Most likely, you will want to watch it more than once. A fine vintage to partake of for the Tesla lovers, and the Nikola/Helen or Tesla/Worth shippers.
Late at night, the Sanctuary occupants are snug in their beds, and not an abnormal is stirring — till, what to our wondering eyes should appear, but a creeping Praxian spiderbot. Thanks to our vigilant heroine, the little beastie is nabbed.
Magnus and Henry watch on the security footage as the spiderbot goes first to Will's bedroom, then Henry's. Helen checks Henry and finds two puncture wounds on his neck. They rouse Biggie and Will. Will has the marks, but Biggie doesn't.
The team puzzles over the dilemma as Henry runs diagnostics on the system. Lots of little "glitches" have been occurring lately. Someone has used one of Magnus's old codes to enter the gate. Will goes to answer the door as Henry and Biggie continue to search. Henry discovers a hidden sector buried behind thick firewalls. Who besides him has the know-how to build it?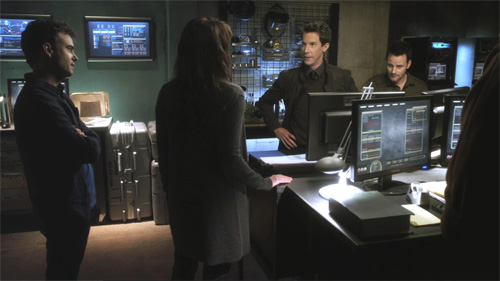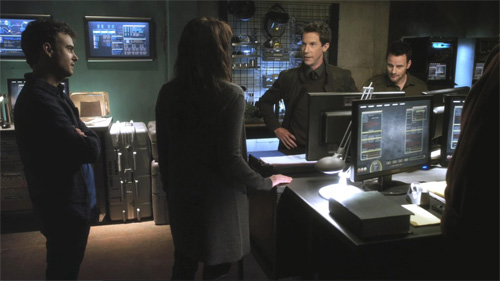 We cut to Will opening door to Tesla, an extremely unhappy Tesla who demands to know where Henry is. Tesla and Henry greet each in their usual fashion — verbal fangs bared and fur flying. Will brings in Magnus. Biggie and Henry promptly point their fingers at Tesla and inform her, "He did it". Tesla is properly offended. "Why do you always assume it's my fault?" Helen answers, "Let me count the ways". Henry accuses that Tesla created the hidden sector.
Tesla defends by asserting that everything he did was to save Helen's life. When her tracking beacon was lost on the first trip to Hollow Earth, using the Praxian brain spider to gather coordinates from Adam Worth's brain was the only way Druitt would be able to teleport there to rescue Helen (3.10 – "Hollow Men", 3.11 – "Pax Romana"). Tesla had quarantined the nanite in the hidden sector behind a virtual Fort Knox of firewalls. The only person who, in his opinion, could breach the walls was "Henrico the Wonder Wolf", one of his pet names for Henry.
Helen had requested Henry to move the Sanctuary's most sensitive data to a more secure cloud location. Since Nikola never bothered to tell them, how could they know he had left behind a Praxian booby-trap? Praxian organic, sentient tech — "bits, bytes and brains, all in one". Henry can't do anything, even communicate with it; he doesn't speak it's "language".
It gives Nikola an idea. Helen picks up the direction of his thoughts without needing to be told. They know each other so well — no explanation is needed, for them. Will: "Would you like to share with the rest of the class?"
They're going virtual — downloading their own consciousnesses into the system as Will and Henry monitor from the outside. It's an insane plan, but might be the only one that will work. Henry flips the switch and they're part of the virtual cloud. Even downloaded, Tesla is still his impertinent, arrogant, rascally self.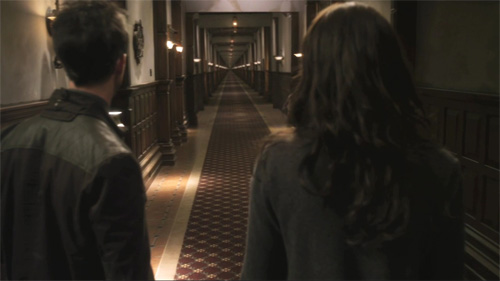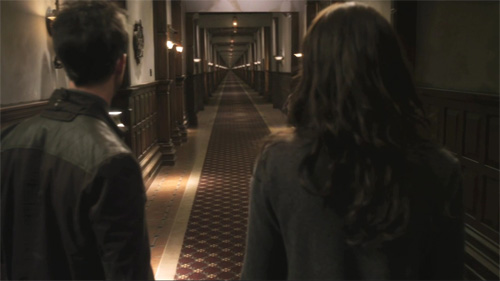 Inside the cloud, they decide the best course of action is to search for Henry's lab. As Nikola steps into the elevator, Helen grabs him and pulls back before he falls over the cliff, once again saving his life, even from virtual death. One of my favorite lines from the episode: "If an immortal vampire falls in a virtual world…" (Tesla) "does he make a sound?" (Magnus)
Helen and Nikola find her office, but it's jumbled and jam-packed and leads into the catacombs. Someone is running toward them — it's Adam Worth. It looks like Adam, but doesn't quite act like Adam. He welcomes them, cordial and pleasant, and offers to help them. He seems to remember their identities, but not their history. Adam whisks them to the library and shows them a virtual diagram. Tesla attempts to shield the nanite by manipulating the virtual map, hoping it will have an effect on its real-world counterpart.
As Adam reads a book in the library, he says the name "Ashley". Magnus reacts and demands to know how he knows the name. Virtual Adam tells her there are many stories in this place, but he hasn't read all of them… yet. It's how he's been learning about the Sanctuary. Tesla finishes and Adam takes them back to their entry point.
They open their eyes and see Henry. They tell Henry that Worth is the interface. The journey exhausted them both, and Helen informs them she's off to bed — a chance for naughty Nikola to surface. As Helen walks out of the room, Henry says, "So, out of your league," in a very not-Henry tone.
Helen startles awake to find the Adam avatar standing by her bed, asking her to read him a story. Instead, he reads her one — about her discovery of the source blood. Tesla barges through the door to let her know they are trapped in the virtual Sanctuary, only to be stopped in his tracks by the sight of Adam. He tricked them — illusions inside illusions.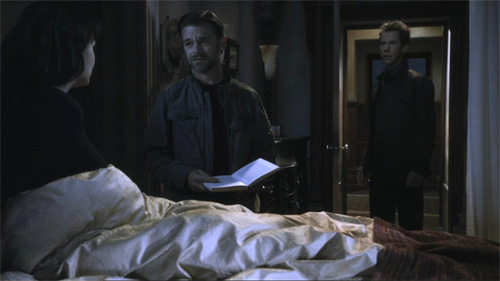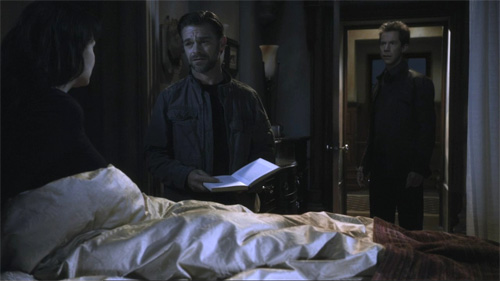 Adam slams the book shut and starts talking in his menacing British accent. He demands their help to take him somewhere real and changes their location to the chapel. Nikola is now chained to a column. Adam feeds Helen images of Ashley, reducing her to tears. When Helen points out his world isn't real, he hits her and she feels pain. He says she can't hide and pauses. The combination of the word "hide" and their presence jolts his memory, and he remembers everything about Adam Worth's history with Magnus. Adam grabs Helen by the throat and begins choking her.
Cut to the real Will and Henry. The system is going nuts. Magnus's blood pressure is dropping. Henry loses control of the system. Will gives Helen a shot of pure adrenaline.
Nikola vamps, physically and virtually. He pries Adam's grip off Helen. They begin to fight, then Adam vamps, too! This is a great fight sequence, one of the memorable ones in the show's history. One of those you-must-watch-this segments that's almost impossible to describe. For Tesla fans, it's made of awesome.
Adam gains the upper hand with Nikola — his world, his rules. Helen breaks her own bonds and chest-punches Adam across the room. Tesla, with awe, asks, "What's gotten into you?" Helen replies, "Adrenaline, I suspect." They realize their physical bodies are suffering the strains of their actions in the virtual world. The only reason Henry wouldn't pull them out is that he can't.
Back in the virtual version of the library, Helen pushes aside the virtual diagram to "peek behind the curtain." It's Henry's lab. Helen wants to do a system reboot from the inside. Tesla is reluctant; they don't know what effect that action would have on their minds. Adam enters and blasts them with a bolt of energy, rendering them unconscious.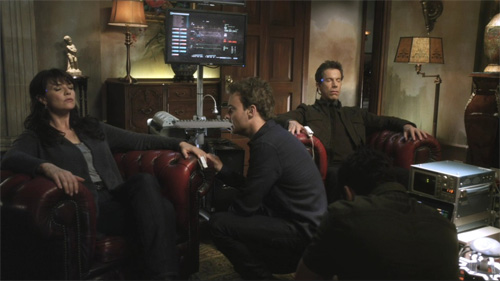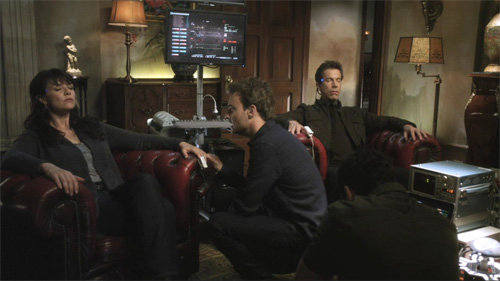 Tesla and Magnus's bodies have flat-lined — not dead-dead, but brain-dead. Will challenges Henry to duplicate the device the Praxians used to revive them after their execution in Hollow Earth.
Adam revives Helen and Nikola. He found the webcams and has been watching events in the real Sanctuary. They see the monitors and know they're brain-dead. That nixes the reboot plan. Helen realizes Virtual Adam wants a body so he can escape to the real world. Helen and Nikola discover his electromagnetism abilities still function. They decide to try to send a message to the outside.
Will receives a strange signal on Magnus's computer. Henry realizes it's an encrypted download in Praxian. Tesla notices that when Adam multi-tasks, there's a power spike in the grid. Adam finally pays attention to them and blocks the signal. But Henry has enough to decipher the message. Nikola uses his magnetic skill to freeze the avatar long enough for Helen and him to get away. Will decides the only way to save Magnus, and Tesla, is for him to go virtual, too.
Tesla follows the power spike and finds the nanite. The room resembles Adam's own lab. Adam is waiting for him. He prepares to take over Nikola's body. He's looking forward to having a few Guinnesses when he gets out. Beer over wine, one of the ultimate insults for Tesla.
Magnus runs in with Will trailing her, an unexpected treat for Adam. He hits on a genius plan to punish Helen for her "transgressions" against him. She must make the choice for him — Tesla or Will? Will or Tesla? A reluctant Helen, seeing no way out, chooses Will. Adam switches bodies with Will.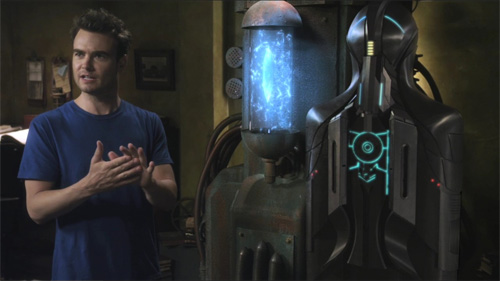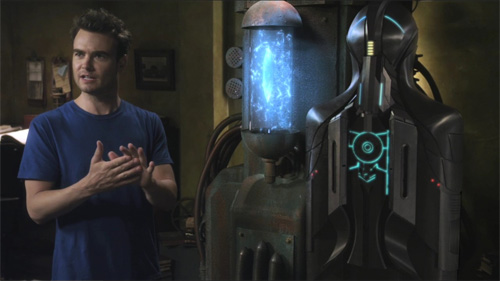 This scene became quite funny without meaning to be; it was supposed to be a serious, climatic moment. But Robin Dunne's attempt to pull off Adam Worth's evil, psychotic personality didn't work for me. I admire Robin's work, but him trying to be evil while doing a horrendous British accent came off like a drunken party imitation of a cartoon villain. In his defense, he did have to compete with the performance quality of Ian Tracey (Adam Worth).
As revenge, the Adam/Will hybrid plans to leave Magnus and Tesla in the system while he rejoins the real world. With the parting shot, "Have a nice virtual life," he closes his eyes. When he opens them, he's still with Tesla and Magnus. She failed to tell him one small detail — he's no longer in control of the system and the nanite has been quarantined. Helen and Magnus return, leaving Adam behind forever. Looks like Adam is not the only one who can play the trickster.
They decide to send the nanite to Kate and Garis to help rebuild Praxis. Biggie volunteers for the mission. He misses the little runt (Kate) running around the place, as do many of us fans, Biggie.
Nikola and Helen share a glass of wine in her office. He wants to know who she really would have chosen to swap places with Adam. Her response, "Ah, Nikola, do you really need to ask?', as ambiguous as only Helen Magnus can be.
This is an episode I would recommend to everyone, even those not yet familiar with the Sanctuary world. It embodies all the elements that make the series beloved by its fans. What episodes of Sanctuary would you recommend to friends?