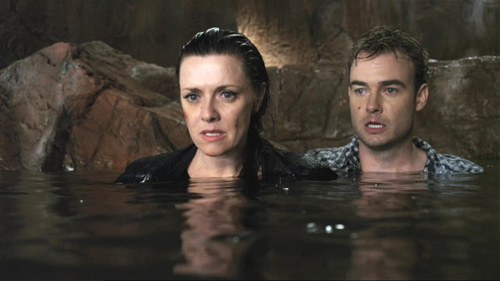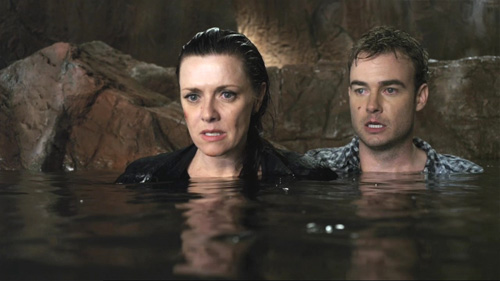 Episode: Sanctuary 4.11 – "The Depths"
Original Air Date: December 16, 2011
Screencaps by rawr_caps.
Magnus and Will are trapped by a cave-in during a trip to Bolivia and Henry records video letters to someone special in the Sanctuary episode 4.11, "The Depths". For those who have not yet seen the episode, spoilers follow.
Henry has cracked new info on SCIU "doings". He's uncovered plans for three research destinations to capture abnormals. One of the locations is the Bolivian Andes. Magnus realizes they're after a legendary abnormal, a creature so elusive that even her father, Gregory, was forced to give up the search and left instructions that it was to be left alone. The creature was rumored to be a large feathered serpent-like creature — the basis for the Quetzalcoatl legend. Followers of the serpent were said to possess unusual knowledge, strength and health. Magnus and Will head to Bolivia to stop the SCIU team.
The SCIU team has arrived ahead of them. Magnus's assessment of the situation is that SCIU is in way over their heads. They mount an offensive strike but the SCIU team has been warned to be on the lookout for a Sanctuary team and is ready for them. They subdue and capture Magnus and Will.
The subplot of the episode shows us how Henry is spending his time alone at the Sanctuary — recording a vlog "Letters to Alistair or maybe Alice, cause ya know", videos meant for his unborn child in the event he's not around to see his child grow up. These humorous segments allow Henry to get his geek on, proposing changes for the future and showing off his inventions like the "FOSS", a personal Energy Shield that acts like body armor against pulse weapons. There's still a few kinks to be ironed out. He also provides fatherly advice on surviving the zombie apocalypse, just in case. For me, these segments were the best parts of this Sanctuary installment.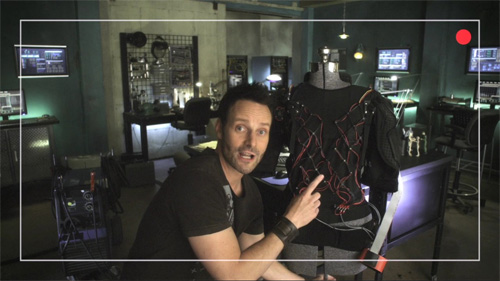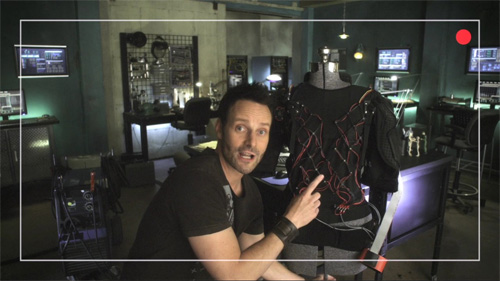 Magnus tries to reason with the leader of the SCIU team, but they're determined to remove their "prize". Magnus warns moving the creature will either kill it or them. The SCIU people shoot holes in the cavern roof to allow access for transport. The falling stones wake the creature and it does not react well to invaders in its home. The SCIU team begins shooting at the beast. Will is hit in the abdomen by a stray bullet. Trying to rescue Will and get out before the cavern collapses, Magnus is hit and knocked unconscious by a blow from the creature's tail. Magnus and Will come to, injured, alone and trapped in the cave. Magnus locates a med kit and performs a bit of painful "battlefield surgery" sans anesthesia on Will to remove the bullet. Magnus finds an underground spring — at least they have fresh water.
After a few minutes, Will feels much stronger. Magnus discovers a seam, a crawlspace which she thinks leads to another tunnel. Will is struck with claustrophobia and wants to turn back. Helen insists they keep moving forward. Will points out it's not the first time he's been stuck in a bad place with her. He terms it Standard Operating Procedure from Helen Magnus — risk everyone for what she thinks is the right plan, usually hers.
From this point, the episode goes downhill as Magnus and Will crawl through the caverns for hours, and the friction that's been building between them comes to a head. The dialogue is well-written, but as a whole, the episode begins to drag along as they slog through the tunnels. I think this was one of those episodes that looked better as a script than a finished product. Also, they have done at least one of these Will and Magnus trapped somewhere in water and about to die horrible death episodes per season. Perennially, those have been my least favorites of the entire series.
Magnus wants to check Will's wound. He peels back the bandage and they watch as it seems to heal itself. Magnus realizes their feeling of well-being is an effect of the water from the spring, (which they are drinking from a bottle that originally contained rubbing alcohol at the beginning of the episode). The "magic water", evocative of the Fountain of Youth, was an interesting touch, but it never gets explored, instead turning into a deus ex machina plot device that enables them to survive their ordeal. But there is a drawback: the effects of the water grow shorter in duration the more you drink and the crashes are harder each time as the effects wear off.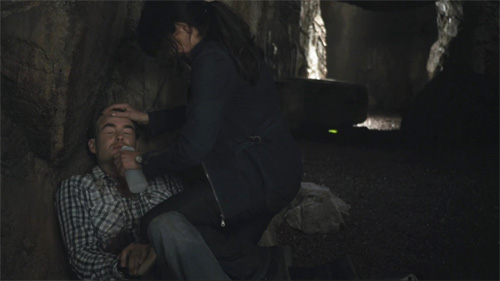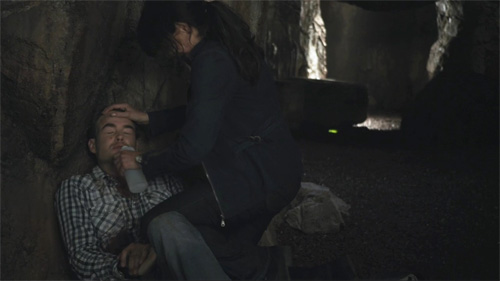 Will thinks Magnus has become jaded and needs the risk of death to hold her attention. He's tired of being the expendable human who only has one lifetime to do everything that matters. And he's giving those to days to Magnus, who doesn't seem to appreciate it, and bulldozes over anyone who gets in her way, friend or enemy. Will crashes; he doesn't want to drink any more of the water, but Magnus holds him down and forces him to drink it. Will accuses her of being unwilling to trust his judgment.
Magnus counters it's her job to do the things that must be done that no one else is willing to do because they're too scared of taking the risks involved, even when it means risking someone like Will's friendship. Will says she's too afraid to get close to anyone because she knows she'll lose them eventually. She surrounds herself with people who would do anything for her then turns her back on them when they don't live up to her standards — Druitt, Griffin, Watson, Will and the low blow — Ashley.
They enter a chamber where the spring collects into a lake. They know they must be close to the surface exit. The creature comes around the corner, face to face with them. To escape, they swim across the pool but the abnormal serpent creature pursues. They cross a patch of sunlight, but the creature won't — it's affected by the UV light. One problem — the exit tunnel is past the creature.
Magnus urges Will to have a few sips of the water for strength, then they can work on a plan of escape together. Will had a plan, but Magnus was unwilling to consider it. He takes the water and chugs what is left, to the dismay of Magnus. With his senses magnified by the water, he sees the way out, but they have to swim to reach it. Will realizes all the events of his life since he was eight have been orchestrated by Magnus. According to Magnus, it was Will's free choice to join the Sanctuary. She led him to the moment, but he made the choice.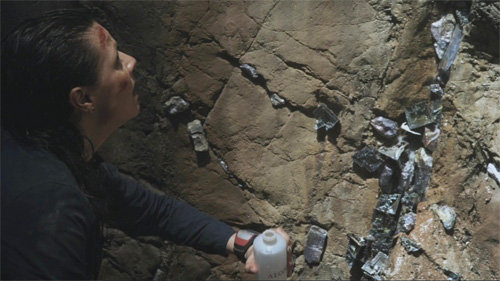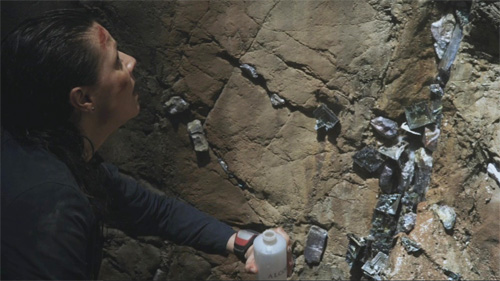 Magnus finds the exit but Will's body is shutting down. He urges Magnus to leave him and escape. But that's not an option for Magnus. She decides to retrace their steps back to retrieve more water. It took them hours and effort at the edge of their abilities to get through the caves, yet Magnus has little difficulty returning all the way back to where they started to get a refill of the "magic water". She realizes the crystals imbedded in the cave walls are the true source of the water's unusual properties so she takes some of those as well.
Upon their return to the Sanctuary, Magnus has to bring Will down slowly and keep injecting him with a solution made from the crystal until she can flush his system. Will offers to declare amnesty between them. Magnus confesses she never had a master plan — she's always been taking chances just like everyone else. She had no idea if asking him to join the Sanctuary would be a brilliant move or a total disaster. He says he can no longer be her protégé; he wants to be her partner. She's been hiding something since she returned from her jaunt through time. He wants her to trust him enough to confide in him, but Magnus is still unwilling to take that step. He'll just have to trust her. Magnus walks out of the room without giving him a chance to respond.
My big problem with this episode was plausibility. Many of the situations pushed the bounds of believability and I found the whole set-up unrealistic even for the Sanctuary world. I wanted to like the episode: Gillian Horvath is one of my favorite Sanctuary scribes and has penned several of my most favorite episodes, the serpent creature was a great piece of CG work, and the background music was excellent. Following last week's episode with its explosive revelations, "The Depths" felt out of place in the overall story of this season. However, the sequences with Henry, letting Ryan Robbins show off his comedic side, were a welcome relief from the darker side of this episode.