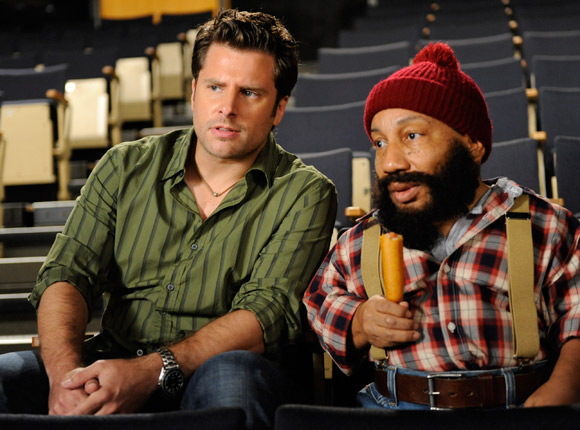 Episode: Psych 5.14 – "The Polarizing Express"
Original Air Date: December 15, 2010
What if Shawn Spencer hadn't returned to Santa Barbara five years ago? Psych meets It's a Wonderful Life and A Christmas Carol in this season's holiday episode that explores that very question. It's all done in the usual inimitable Shawn Spencer style, though, so no need to fear that our favorite psychic detective has gone all mushy on us. Bad Santa's Tony Cox replaces Clarence in the role of Shawn's guide on his journey of self-discovery that leads to greater personal understanding, the solution to the case, and plenty of opportunity for the requisite humor and silliness.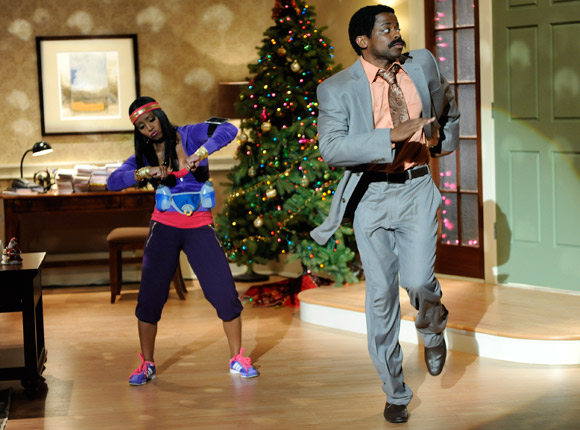 The premise for this episode is a huge mistake on Shawn's part that causes a major case to be thrown out of court and leads Chief Vick to make a tough call: suspend Shawn and Gus as police department consultants and fire Henry from his job as consultant coordinator. In frustration at his son's refusal to grow up and take things seriously, Henry tells Shawn that he wonders if things wouldn't have been better if Shawn had never returned to Santa Barbara. Shawn falls asleep with his father's words still ringing in his ears, and awakes to find that Gus has been replaced with a giant brown snowman (please tell me I'm not the only one whose first thought was of Mr. Hanky) and a small black elf is throwing fake snowballs at him, right in the Psych office. But wait, it's just a dream, and thus begins an interesting trip through Shawn's subconscious mind as we discover what everyone has been up to without Shawn.
Henry is a fat slob who sits around in his underwear watching reruns, and Gus (as seen through the lens of a '90s UPN sitcom) has a controlling wife (guest star Keshia Knight Pulliam), a stepson who hates him, and a huge pile of bills to pay. Because Shawn never returned to expose Lassiter's relationship with his previous partner, Juliet was never able to transfer from Miami where she languishes (albeit with awesome '80s hair) in a never-ending episode of T.J. Hooker. Not everyone is worse off, though — Lassiter is in squirrel-free heaven as the police chief, lambasting his troops for not shooting enough perps. Lassiter's happiness, perhaps more than anything else he sees in his dream, is what provides Shawn with the motivation to figure out the truth he is supposed to discover, as well as to put together the clues that will lead to a solution to the case.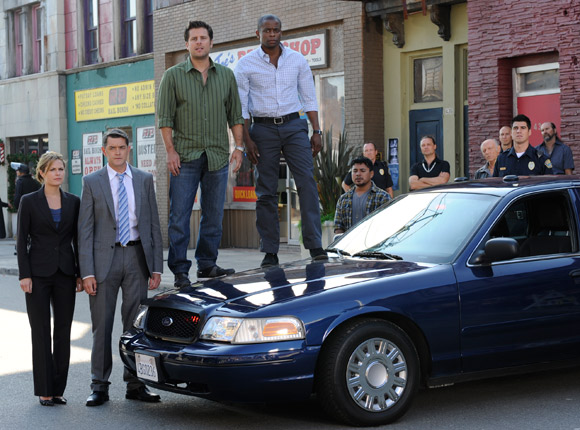 Psych could never be cheesy, even when channeling the cheesiest of all classic holiday stories, which is a good thing. I liked the dream angle, allowing Shawn's wacky subconscious to blow situations out of proportion and insert them into scenes taken from the vast array of movies and TV shows that he enjoys. Even though it's a quest to discover a deeply-buried truth, Shawn is always in control and keeps the situation light an humorous as usual. He does discover the root of the inner conflict that drives his immature choices, but even though he acts on this information the serious moments are kept to a minimum, and when they do occur, as when Shawn finally tells Gus how he really does appreciate all the usually thankless things that Gus does, they are very natural and not awkward at all, as one might fear in this show.
I also liked the fact that the dream, while being one of the most important parts of the episode, was not the only thing that happened. It lasted long enough to serve as a catalyst for Shawn's deductive skills but not so long that Shawn had to rush to put the knowledge to use in order to solve the case, redeem himself personally and professionally, and win Henry his job back. This was a feel-good episode, Psych style, which means it's the laughter that makes us feel so good when it's over.
Rating: 4 / 5 Pineapples