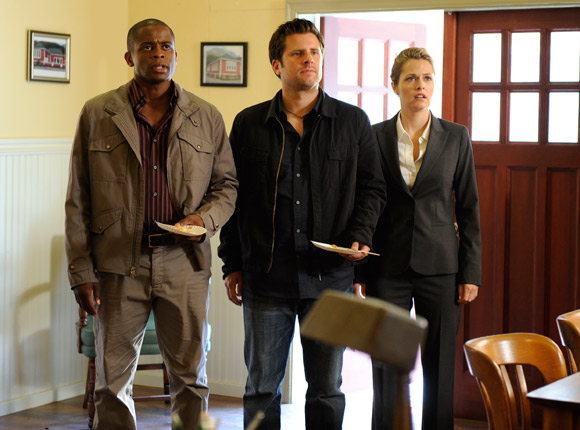 Episode: Psych 5.12 – "Dual Spires"
Original Air Date: December 1, 2010
Episode pictures from USANetwork.com
It's just another day at the Psych office until Shawn and Gus receive a mysterious email about a Cinnamon Festival in the tiny, isolated town of Dual Spires. Before they get a chance to sample the monkey bread, however, they find themselves in the midst of a community tragedy that reveals some sinister happenings underneath the tranquil facade. A teenage girl is found dead by the lake, wrapped in plastic, and Shawn and Gus suspect that it's not the accidental drowning of a rebellious girl out past curfew that it appears to be in this homage to the early '90s TV drama Twin Peaks.
I will say up front that I just can't do this episode justice in a review — my family's prime time lineup back then ran more towards Murphy Brown and Designing Women, so I've heard of Twin Peaks but never actually watched it (not to mention the fact that I was only in 6th or 7th grade at the time and probably wouldn't have gotten it if I had watched it). I welcome comments anytime, but especially this week, and especially from people who watched Twin Peaks and would be willing to share their assessment of how well Psych captured its essence, as was clearly its aim.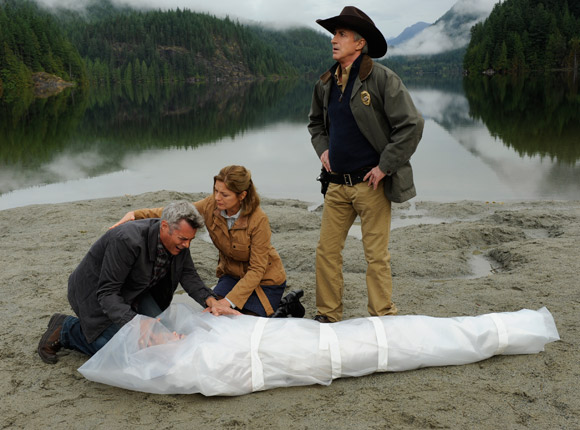 Seven former Twin Peaks cast members guest star this week as the most prominent citizens of this town, and their personalities range from quirky to downright eccentric. Lenny von Dohlen is Sheriff Andrew Jackson and Sheryl Lee is Doctor Donna Gooden, the town's physician, vet, therapist, lawyer, and CPA. Sherilyn Fenn is Maudette, the sultry librarian who suspects that something fishy is going on. Dana Ashbrook and Robyn Lively are Bob and Michelle Barker, owners of the diner in Dual Spires and relatives of the victim — Paula Merral (an anagram of Laura Palmer, something I did manage to figure out all on my own) was their niece. Catherine Coulson has a brief scene as the "Woman with Wood," a nod to her Twin Peaks character, the Log Lady. Ray Wise appears also, though not as a Dual Spires townsperson. Instead, he reprises his role as Father Westley from the season four episode "The Devil is In the Details…and the Upstairs Bedroom." In addition, we are treated to a Twin Peaks-inspired version of the Psych theme song as interpreted by Julee Cruise (the singer of the Twin Peaks theme song, for those of you who, like me, had no idea what was going on with the strange, slow, overly-dramatic opening). In it, along with the usual clips of the regular characters, we are repeatedly treated to random stills of mountain vistas and picturesque waterfalls.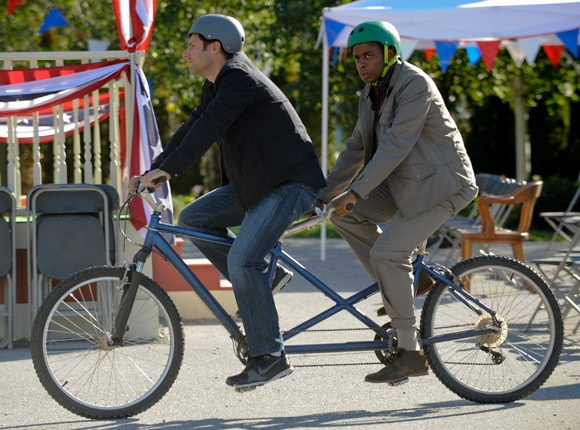 Although I didn't get any of the Twin Peaks references the first time I watched this episode (and only a few more the second time through, after I had done a bit of research), I still enjoyed watching it. There were plenty of the random humorous elements that I so enjoy about Psych. To start with, the names of the characters cracked me up — in addition to the aforementioned references to Twin Peaks characters (Woman with Wood and Paula Merral), we have a former president, a famous sports figure, a game show host, and a celebrity musician/record producer. Then there's the mayor, Douglas Fir, a non-speaking role that the writers of this episode (show creator Steve Franks and Tim Meltreger) originally intended to offer to Twin Peaks creator David Lynch before they chickened out.
The usual onslaught of funny one-liners from Shawn and Gus kept me giggling, as did Gus's superb facial expressions. One scene in particular reminded me why Gus is my favorite character. Early in the episode, Shawn and Gus follow Randy home because they want to talk to him. Not realizing who his father is, they are surprised when Sheriff Jackson opens the door. Shawn, as always, thinks quickly, and he gives the sheriff a line about how they are grief counselors offering their services in order to get a chance to talk to his son. Although at times I wonder why Gus puts up with Shawn's juvenile antics, I am always really impressed with Gus's ability to take Shawn's story and seamlessly insert himself into it, as he does here, saying exactly the right thing and hiding his annoyance with his friend and whatever crazy name Shawn has given him this time.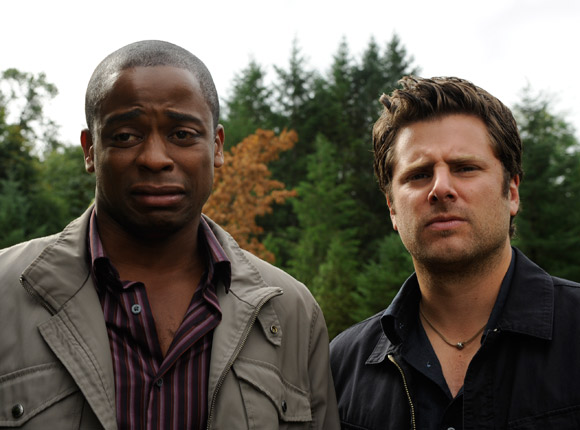 To me this was a solid Psych episode, even for someone on the wrong side of the inside jokes. It does not bother me at all that they made an episode so focused on a particular theme even though they had to know that not all of their viewers would have a clue about what was going on (and from the comments I read on some of the video clips from Twin Peaks that I found on YouTube, I am definitely not the only clueless viewer). They have done this in the past and I'm sure will do it again — the episode "Not Even Close…Encounters" from earlier in this season comes to mind as one with numerous inside jokes that would go over the heads of people who are not well-versed in sci fi movies. I loved that episode because I did get those jokes, though, and I can't help thinking that I would have enjoyed this one that much more if I understood even half of what was going on.
(Kudos to USA, though, for providing on their website an enhanced version containing occasional pop-ups to explain some, but definitely not all, of the Twin Peaks and other miscellaneous references throughout the episode. I still don't get it, but I don't get less than before.)