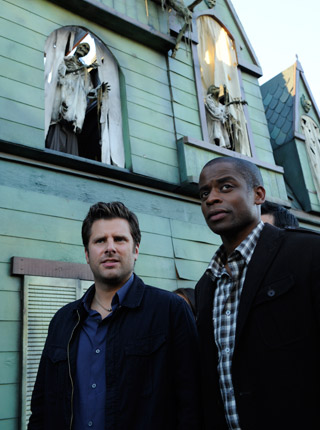 Episode: Psych 5.11 – "In Plain Fright"
Original Air Date: November 17, 2010
Episode still shots from usanetwork.com
Zoinks! What do you get when you cross a murder, a theme park, a ghost, and four crime-solvers? The latest episode of Psych, of course. Scooby Doo jokes abound as Shawn and Gus try to figure out whodunit — was it really the ghost, or will they get to rip off the monster mask to reveal the real culprit? No serious spoilers this week, but proceed with caution if you are sensitive to them, and remember to pull the safety bar down snugly and keep your hands and feet inside the car at all times.
The first thing we find out this week, via a flashback to young Shawn and Gus in 1990, is that Gus seems to have an irrational fear of amusement park rides breaking down and leading to disaster — even when they are a mere inches off the ground and never moving at more than three miles per hour. This fact may not seem to be very important, but it causes problems for Shawn in the present day when he witnesses a murder while on the haunted house ride — in the murder room, no less — and Gus can't back up his claim because he had his head down at the time, trying to see if his glow-in-the-dark watch really glowed in the dark (so he says). Pretty soon, however, the body is found and Shawn begins his quest to figure out what is really behind the story of the other employees, who claim that the park is haunted by the ghost of Johnny Ricketts, a teenager who died on a ride at the park fifteen years ago. They keep seeing him, in his plaid jacket and red baseball cap, all over the park, and Shawn and Gus even manage to find his image captured by the camera taking pictures of riders on the log flume ride, right after the police pull another park employee's body out of the ride's water channel. Will the gang find out who is behind the deaths? Of course they will, inserting appropriate movie references and '80s song lyrics as they go.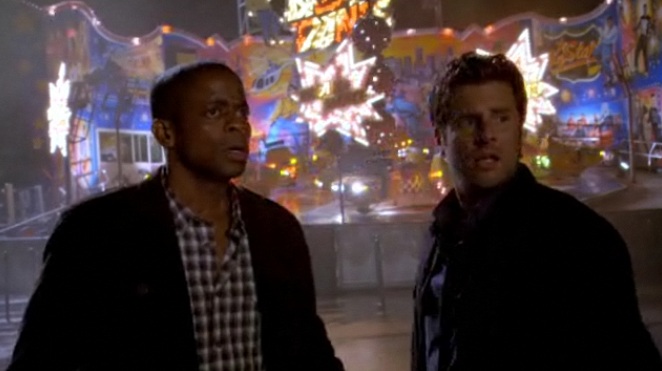 Speaking of Scooby Doo, one joke that resurfaced a couple of times was Shawn telling Lassiter that he was Velma. That got me thinking — which Scooby Doo characters do the other Psych characters correspond to? Beautiful, stylish, and smart Juliet would be Daphne, that's a no-brainer. Shawn would definitely choose Freddie as his counterpart, although I'm not sure any of his friends would equate him with the handsome leader of the group. Lassiter definitely would peg him as Shaggy, for the messes he often gets them all into with his bumbling and silliness. So does that mean Gus is Scooby? He's such a scaredy-cat throughout the episode, in addition to his usual role as Shawn's conscience and common sense, which points to him being either Shaggy or Scooby. Although I think he's way too smooth to be Shaggy, I hesitate to label him as the dog. At any rate, the jury is still out on that question.
Surrounding the theme park murder mystery is the secondary storyline about Shawn and Juliet's budding romance, and the impact of their relationship on Gus. Shawn is dragging his feet about telling Gus that he and Juliet are now an item because he doesn't want to upset his friend. His attempts to hide the truth only cause tension between him and Juliet, however, and his fears turn out to be unfounded anyway — Gus is not surprised at all when the truth does finally comes out. I found Shawn's machinations and lies to be tiresome and annoying, but then again I have little patience for Comedy of Errors-type scenarios where the audience can clearly see where the plot is going and can guess pretty accurately what will happen in the end. Fortunately Gus knows now, although I'm sure the writers will continue to manufacture all kinds of drama related to the Juliet-Shawn-Gus triangle. I hope they will have the good sense to use it sparingly. I also hope that the writers don't become tiresome and predictable in their sub-plots about Shawn and Juliet keeping their relationship a secret from Lassiter.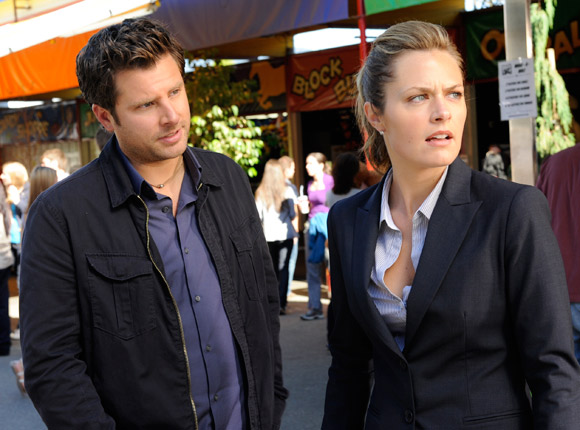 Overall, I liked this episode, although I wish Psych had returned a month ago so they could have used this as a Halloween episode — a Scare Fest the week before Thanksgiving just doesn't have the same effect. Scooby Doo is season-less, though, and I enjoyed dredging up childhood cartoon memories with those references. The only thing I would have done differently is the reveal at the end. The more I thought about the theme of the story, the more disappointed I was that Shawn, Gus, Lassiter, and Juliet didn't catch the "ghost," tie him up, and pull off his hat (or maybe his whole mask) to reveal the real killer's face. I look forward to the next installment, and to another crack at finding the elusive pineapple, which I didn't manage to spot this week. I'll make sure to eat my Scooby Snacks and hope for better luck next time.
Rating: 4 / 5 Pineapples