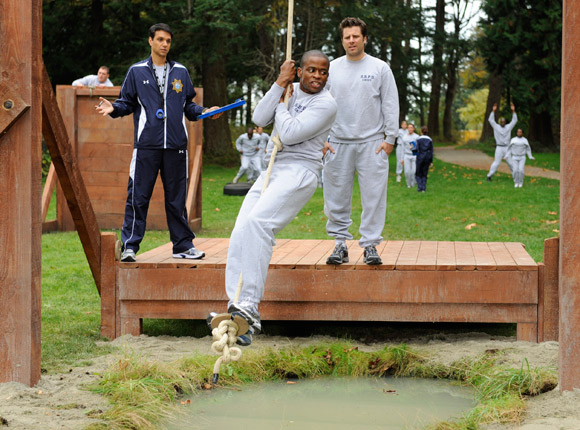 Episode: Psych 5.13 – "We'd Like to Thank the Academy"
Original Air Date: December 8, 2010
Pictures from usanetwork.com
When Shawn and Gus burst in and ruin Lassiter's sting operation, Chief Vick decides that they need a crash course in proper police procedure, so it's off to the Santa Barbara Police Academy for the psychic (or is it psychotic?) duo. Will they learn anything, or will this end up being another installment in the 1980s movie series? Do you even have to ask? This is Shawn Spencer we're talking about, after all. The cadet uniform allows him and Gus access to a whole new level of mayhem opportunities, much to the chagrin of the chief, the detectives, and especially their instructor, Officer Conforth (played by none other than the Karate Kid himself, Ralph Macchio), who ends up in as much, if not more, trouble than his two newest students.
When I started seeing the promos for this episode I was afraid that it would either be a repeat of the previous episode ("Dual Spires") with tons of references to movies with which I had only a passing acquaintance or that they would go overboard with Karate Kid references. Fortunately, neither was the case. The nods to both Police Academy and The Karate Kid were there, but they neither went overboard nor made it inaccessible. Fortunately for me, the Police Academy references were the more obvious choices — I have seen enough bits of that movie to recognize the sound effects-producing cadet that Gus aspires to be. You have to pay attention, though, or you might miss it when Shawn calls Officer Conforth "Sensei" or when the phrase "wax on" makes its way into a conversation having nothing to do with polishing cars or martial arts.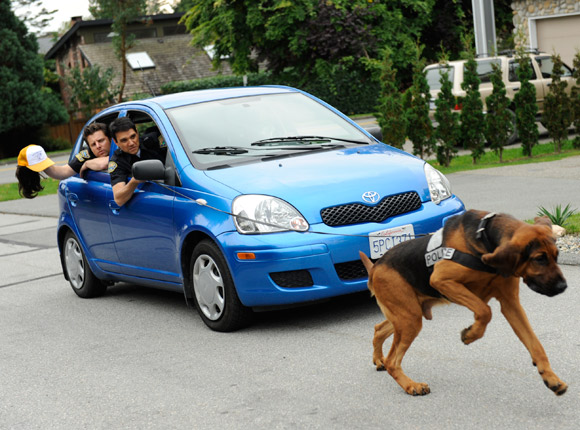 Actually, what I enjoyed the most were the unexpected and seemingly unrelated movie references, most notably the prominent position of one of the greatest '80s movies of all time, Top Gun. I cracked up when Shawn and Gus re-enacted the famous "keeping up international relations" scene, substituting some strange traffic situation involving a tractor-trailer and Gus's Blueberry for dogfighting MiGs and F-14s while Juliet attempts to instruct the class on the finer points of the PIT maneuver. She is not amused with their antics, of course, but it's clear that she gets it, too, because she surprises Shawn at the end of the episode with her very own replica of Kelly McGillis's leather flight jacket. More subtle is a nod to Men In Black — look for it in the scene where Shawn shows off his target-shooting skills at the cardboard cutouts in a library mock-up.
One thing I noticed in this episode was the fact that Shawn didn't do any of his fingers-on-the-side-of-his-head dramatic "sensing" of something going on — whether this was intentional by the writers or not, I have no idea. Shawn's psychic "ability" is really only mentioned once, at the beginning when he explains his and Gus's crashing of Lassiter's drug sting by saying that he sensed something going on weeks ago but the police hadn't done anything about it (at least as far as he could see — the fact that he didn't know about the need for warrants, wire taps, and surveillance is what prompts the stint at the Academy). He notices key details, as usual, but most of the information that prompts him to go to where the action is comes by way of the police radios that he and Gus now have access to as Police Cadets. We will have to see in future episodes if I am reading too much into this or if it really is foreshadowing a revelation about Shawn's supposedly psychic powers versus his very real capacity for details and observation and deductive reasoning.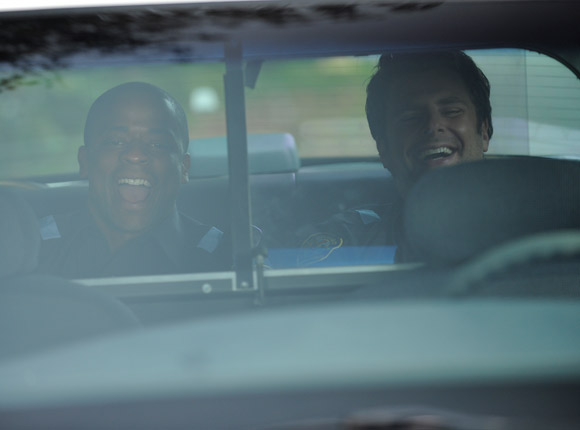 Fist bump to the Psych team for yet another fun, entertaining episode. I giggled at many of the references and a few even made me laugh out loud, which is the main criteria upon which I judge this particular show. They solved the mystery, caught the bad guys, created some havoc, and everyone (except the bad guys, of course) came out great in the end. Oh, and to top it off, I even managed to spot the pineapple this week — in the grocery store, of course.
Rating: 5 / 5 Pineapples