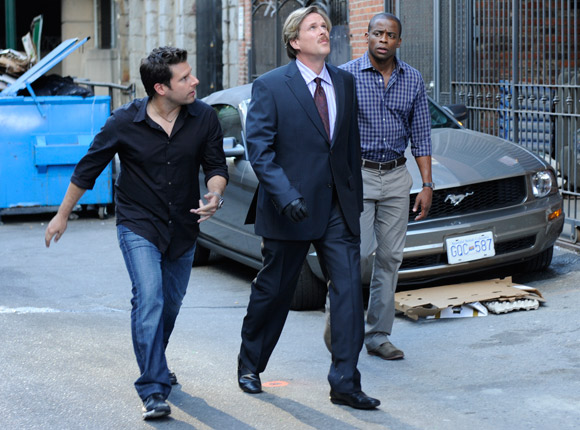 Episode: Psych 5.10 – "Extradition II: The Actual Extradition Part"
Original Air Date: November 10, 2010
Episode stills from usanetwork.com
Wait for iiiiiit… Hang on, we don't have to wait for it anymore! Psych has returned for the second half of the fifth season, and what a season it continues to be. We have mysteries to solve, cagey criminals to catch, a cool guest star, unresolved sexual tension, and dialogue full of hilarious one-liners. All that, and pineapple, too — what else could a girl ask for?
In this episode, Shawn and Gus are up against former nemesis Desperaux (Cary Elwes), who has been a guest of the British Columbia prison system since they caught him in the fourth season premiere last August. Actually, he's less of a nemesis and more of an idol for Shawn, who continues to be in awe of his ability to steal art while leaving no hard evidence behind and almost always managing to evade capture. In fact, we find out that Shawn has kept in touch with Desperaux and now the thief has invited them to visit him in prison in Vancouver, all expenses paid. Once there, however, Shawn and Gus get caught up in Desperaux's devious plan to escape and pull off one more heist before being extradited back to Santa Barbara.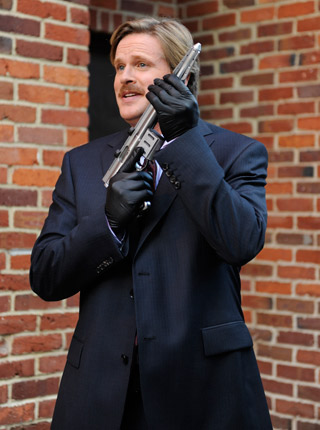 They spend most of the episode caught between Desperaux and the authorities, unsure of whether or not they should risk an aiding and abetting charge to help him prove his innocence in a series of murders that seem to bear his signature. Cary Elwes turns in a great performance as Desperaux, playing it with his usual humor and flair. I have always enjoyed seeing him in comedy roles rather than in serious ones, and this character in particular is over the top, along the lines of Robin Hood: Men in Tights, with a little bit of Cary Grant charm and smoothness thrown in for good measure.
As for subplots, there's a really big one — what is going to happen between Shawn and Juliet? The last time we saw them, Juliet was dating a millionaire who was about to surprise her with an Italian vacation. She overheard Shawn talking about his feelings for her, though, and they ended up kissing, leaving both of them unsure about where things stand between them. As a result, we see a different Shawn than we're used to for much of this episode. Between trying to decide whether or not Desperaux committed the murders in question and figuring out how to share his feelings with Juliet, he is feeling a great deal of stress and angst. Gus even comments on it at one point: "You were quiet the entire flight and you watched The Back-Up Plan all the way through."
Although he still manages to pull one over on Lassiter and the Canadian authorities with his psychic act in his usual comedic way, it is obvious that he is not himself, and I thought Roday did a good job of getting this across to the audience. One of my only quibbles with this episode is the fact that it was not introduced with the usual flashback to young Shawn and Gus dealing with something related to the episode's theme. I would much rather have seen young Shawn and his dad discussing the importance of telling people that you care about them than the weird conversation between them in the second scene of this episode. Shawn even says, "Can we never have this conversation again?" and I tend to agree with him on that.
After he and Gus meet with Desperaux, Shawn finds that Juliet has come to Vancouver with Lassiter to bring back Desperaux, not to Italy with Declan as he had feared. They are both surprised to see each other and eager to talk, but the jail is just not the right place. When Juliet comes by his hotel room later to talk to him, he can't invite her in because Desperaux is there. Shawn's way of stalling her is to tell her that what he wanted to say really wasn't important anyway, which of course makes her mad, especially since what she wanted to tell him was that she had broken up with Declan. Will they ever get together? Do we even want them to get together? Where the heck is that pineapple that's supposed to be hidden somewhere in the episode? I have answers to these questions and more, so consider this your warning: if you continue reading, you may find spoilers!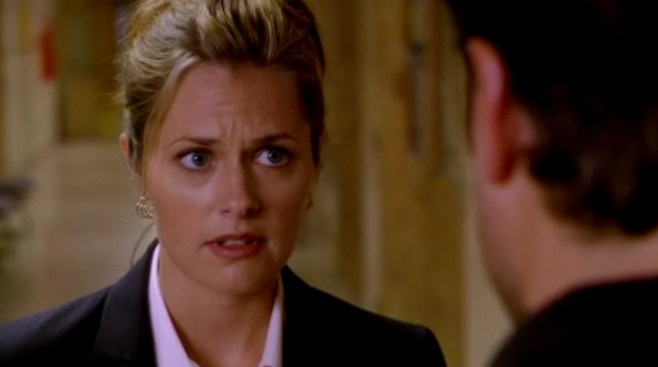 So, at the end of the episode, Juliet is understandably mad at Shawn for the way he treated her, and his attempts at humor just annoy her even more. He does the clichéd thing and walks away, but doesn't get too far before… wait for it… he turns around and comes back. He cracks a joke she can't help but laugh at and they end up in a lip-lock to beat all lip-locks. In fact, since the invention of the kiss, there have been five kisses rated the most passionate, the most pure. This one left them all behind. Well, okay, maybe not, but it did keep going for quite a while before Shawn finally realized that he had a room they could go to. What a great, funny way to end the episode!
Now they've gotten together, it seems. Does this mean it's downhill from here? According to the producers of the show, there's no need to worry that Shawn and Juliet are going to be the next David and Maddie. They point out that the central relationship in the show is the "bro-mance," if you will, between Shawn and Gus, and that the episodes are about solving mysteries first, with relationships being secondary. In other words, it's not as if the past four and a half seasons have been leading up to this one moment, leaving nowhere to go from here. In fact, a Shawn/Juliet pairing opens the door to the exploration of other issues, chief among them being Shawn's decision about whether or not to continue keeping the truth about his "gift" a secret from Juliet, especially since honesty is what she values above all else in a relationship. I think what the producers said makes sense, and I look forward to seeing what develops.
Oh, and the pineapple? I think it's a ceramic one on the table or desk in the background when Shawn and Gus are talking to Desperaux in the hotel room. I may be wrong, though — try as I might I miss it more often than not.
Rating: 4/5 Pineapples