Sons of Anarchy drastically varies from where we were last week at the Creek. That's because July is over and done with and we're moving on to a month all about the brodown. Shows that men absolutely freaked out about to the point that their loved ones started to worry a bit — from Charming to Albuquerque, from a man in the Counter Terrorist Unit to a group of guys and a gal spending way too much time playing fantasy football. First, though, the crime ridden drama of Jax Teller.
Name of Episode: "Papa's Goods"
Premiere Date: September 3, 2008
Finale Date: December 9, 2014
Site: Sons of Anarchy
Impact on Pop Culture
Bikers are like the pirates of the modern day. They steal what they need, kill who needs to be killed, and don't really like to abide by the law — at all. So of course there are people out there who like that. I mean, who doesn't appreciate the rebellious side of life? With that, this show capitalized with not only fellow bikers, but those with a fascination for the road less traveled. Sons of Anarchy introduced the world to nothing new though. Audiences have been falling in love with bad guys on the small screen for years. From Archie Bunker to Dexter, we love to fall for those who in real life we'd likely never want to be around.
Facts & Stats
The show was influenced by Shakespeare's Hamlet.
Ron Perlman was not a fan of his motorcycle at first. In fact, he was scared.
Jax Teller ended the series with the most kills in the club.
The show filmed in Southern California.
There is a Sons of Anarchy comic book.
What I Knew Before Watching the End
Before ever watching this finale the first time around when it aired, I knew as much as I did watching it once more. It's a show about family and bikers, and there is a whole lot of crime going on. That pretty much sums up the bare bones of this, right?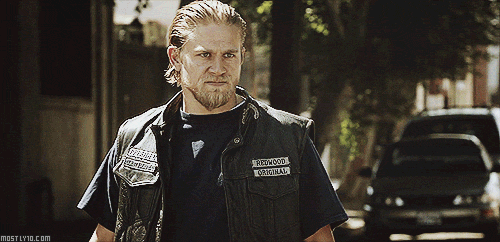 Final(e) Thoughts
Here's some notes from someone who watched this for the second time in her life:
Biker gangs still exist in this extent?
What is Jax's accent?
I am really impressed by the amount of documentation and organization of this outlaw.
Does that girl in the blanket matter — at all?
The ending with the song, the crows and the quote — poetic as hell.
The first time I watched this, I didn't care. I was confused and I thought, "Why do we need a five minute intro right now?" The second time around, I was still a little confused and still wasn't too fond of the elongated musical intro, but I seemed to care for some reason. I was more emotionally involved with this Jax Teller, even though I'd only seen him once before and under the same circumstances. Not sure why, but let's get to the finale at hand.
Jax is tying up loose ends before the end. At first we're not sure what that end entails, but after he sheds blood all over the city, it's pretty clear that he doesn't want to come out on the other side alive. He settles things with his crew, his family (sort of), and even with the authorities (kind of). He says a final farewell to the rest of the Sons of Anarchy and let me tell you, I cannot stand to see a man cry. It breaks my heart and I think watching with more concern, I lost it when Jax teared up saying goodbye to these men who were more like his family than just a group of guys who share a love of bikes and crime. I would say him saying the same sentiments to his sons had the same effect on me but child actors that age, well, they're not all as captivating as Michelle Tanner. Then there was the whole scene with who I assume was the DA, wonderfully confusing. Jax tells that his mother's a murderer and her whereabouts, but leaves out that he'd already taken care of her. The DA's face when he leaves and later when she realizes what his cryptic adieu meant made for an entertaining time.
Weighing it as a finale, the goodbyes were okay when averaged. There was a little mystery in them as his girl was left kind of in the dark, as was the DA. You had the main character at the core of everything and because I'm not sure if this was an ensemble cast or not, I can't really say I appreciated that or not. Like, what's to come of everyone else? Were those quick, somber shots of them as Jax led the parade of cops to his end it? It left me wondering about what was next for them as their fearless leader was taken out by the Thing in a truck. I felt the heartbreak of Jax in the end, but at the same time, when you have no idea why he's shooting who he's shooting, you're kind of like, "Well, that was a bit uncalled for." So when watched just as a singular episode, you just assume he's a bad guy with too much baggage who needed to take the easiest way out.