On a personal level as someone who highly enjoys not having human, face-to-face contact with people for work, shows like Parks and Recreation give me the creeps. How can these people who were just hired at the same place go on to actually care about one another? Sorry, that is the hermit freelance writer in me. On a broader scale, this show is one of those ones that I feel you either like or are obsessed with. I'm in the like category as reruns sometimes catch my attention, but when it came time to list the best of the workplace shows, this was one of the first I wrote down because seriously, who loves their work and place more than Leslie Knope?
Name of Episode: "One Last Ride"
Premiere Date: April 9, 2009
Finale Date: February 24, 2015
Site: Parks and Recreation
Impact on Pop Culture
This show not only made Amy Poehler more than just another face from the depths of Saturday Night Live, it proved that the women of that show would fare just as well after their run in late night sketch comedy. Of course Poehler wasn't the only name to go mainstream. Nick Offerman and Aubrey Plaza also became icons of mean thanks to their time as Ron Swanson and April Ludgate. Then there's that one guy, hmm, what's his name? Oh yeah, Chris Pratt. The once-chunky funny guy went all six-pack crazy for a role and suddenly everyone and their mom was a fan. This show made political things humorous for the common man and along the way created some of the most beloved characters, and actors, today.
Facts & Stats
Chris Pratt's Andy wasn't supposed to make it past season one.
Nick Offerman and his Ron share a love of woodworking.
Pawnee's City Hall is actually Pasadena. Well, that's the building they used for the outside shots.
Oscar winner Octavia Spencer auditioned for the role of Donna back in the day.
The show's original name was Public Service. Doesn't quite roll off the tongue, now does it?
What I Knew Before Watching the End
The characters' highs and lows are a mystery to me, but their names — I'd be able to half-ass guess them if necessary. The setting and parade of guest stars over the years were a bit familiar, but again, this was a show I never took claim to and even now that it's on Netflix and/or Hulu, I don't find myself wanting to sit and stare at it. Something about Adam Scott's tiny face bothers me. There I said it, Scottians, you can come after me now.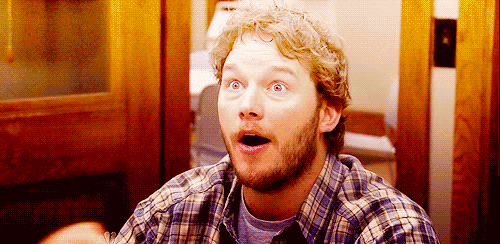 Final(e) Thoughts
This finale was watched live when it happened and then once more this past week. Each time I was impressed that they delivered not only a final farewell in real time, but a little look forward, as well as a reunion of sorts. They did in one finale what some shows will never do for their fans. They gave them complete and utter closure. What more could fans of this show ask for? I mean, we'll never know what became of Melrose Place's Amanda. Did the cops track them down on the island? While that question lingers, we know Leslie went on to have a great political career, April and that guy from Jurassic World had kids despite appearing like they would never spawn or be good at it, and even that lady named Retta grew leaps and bounds in her future life.
In one swift episode stretched out over 40-something minutes, Parks and Recreation did what shows today have to in some cases. With their last season being a mere 12 episodes, they packed all they could into that finale because unless this show was more than a mere fan favorite (aka it was a cash cow), there was no way they'd pay these people to ever do a reunion. So they gave it to you straight up and now can enjoy their post-Parks years without the inevitable, "Are you going to do a reunion special some day?" I bet Friends is wishing they went out like Parks did, because even on her deathbed, someone — yes, someone — will ask Jennifer Aniston what became of Rachel and Ross a week, a year, 45 years after she got off that damn plane.
Closure is a big part of life and for TV watchers, it's possibly the number one thing we can hope for with a finale because in all respects, we spend our time with these characters every week and for them to just leave us hanging? It'd be like a friend moving, deleting their Facebook, and never calling. Like, remember Stacy? Yeah, what the heck happened to her? See, how annoying would that be? So while Parks's finale squeezed a lot into what little time they had, and at times it got a little jumbled and confusing if you didn't pay super, close attention, their finale was great in terms of our word of the day: closure.