I recently reviewed Sideshow Collectibles' 12″ Aayla Secura action figure, which failed to impress me on any level. This time I have Gentle Giant's new Aayla Secura bust. How does it measure up to the previous Aayla collectibles? Refreshingly well, actually.
If you're a fan of the Twi'lek Jedi from the Star Wars prequels, this is the collectible to get. Gentle Giant has done a fantastic job with this bust. Most of their Star Wars busts are exemplary, to be honest, even though the company occasionally gets a bad reputation from collectors for making some of their limited edition and exclusive pieces prohibitively hard to obtain.
Aayla is shown here in an iconic pose, with her lightsaber raised above her head and behind her, ready to strike with her back arched. From the top of her lightsaber hilt to the bottom of the base, the bust measures 8″ tall. The lightsaber blade comes packaged separately in the box with Aayla. It's a transparent blue pole that attaches to the hilt via a long metal rod. This attachment really is my only complaint about the bust. Because the metal rod is so long (which is a good thing, as it keeps the blade secure) and because the saber blade is transparent, you can plainly see the rod through the saber when it's being displayed. This is a minor quibble, though, and most people looking at the piece probably wouldn't even notice.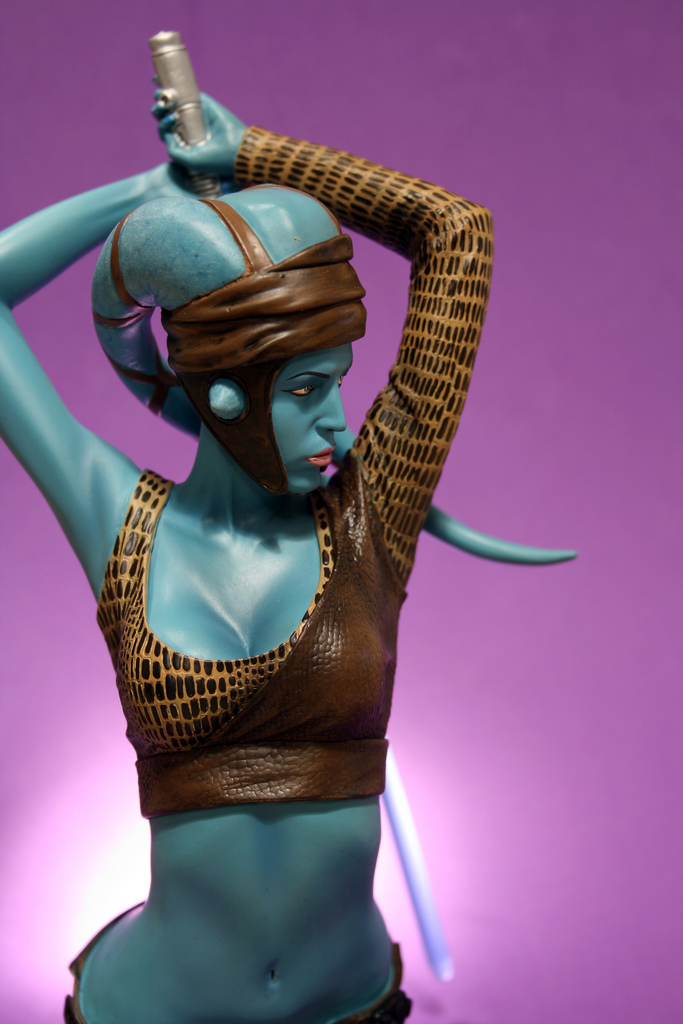 The sculpt is gorgeous and, while not entirely accurate to the actress, looks really good. Aayla's outfit is textured nicely and has a great level of detail that becomes apparent when you look at the full-size versions of some of the images linked from this review. Her tunic actually looks like some sort of leather or hide, and the whole thing screams of authenticity. Aayla is sculpted in a pose that evokes sultry power. It's pretty much a given that she was the hottest Jedi in any of the Star Wars films, and this bust really brings that out without sacrificing her strength.
The base is a standard, black, round base like most or all of the Gentle Giant Star Wars busts have. The packaging is the standard Gentle Giant box with a window that lets you see the bust inside before opening it. Everything comes together into a very nice and high quality bust that looks great alongside the rest of the Jedi characters Gentle Giant has released.
( Star Wars Aayla Secura Bust Photos )