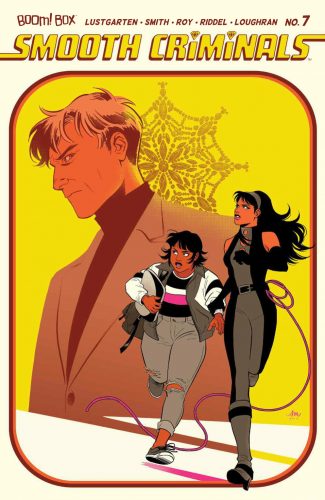 Brenda and Mia are in custody and it's not looking good for their futures. Will the crafty duo strike a deal for their freedom or will they spend their days behind bars, without the loot that put them there? This issue provides an interesting exploration of which path they're headed down.
Note: This recap may contain spoilers!
As we start, the agents are trying to figure out how to approach their interrogation. First of all, they've got Mia, a well-trained thief who remains stone-cold silent during their observation. Then they have Brenda, who is being overly chatty during her solitary confinement and doesn't appear to be a well-trained career thief at all. Obviously the agents are going to try their luck with the amateur.
Brenda, for all her talking, is very good at keeping her focus. She wants to see Mia, to make sure she's okay, but of course the agents don't want them to get together and hash out how to keep their stories straight. They do let her observe the thief through a two-way mirror, warning Brenda that she should talk to them before Mia rats her out first. Thankfully, Brenda does not rise to the bait.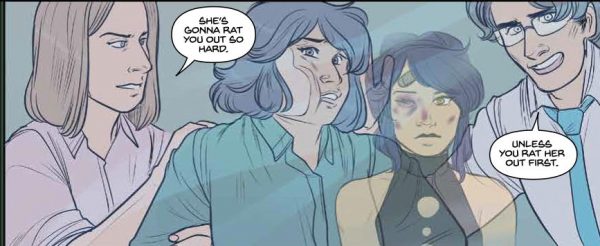 Mia, for her part, maintains the same dedication to keeping silent, even when the agents lie and tell her that Brenda cracked. But she also knows that her friend may not make it in prison and it's up to Mia to protect Brenda from what may come down on them both. She strikes a deal that she will confess on two conditions, the agents will release Brenda without charges and they will also let Mia see her mom, Reina. That seems like an easy trade, so Brenda's cut loose and Mia gets to confront Reina.
While I do like the relationship between Mia and Reina, and I'm of two minds whether Reina purposefully sent the agents to the roof to catch her daughter or whether she thought Mia would abide by her training and not be there, I'm more focused on Brenda and Mia's friendship and the lengths they would go for one another. Already we saw that Mia gave up her freedom in exchange for Brenda's, and the front she put on about just using Brenda was easy to see through, but it's when Brenda makes the realization herself that things get interesting. Brenda doesn't have many friends, so she cannot afford to lose the ones she has.

Being the type of person she is, Brenda uses Hollywood as her training ground. Her plan was to watch a whole bunch of heist movies to figure out how to rob a bank so she can be sent to prison, find Mia, and get her out. I don't know how, but Brenda's plan actually worked and she became Mia's bunk-mate. So many things wrong with that logically, but I'll go along with it for the sake of storytelling.
Mia and Brenda then team up and talk to the agents together. Mia wants a new deal and Brenda has a proposal. They don't have the Net, but they know who does. If they get it back, help the agents avoid an international scandal, then both Brenda and Mia go free, along with Mia's mom. Not a great deal for the agents, who thought they had their thieves with no strings attached, but eventually they see that they're actually painted into a corner. They do need to recover the jewels from Friese and if they have to give Brenda, Mia, and Reina their freedom to do it, so be it. And that sets us up for the next issue. I wonder what plans the duo might come up with next!
Rating: 4 / 5 Stars