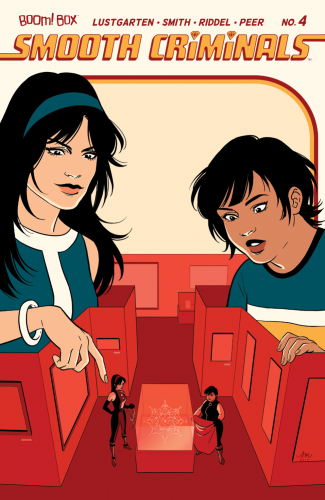 So many different strings are being woven together in the story of Mia Corsair. And so many secrets are still to be uncovered. It's a true spy mystery and where we'll end up is anyone's guess.
Note: This recap may contain spoilers!
Last issue, we got a brief glimpse of Mia's mother. Ms. Corsair has been locked up since the late 1960s, paying for the crimes she committed during her career as a thief. Now, in 1999, the FBI is interviewing her in hopes that she can shed some light on the mystery surrounding her daughter's re-emergence and apparent unchanged appearance. But the elder Corsair is not the giving type and wouldn't betray her daughter, even if she did know anything. The last time she saw Mia was in 1967, and this new image seems to show her just as she was thirty years ago. How can that be? Mom's not telling, but she does have questions of her own.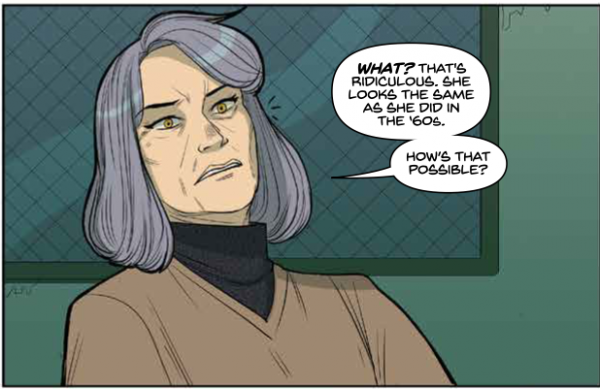 We also got a bit of backstory on Mia's mom and how she ended up a criminal in the first place. It was not always her intention to be on the wrong side of the law. Mia's dad worked at a Michigan car plant after the war, but then got killed in a work accident. Her mom became a thief to help them make ends meet and she was very good at what she did. She passed that knowledge down to Mia, who had been using it quite well until her cryo-chamber misadventures. Now, there's the potential that Mia's mother could once again play into the outcomes of Mia's life.
Mia and Brenda are prepping for their heist over at the old sciences wing at the community college. While they have the tools, the prep work isn't going as well as they hoped. First they have to figure out how to get into the exhibit. While night-time seems like the logical choice, it would make it much harder to accomplish their plan, since after-hours is when it goes into lock-down. And then there's the problem of getting through the motion detectors and all the sensors, which Mia's not having much luck with during her repeated run-throughs. But, on the upside, there is a way into the cube by way of a ceiling vent if she can figure out the sensors. And since Mia knows how long the projections last on the smart glass and when it would be opaque, there does seem to a shred of hope.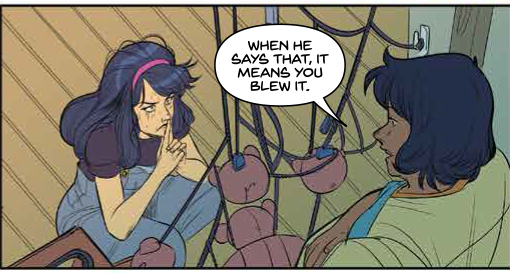 And perhaps they can make their plan work, if only they could avoid the interference of Hatch. He is not pleased that Mia has returned, essentially threatening his plans, so he's set his sights on tracking her movements and intentions. And he's seen first-hand not only that the cryo-chamber is gone, but also the prep-work that Brenda and Mia have laid out in the room. I fear there will be a number of run-ins between Mia and Hatch before this is all over, and that he will thwart their plans.
As an addition, I am enjoying the building friendship between Brenda and Mia. While there is thirty years between them, it seems like society's acceptance of love hasn't grown as much as it could have. I'm very happy that Mia's outraged over society's intolerance, as well as being so accepting of Brenda's sexuality. Love is love and there should be no shame or condemnation of that. Just as much as Brenda's helping Mia achieve her plans, I think Mia's going to help Brenda become more comfortable with expressing her true self to a society that might not be so accepting. It's going to be a great adventure with Brenda and Mia, and I can't wait to see where they go next.
Rating: 4 / 5 Stars