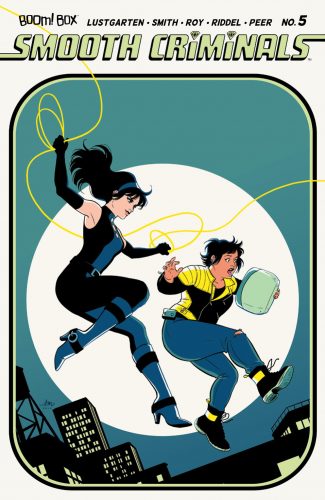 The duo is still refining their plan, Hatch is getting more information on the heist, and Mia's mother is clued in on what her daughter's planning. Lots of character exploration in this issue and a great way to get to know them better before the big score.
Note: This recap may contain spoilers!
Brenda is adorable and still trying to bring Mia into modern times. This issue, we start with her at the arcade, trying to teach Mia Dance, Dance Revolution. A worthy endeavor, even if Mia doesn't quite see the value. And she also doesn't understand how Brenda's lack of real-life friends is balanced by her abundance of online friendships. However, coming out of that bonding and conversation, we discover that Brenda might be a bit closer to one online friend than the others.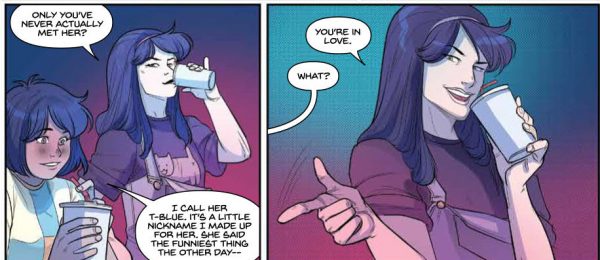 Brenda is gushing over one of her friends, Tallulah Blue, and Mia identifies the fact that Brenda might be a bit in love with the girl. Mia also deduces that if Brenda just meets Tallulah, gets her out of her system, then she can focus on the heist rather than be distracted by the possibility. Mia may well be correct, and she's also very good at what she does. She actually tracks down Tallulah at an open mic night and insists Brenda come meet her beloved crush. And maybe Brenda could get Tallulah out of her system upon meeting her if she would just speak, but that was not to be. Instead, when Mia quite literally threw them together, Brenda runs away and then the duo have a falling out over Mia's interference.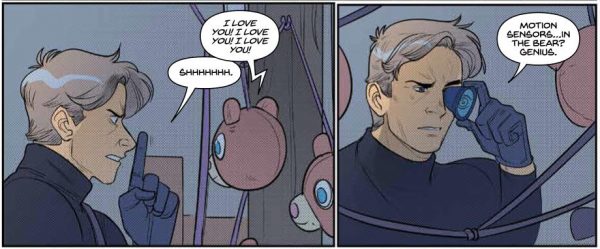 Meanwhile, Hatch is becoming aware of their plans for the heist and how they hope to achieve it. He even got his workers to get him the same set-up so he could test his own skills and perhaps beat them to the treasures. Unlike Mia and Brenda, Hatch has repeated failures and doesn't seem to ever find a way in to the museum without triggering the alarms. While he doesn't have a chance at the riches, Mia and Brenda do, as Mia finally made it all the way through without triggering the bears. She and Brenda also come to a truce over the Tallulah incident and they both re-focus on their heist goals.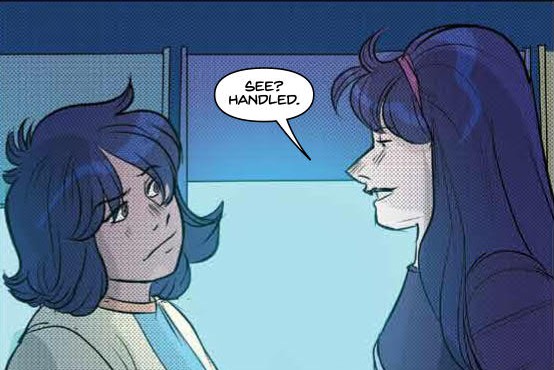 Unfortunately, there's someone else closing in on them – the two law enforcement agents who have been putting the pressure on Ms. Corsair. Mia's mom knows why her daughter finally appeared again after so many years, with the newspaper covering the Net of Indra jewels, but she's not going to share that information with law enforcement. But they don't really need her help, since they came to the same conclusion and even see Brenda and Mia out front of the museum, taking one last check before they pull off their heist. Very clumsy move and one that might cost them their chance at the jewels. The duo need to be in top shape if they hope to pull it off. We'll have to wait and see if Hatch or law enforcement put a stop to their plans.
Rating: 4 / 5 Stars