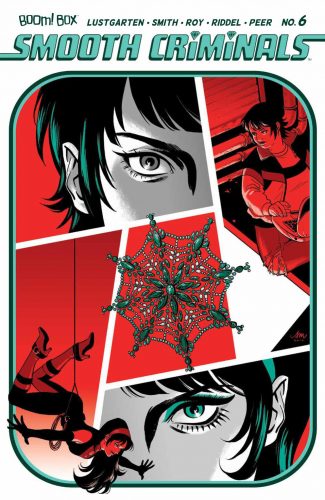 Mia and Brenda are working on their plans, but dangers are closing in from all sides. Will they be able to grab the jewels and make a clean getaway? We find out a part of their plan's outcomes in this issue!
Note: This recap may contain spoilers!
The duo has been working on their breaking and entering plan for a while and right when they think they're close to being ready, a wrench gets thrown into their timeline. The jewel exhibit is moving to New York early, so either they need to pull off their heist now or start all over again as they follow the jewel to New York. While Brenda is more than happy to take a road-trip, Mia knows their best bet is to make their move now and hope for the best. If they can pull it off, Mia can disappear to a tropical island somewhere and enjoy retirement. Unfortunately, Brenda's desire to use her loot to fund a transfer to MIT isn't feasible. She, too, will need to lay low so the Feds won't find her. But all that hinges on them actually pulling off the heist.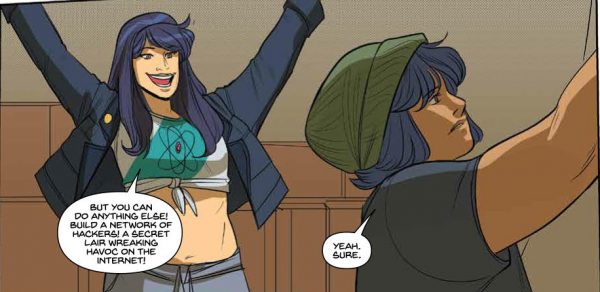 There are many potential roadblocks in their plan. First up is the outside surveillance they are under. The agents are still staking out the museum, but they also have a potential lead that could help them figure out Mia's plan – namely, Mia's mother. While dear, old mom wasn't forthcoming at first, she will certainly spill the beans with a promised twenty year reduction in her sentence. She doesn't need to know the agents are lying to her and that the DOJ will never go along with that promised reward. As long as they get the information, the fate of Mia's mother is no concern to them.
Secondly, Mia still can't get the plan to complete without triggering the alarms. Brenda retreats to the roof to try and figure out a Plan B. There, they witness a couple getting engaged, speaking of love and time and it spurs an idea in Brenda. The two minutes and forty seconds allowed for Mia to pass through the motion detectors unnoticed isn't enough, so Brenda thinks she can patch into the cameras and put the image on a loop. That'll buy Mia more time before the security guards figure out something's wrong. Only problem is that she has to physically hack in, which means breaking into the server room on-site.

With that new plan in place, they make their move. Brenda and Mia try to make it to the server room under the guise of fixing the LAN, but the front desk lady refuses them at first. That's when Mia starts flirting, turning on her charm and getting their desired outcome. Smitten, the front desk lady allows them through with the promise of a later date with Mia. Use your skills, Mia. They serve you well.
They have a plan, they are on-site, it's go time! Brenda and Mia split up, with Brenda patching into the LAN and Mia crawling through the ducts into position. Only problem is that the head of IT is in the server room as well and she knows Brenda. It's a tricky situation, but Brenda manages to monitor the feed and keep talking to the IT girl at the same time so that Mia can do her part.

Mia manages to snag the jewel, but then the alarm gets triggered. She orders Brenda to meet her at the roof, even though she didn't want to involve the roof in their plans before. She should have listened to her first instinct because, when Brenda gets there, she finds Hatch has Mia now. He doesn't need the thief as much as he wants the jewels, so he steals the loot and makes his getaway, leaving Mia and Brenda behind. Then the agents show up and put them both under arrest. An entirely disastrous situation made worse when Mia finds out it's her mom who helped them figure out Mia's plans. Just one wrong thing after another in the lives of our favorite jewel thieves. I hope they can get out of this one, even if it looks pretty unlikely at present.
Rating: 4 / 5 Stars