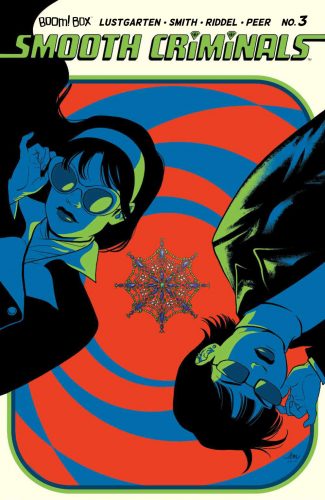 Mia and Brenda are moving closer to acquiring the Net of Indra, while more clues on Mia's past slowly come to light. An intriguing step along the journey of Smooth Criminals.
Note: This recap may contain spoilers!
As the issue opens, we get a look at the promotional images for the Net of Indra. Mia is recounting how the jewel heist was supposed to be her last big score, but instead it turned out to be her downfall. I appreciate that Brenda is trying to help her piece together the clues in hopes of figuring out how she went into deep freeze for thirty years. And what seems like a good place to start is with Mia's former fence Dart Braun aka Ernie Galecki. That's the man who told her about the jewels, so perhaps he was the one who set her up. The only way to know for sure is by visiting the old man at the retirement home where he now resides.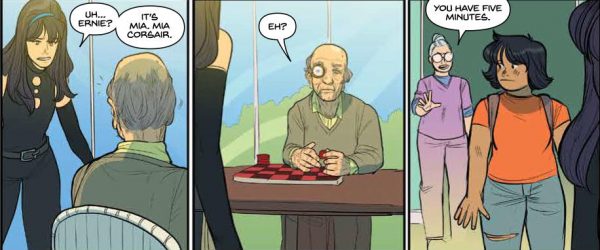 While Mia's been stuck in time for the past three decades, her associates have been aging. That includes Ernie. For much of their visit, the former fence seemed oblivious to their presence and not likely going to be very helpful. But finally he snaps out of his daze and recognizes Mia. That allows them to find out what he remembered about the job. Ernie learned about the Ice Man from Hatch, then passed the information on to Mia. So, the next logical person to investigate would be Hatch. Well, in Brenda's mind at least. But Mia's got her eyes on the prize and there are more important matters to take care of first.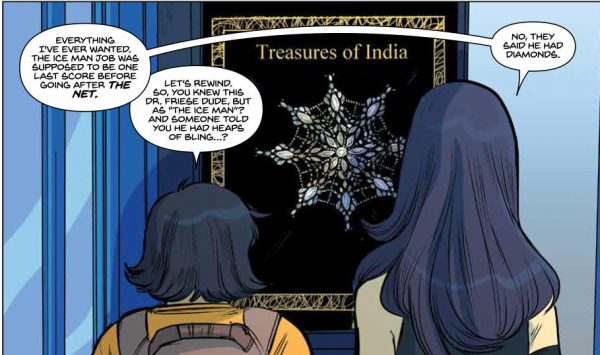 Since the Net of Indra will be at the gala, that's where Mia and Brenda need to be as well. And once the jewels are unveiled, Mia's is indeed mesmerized at the sight. This is it, her big score, so they have to plan carefully how they will liberate the jewels and finally get the pay-off Mia's been waiting thirty years for. They've got eyes on the security features of the glass enclosure, as well as the security guards themselves, but what could throw a wrench in their plans is Hatch. And he seems just as taken back to see the blast from his past, Mia, standing there looking like she hasn't aged a bit. With a quick run of distraction tactics, Mia and Brenda manage to make it outside and away from immediate danger, ready to figure out the plan for getting the jewels.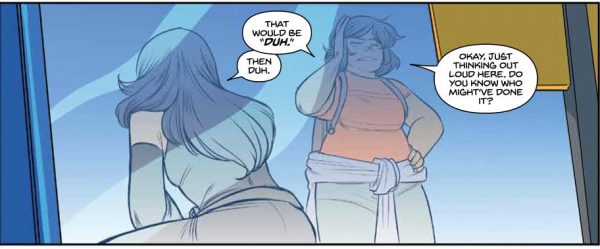 I foresee Hatch being a problem. Also, with the curve-ball we're treated to at the end of the issue, I know that the other blast from Mia's past is sure to cause problems as well. Mia's mother has been imprisoned and is currently being pumped for information on her daughter. What does she know and how much will this effect Mia's safety? We'll soon find out!
Rating: 4 / 5 Stars