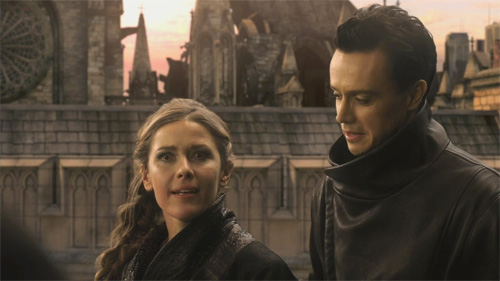 Episode: Sanctuary 4.06 "Homecoming"
Original Air Date: November 11, 2011
Screencaps by gallicka.
Riots break out, two bickering flying abnormals who are also known scam artists seek help from the Sanctuary team, and an injured, fevered Will relives past birthdays in this week's episode, "Homecoming". This heartwarming and touching episode marks the directing debut of Robin Dunne, who plays Dr. Will Zimmerman.
Will travels to Liberia on a mission as his co-horts at the Sanctuary plan how to celebrate his birthday. The rooftop sensor alarms sound. Fully armed, Magnus, Henry and Biggie rush to intercept the intruders, a couple of flying abnormals that are, well, a couple well-known to the team, Sheila and Bruno Delacore. Psycho-analytical, fast-talking, ingratiating and all together annoying, Bruno's reputation as one of the leading con men in Old City keeps the team on their guard.
Sheila has an injured wing that is hampering her flying. After examining her, Magnus concludes the two faked the injury to gain access to the Sanctuary. Once again, alarms sound — an attempted breach in the armory. The culprit is Bruno. He confides to Magnus they needed stunners to stop a shipment of smuggled abnormals. When Magnus is skeptical, Bruno challenges her to test him by coming along.
Sheila reveals Biggie may have an ex-girlfriend, who's still keeping a lock of his fur in hope of his return.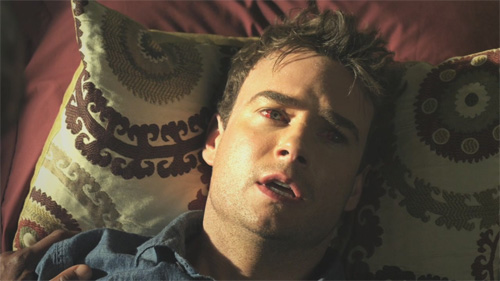 Protest riots break out in Monrovia, Liberia. Will stops to assist a man whose truck has broken down. It's a scam — the man and an accomplice bash Will over the head with a brick and rob him, leaving Will unconscious in the street. Will is discovered by Yusef, the leader of the Sanctuary in Monrovia. There's a major problem; the blow caused Will's retinas to detach and he is, at least, temporarily blinded. The roads are blocked and they cannot return to the Sanctuary. Yusef guides Will to a place owned by his cousin. To prevent permanent damage to his sight, Will must lie on his back and stay as still as possible. Yusef leaves to check on his family's safety, but promises Will he will return as soon as he can.
The Sanctuary team prepares to intercept the shipment of abnormals, based on Bruno's intel, but make it clear they don't trust the birdlike abnormals, refusing to allow them stunners or other weapons. They're already going out on a limb, trusting Bruno to lead them to the location.
Yusef returns, bandages Will's eyes, and leaves him a small supply of morphine injections. As the morphine takes effect, Will's memories drift back to past birthdays in a series of fever dreams. A year after his mother's death, still a young boy, he visits her grave, accompanied by his father, who is now raising him alone. He doesn't have long. His father has to catch a flight to Houston for a "business meeting".
The flashback scenes are melded with scenes of Will on the bed in the foreground as he struggles to cope with the pain and possible implications of his injury. The eye-catching visual it sets is beautiful and poignant, emphasizing the pain of Will's childhood and adolescence. During these glimpses into Will's past, questions raised by Addison in episode 4.03, "Untouchable", are answered.
The Sanctuary team finds a large cargo container, right where Bruno claimed. As soon as they get out of the truck, they're ambushed by armed opponents. The container is filled with smuggled abnormals, what is known as a red-list shipment. Magnus and Henry catch Bruno trying to remove a small package from the container. Magnus demands he hand it over. The package contains a small fortune in diamonds. Bruno feigns surprise while Magnus is incredulous but not surprised.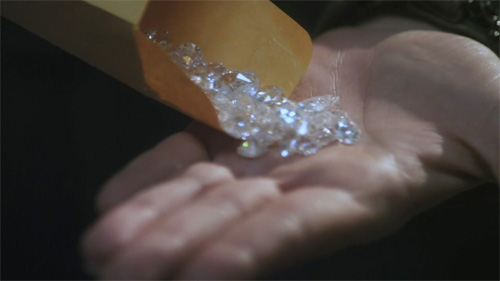 Bruno claims they weren't trying to steal the diamonds, but need them to buy weapons from an international arms dealer, which they could then sell for even more money — money they planned to use to free orphans from being sold into slavery. Magnus refuses to believe such a stunning story and locks up the pair. However, she has Henry check their story out.
Henry discovers a shipment of prototype weapons designed to kill abnormals. Will Magnus be forced to eat a little crow as far as Bruno and Sheila are concerned?
We journey with Will back to another birthday. His dad isn't able to take him to the baseball game because they can't afford it. It was supposed to be Will's present. His dad says that business hasn't been great; they're going through a rough spot. Young Will confronts his father — a friend saw his father at his house playing in a poker game. Will's father is an addicted gambler.
Bruno and Sheila keep their appointment with the arms dealer as Magnus and Henry are concealed and armed with stunners. Unable to get the driver's attention, Bruno opens the van door. The driver falls out, dead. Government types converge, trying to capture the abnormals. As Magnus and Henry battle the SCIU forces, Bruno and Sheila make off with the weapon prototypes.
Biggie contacts Henry and Magnus about the protests in Monrovia and his inability to contact Will. They encourage him to keep monitoring the situation while they indulge in a little "bird-hunting".
They surprise Bruno and Sheila congratulating each other on their success. They claimed they only left to secure the weapons. As Bruno philosophically states it, "We fly; you guys kick [butt]. It's the way of the universe."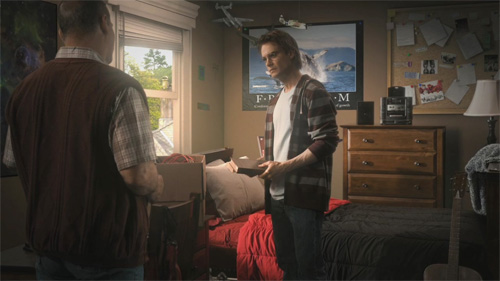 Will is older; packing the rest of things before leaving home. He argues with his dad about the cost of college. His dad claims to have paid for the tuition; Will counters he's there on a scholarship. Will found papers that prove his dad is running a scam that amounts to criminal fraud. Will tells his father he's off the hook for Will now and leaves. His father pulls an autographed baseball from his pocket — obviously intended to be Will's present that year.
Magnus confiscates the weapons and diamonds. Bruno and Sheila plead their case again, still claiming it's for the orphans. Magnus can't afford to trust them, and she and Henry leave. But they have second thoughts about the situation — Bruno and Sheila may not always tell everything, but all the things they claimed turned out to be true.
Will visits his father in jail. Will offers to alter data on a clerical error that would get him acquitted on a technicality. His father stubbornly refuses to let Will do anything illegal to help him. Will storms off.
He wakes up. Yusef informs him he's been unconscious for two days. The riots are over and the doctor has been to see him. Yusef removes the bandages from Will eyes — the moment of truth. Is Will able to see again? It's not 100 percent but his vision is returning.
Magnus has Henry search for any traces of truth to Bruno and Sheila's story. They discover the untrustworthy birds weren't lying. Meanwhile, Bruno and Sheila have decided to go it alone in an uncharacteristic show of bravery. The arms dealer has chained them because they arrived without payment. Magnus and Henry arrive in time to save the day and the "angry birds".
Bruno and Sheila are able to free the children. Slowly, the children venture from the cell. As they surround Sheila, they fan their wings. They're the same kind as Bruno and Sheila. They wanted to rescue them so they could be a family. Of course, it means Bruno will have to get a real job.
Will's back at the Sanctuary and given a clean bill of health by Magnus. Henry spills the beans about Will's surprise celebration. But Will has other plans. A visitor arrives for Will. He's invited his father to celebrate his birthday with him. He throws Will an autographed baseball. They embrace in forgiveness and reconciliation.
And we are left at the end of another Sanctuary, with a week to go before the next. Not a dry eye in the house.