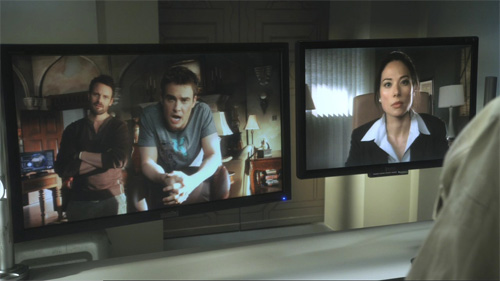 Episode: Sanctuary 4.02 "Uprising"
Original Air Date: October 14, 2011
Screencaps by rawr_caps.
As abnormals muster around the now-open calderas, paths from Hollow Earth to the surface, the Lotus Defense Corps is ready to take action, backed by the sanction of the UN. It's up to the Sanctuary team to prevent a worldwide war between humans and abnormals in episode 4.02, "Uprising", directed by Amanda Tapping. If you haven't seen the episode, spoiler alert beyond this point.
Lotus forces break through the gates of the refugee camp, instigating a violent clash with the abnormals. Thelo furtively enters a tent which promptly explodes. Bye-bye, Thelo.
A montage of the conflict segues the viewer to the Sanctuary, setting a pattern for this episode of jumping back and forth between the two locales. Sometimes the cuts were so sudden, it was a bit jarring and confusing to watch. The scenes set in the refugee camp are action-oriented while the Sanctuary scenes are informative, campfire-style scenes. The creative team makes use of an interesting visual as an effective storytelling device to keep these scenes from becoming boring. Communication between characters takes place through monitors, a sort of Skype on steroids. Some scenes show main characters on the monitor, switching us from a Sanctuary-oriented point of view to an outside character's POV.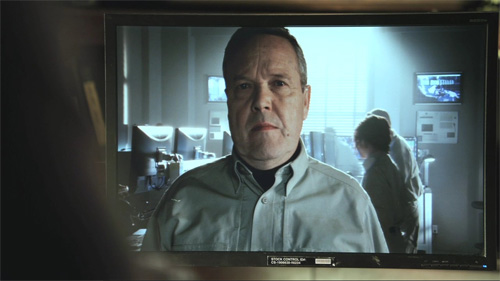 Will, at the Sanctuary, is pleading with an immovable General Villanova (head of Lotus) to pull his men out of the camp before there's more violence. Henry runs into the office, a transmission from Declan, head of the UK Sanctuary, on his tablet. He reports that Praxis is vaporized with no signs of survivors, including Druitt and Magnus.
After the titles, it's back to the camp. Biggie breaks free but instead of leaving, he helps defend the camp against the Lotus soldiers. In a creative twist, the abnormals use folding tables as shields and force the Lotus personnel beyond the gates.
Will and Villanova butt heads about the abnormal issue. The general believes the only way to deal with the situation is containment. He questions Will on whether the Sanctuary has a plan in place to handle such high numbers of abnormals, a group he views as an invasion force. Dr. Lillian Lee, the UN liaison for the Sanctuary, informs Will that the general is proceeding as directed. Will proposes opening a dialogue with the abnormals, treating them as refugees, but the UN believes the high numbers mean an invading army.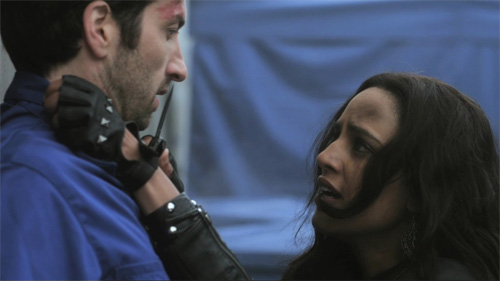 Biggie tells Garris he's looking for someone. Garris understands and tells Biggie no one has seen Kate. Later, Garris glimpses someone in dark clothing sneaking through the camp. He follows. Kate slams him against a metal wall, a knife to his throat. He brings her up to date on everything that's happened. When she asks him who's now in charge, he replies, "No one," which they both know is not good. Garris tells Kate he'll place her with the hostages. She wants no part of it and tries to leave. He takes her captive, but instead of harming her, he lets her know he wants to keep her safe and leads her away.
Will prepares to go negotiate with the abnormals. He's interrupted by a call from the Sanctuary Network heads. The drop-down monitors surrounding our heroes as they face larger-than-life images of the Sanctuary heads is one of my favorite visual effects. Declan informs Will and Henry that the Global Sanctuary Network is naming Will as Acting Head due to Magnus's continued absence.
Henry goes to the camp instead of Will. As an abnormal, he has a better skill set for the task — "better, stronger, faster". Will warns that if Lotus attacks the camp again, Henry, Biggie,and Kate will be caught in the thick of it.
Kate is reunited with Biggie in a funny scene where they swap verbal barbs that play on their big brother/little sister-style relationship as he teases her about Garris being her new boyfriend. They share theories on Fallon's murder and conclude it had to be someone from Lotus or the tribe.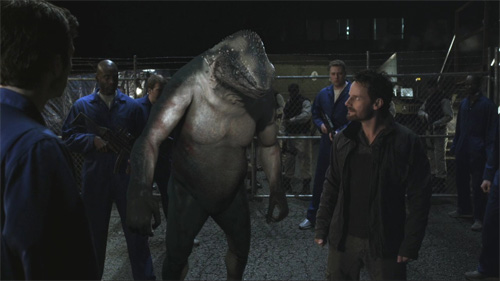 Henry is allowed to enter the compound, but is questioned by Garris and other representatives of the tribe. Henry transforms enough to show that he is also an abnormal, then delivers the news about Praxis's destruction, which devastates the refugees. Lizard Man knocks Henry unconscious.
In General Villanova's command center, a montage builds of abnormals around a caldera and a monitor with an active countdown clock. A huge explosion covers the caldera as a missile explodes. A woman at the camp doubles up in agony and runs to Garris, screaming. He tells the team that she is a hyper-empath. She cries, "Our people are dying!" as her screams crescendo.
No one will take Will's calls because he isn't Magnus. He calls Abby for help and convinces her to use her FBI contacts to get access to Lotus's systems so he can stop the next attack. Will is surprised when Abby's "contacts" turn out to be ex-boyfriends.
When news of the attack at the caldera reaches the camp, Henry, Kate, and Biggie are blamed. Garris stops the fighting and reasons with the abnormals. Henry urges cooperation between them and the Sanctuary. Kate encourages Garris to step up and become the new tribal leader. Later, Kate finds Biggie searching the camp. He's been looking for Fallon's body, but it's missing. However, he did find the murder weapon — in Garris' tent.
Abby and Will find government plans to capture and experiment on abnormals — as Will terms it, "the blueprint for the Abnormal final solution. Magnus's worst nightmare."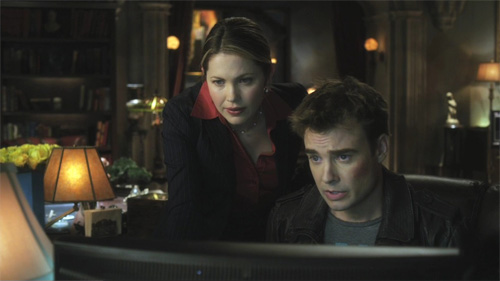 Henry takes Garris to the truck for a "face-to-face" chat with Will. Garris leaves and enters an empty tent. He whistles a signal and a living Fallon emerges from hiding. When he confronts her about the bombed caldera, her callous reaction causes him to realize this was part of her agenda all along. He coaxes her to confess her true ambitions as Kate and Biggie listen outside the tent. She assaults Garris, but is captured by Biggie. She swears they'll learn nothing from her, then the empath steps into the tent.
The computers and satellite connection at Lotus headquarters fail at a crucial moment, courtesy of Henry. He discovers someone is piggybacking his surveillance and it's coming from inside the Sanctuary. Will and Abby track the signal to Magnus's bedroom, where they find the MIA Dr. Helen Magnus. In true Magnus fashion, her response is, "What does it take to get a decent cup of tea around here?" Magnus has discovered someone is psychically controlling the abnormals who have surfaced. Together, they inform Dr. Lee that if General Villanova bombs the Indonesian caldera, it will cause a seismic global cataclysm and that an unknown someone desires that outcome.
The tribe at the camp, now led by Garris, plans to return to Hollow Earth and rebuild. Kate, who has fallen in love with him, decides to go with them. Most of the abnormals who surfaced after the devastation of Praxis also wish to go home. Does this mean Kate will become a recurring character?
Magnus confesses to Will that she has been gone not for hours, but for 113 years. A long story that will require sitting down and strong wine for the telling. Guess we'll have to wait till next Friday to hear it.