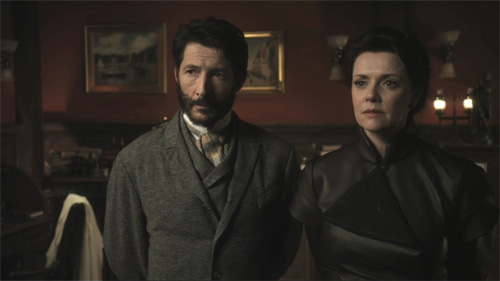 Episode: Sanctuary 4.01 "Tempus"
Original Air Date: October 7, 2011
Screencaps by rawr_caps and Sanctuary Caps.
It seems an impossible task, but the Sanctuary creative team has managed to raise the bar on quality and content every season and that elevation continues with the premiere of Season 4. Like the fine wines Tesla is so fond of, the series keeps getting better with age. Already, "Tempus" (S4.01) ranks as one of the best single episodes of Sanctuary. The season starts with a literal bang and sets great expectations for upcoming episodes. Dear reader, if you haven't yet seen this episode, I warn you now, here be spoilers.
Season 4 begins exactly where Season 3 ended — Helen Magnus standing in the middle of a street in Victorian London as passers-by stare in horrified surprise. She pursues the renegade Adam Worth through the London alleys as the two engage in a shoot-out. A blast from his weapon brings debris raining down on her, and her last conscious image is Adam disappearing into the streets of London.
As the titles end, there are two notable differences. Biggie has replaced John Druitt and Kate is not in the shot. The titles were shorter than past seasons, leading one to wonder if it was just to give this episode as much time as possible or if this will be a continuing trend. Fans have always enjoyed searching for the hidden gems in the title sequence.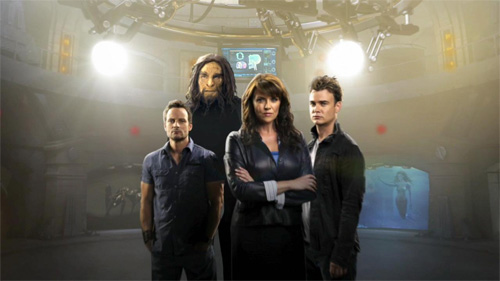 Magnus is taken into custody by Scotland Yard. Enter her erstwhile colleague, Dr. James Watson, super detective, to the rescue. Watson takes charge of a subdued Magnus and escorts her home to the Sanctuary. Watson's professional interest is aroused by Magnus's changed appearance, and her strange behavior and attire, or lack of proper attire by Victorian standards.
As Watson and Magnus leave for the Sanctuary, we cut to Adam. Future Adam conceals himself until Past Adam walks by and then follows him.
Meanwhile, back at the Sanctuary, Magnus discovers the arrival of a gift from her father, one that she still prizes in present time. Watson searches the items Scotland Yard confiscated from her, marveling at each item, especially her cell phone. He turns it on and exclaims, "How is that powered?" He realizes this Helen Magnus isn't his current love, Helen Magnus, but a more mature, future version. Unable to dispute his conclusions, Magnus tells him Future Adam's plan and her mission to stop him. She mentions John and that leads to one of the most touching moments in the show when Watson, awed, asks, "Does everyone from our era live on to the 21st century?" Unwilling to lie to him, Magnus replies, "Not everyone." As she explains why Adam must be stopped before he can change the future, Watson warns her that she could disrupt history as much, or more, than Adam.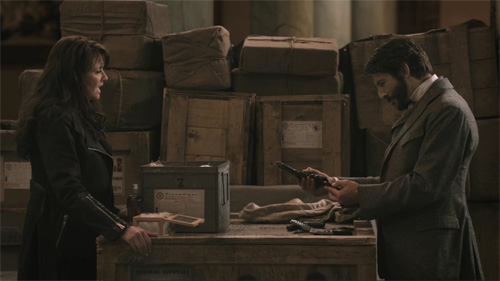 Even though this is a beautiful, poignant moment in the show, with Amanda Tapping and Peter Wingfield wrenching gut-level emotion out of it, it gave me a bit of a pause. In the show canon, even with his character dead in the present-time storyline, Watson did live till the 21st century. (S1.12 & 13, Revelations Part I & II).
He sends Magnus to her bedroom for clothes more suitable to the age. While she is looking through the wardrobe, Future Helen comes close to encountering Past Helen, an event she told Watson must not happen. This is an incredible visual sequence, where the viewer is treated to Future Helen and Past Helen in the same space and time. The visual effects in "Tempus" are breath-taking — from the world of 1898 London to two Helens and two Adams that pass each other by seconds in extraordinary ways, but never meet.
Elsewhere in London, Future Adam reaches his daughter, Imogene, and proceeds with his plan to cure her illness. Past Adam arrives at the Sanctuary seeking help from Watson and Magnus to find his missing daughter, a change to the past Magnus remembers. In last season's For King & Country, Adam comes to the Sanctuary seeking their help in treating his daughter's illness. This scene is an almost exact replay of that scene. Magnus knows the girl has been taken by the Adam she followed backward in time. Future Adam has his daughter and a cure.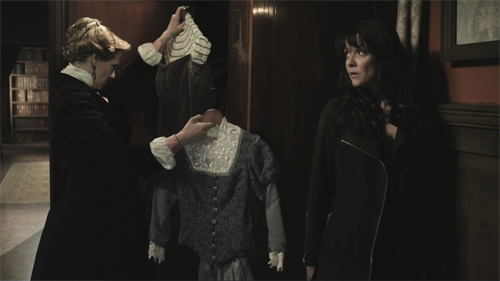 Distraught, Magnus returns to the Sanctuary to find Past Helen being threatened by John Druitt, a Druitt with hair. The tense incident leaves Past Helen in tears and Future Helen ready to shoot. Watson tells Future Helen about a lead on Adam's location, but he does not know which Adam. Magnus goes to confront Adam in a scene filled with the biting, cheeky dialogue that flavors their relationship. To her question, "Any last words?" Adam replies, "Don't shoot never seems to work with you." The episode is peppered with plenty of action sequences and punchy zingers, like the comments on Magnus's hair and clothing.
As she leaves the club, Helen receives a message delivered by street urchins. Later in the episode, we see Helen paying the same children for information. I can't help but wonder if this is a deliberate nod of the Sanctuary team to the Baker St. Irregulars from the stories of "Sherlock Holmes". The message leads her to a murder scene in Whitechapel where Past Helen and Watson are investigating a series of Jack the Ripper style killings. Is it Druitt or someone else?
Magnus goes hunting for Adam, but, unexpectedly, encounters Druitt and exacts a little vengeance for his earlier treatment of Past Helen. A big question the viewer is left with is did these confrontations happen in the past Magnus remembers? She glances up, sees a creature on the roof and says, "Hello, Jack." He's Springheel Jack, an abnormal once helped by her father. She offers him the protection of the Sanctuary in return for the killing spree to stop.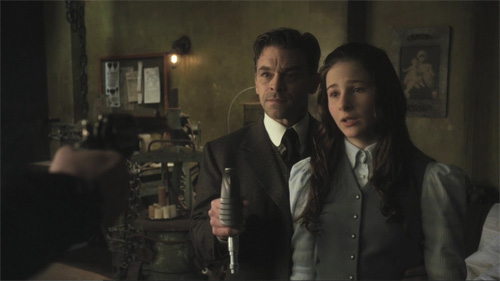 Helen finds Adam's lab and challenges him. As they hold weapons on each other, Future Adam reveals the presence of a healed Imogene. Events lead to a showdown between Magnus and Future Adam that will leave viewers holding their breath while clutching the edge of their seats.
Watson devises a brilliant and simple solution to the problem of how Magnus can return to her time. But we do not yet know how the consequences of either Magnus's or Adam's actions will alter future events. I suppose we'll find out if his solution worked next episode. Maybe Helen is a wee bit older than we think?
Amanda Tapping outdoes her usual high caliber in this dual performance, infusing each Helen with a different demeanor while still making each believable — the young, eager, somewhat naïve Helen of yesteryear and the older, wiser, serious but cagey, butt-kicking Magnus. It's great to see the gracious, impeccable Peter Wingfield highlighted in an episode as Watson.
What will the world become under the influence of two Helen Magnuses? We have 12 more episodes to learn the answer. Is it Friday night yet?