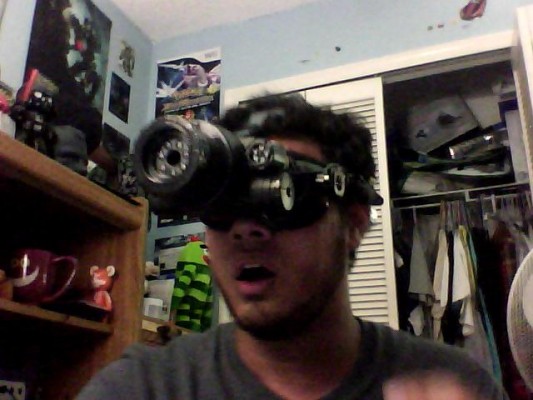 Thanks to the diehard Call of Duty 4: Modern Warfare fans, Modern Warfare 2 was released in three different editions in the US: Standard, Hardened, and Prestige. Hardened Edition contains an art book full of concept drawings for Modern Warfare 2 as well as a download for the original Call of Duty game for your console, all inside of a metal case. I was lucky enough to actually have $150 to shell out for the pre-order of the Prestige Edition of Modern Warfare 2, which includes the Hardened Edition of the game along with something that every man on Earth wants for absolutely no real reason whatsoever: night vision goggles.
Why did I want these? I don't know. Something about night vision goggles boggled my mind into thinking that this would make my life more complete than it already was. Nothing about the goggles seemed to be a totally good idea to me, but I bought them anyway, for the sole purpose of wanting them just to have.
Several people may have thought that these bad boys weren't legit at all. People were skeptical, thinking that they would be made of cheap material and wouldn't really function like real night vision goggles. I haven't seen much on these goggles on the Internet so far, so I figured I'd record the results of my experience with them for Fandomania.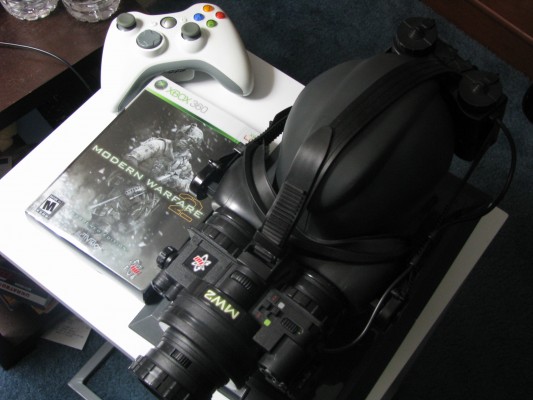 First things first: these things don't run off of nothing. To use them, I needed five AA batteries, which kind of ticked me off because they weren't included in my $150 package. After taking one battery out from every remote control I could find in my house, I strapped the goggles on my skull, and I was set to roam my house.
They're fairly simple to use. On the top part of the goggles, there are a couple of buttons to toggle on and off a few options. You can toggle in between seeing things in black and white, or you could go for the basic green tinted look. There's also a high beams type of switch, which illuminates your surroundings even more so than they currently are through the goggles. The goggles allow the user to view up to 50 feet ahead of them, so you could see pretty far from where you're standing.
I decided to test these out in my room before I went outside to look like an idiot. I flicked off my lights and strapped on the goggles. You can't see any light shining into them through its sides, plus the goggles are totally pitch black if they're off anyway, so I kind of felt uncomfortable strapping them on. They're not as heavy as I expected them to be at all.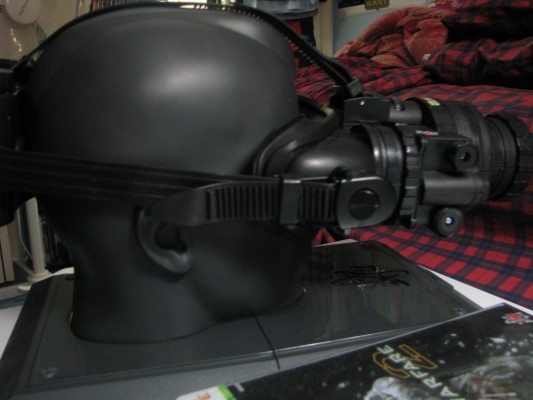 After I turned on the goggles, I was pretty impressed with how clear everything was. The depth perception is totally off, but the view was dead-on. I could see everything illuminated in my room in black and white or green tint, and I thought that was pretty awesome.
Hell, after I realized how clearly I could see, I thought of doing the most simple and everyday tasks in the goggles. I could now read in total darkness, brush my teeth in the bathroom with the lights off, or ride my bike outside through a dark alley and feel totally confident that I would run into hidden muggers. These tasks may not be so appealing to you, but they do seem five times cooler to me with night vision goggles on.
I flicked off the goggles and decided to take them outside. After strapping them on and making sure none of my neighbors were in their driveways or eating in their kitchens, I turned them on. These are definitely legit. I was able to see every detail on my heavily shadowed tree perfectly. I turned my head to view my entire neighborhood in total darkness, and to check again if anyone was in their driveway. I was in awe. These things worked, and they were mine to gloat about, even if no one understands why I like them so much.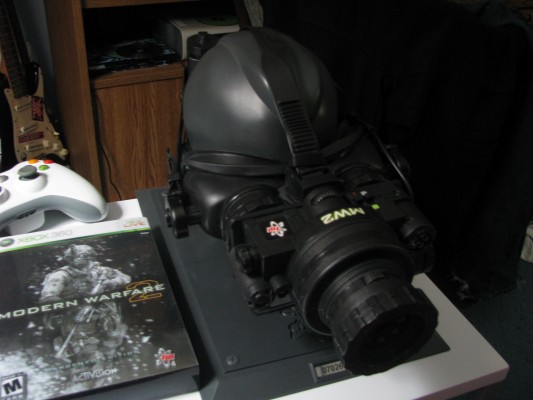 The night vision goggles packed with Call of Duty Modern Warfare 2 are very real, and very fun to play with. They totally are not needed in your life, but if you're really curious about how they work, then I suggest borrowing a friend's rather than buying some off of the Internet to see what you might've missed out on.