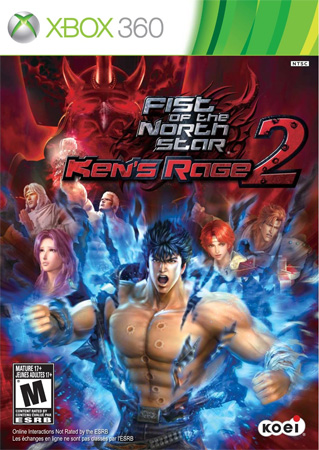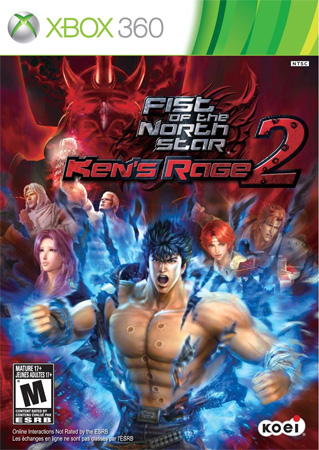 Fist of the North Star turns thirty this year, and Tecmo Koei celebrates with the arrival of the second game in their recent Dynasty Warriors-esque franchise. Fist of the North Star: Ken's Rage 2 released on Xbox 360 and PlayStation 3 last week, and I've sunk many an hour into its beat-em-up action.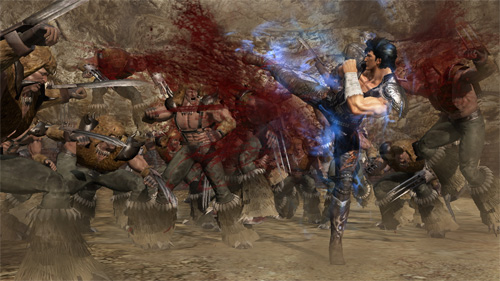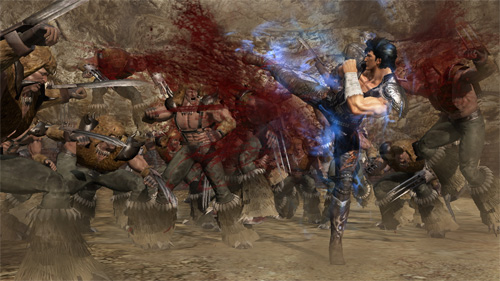 My history with Fist of the North Star is a long and complicated one. The franchise began in 1983 with the debut of the weekly serialized manga in Shonen Jump. I didn't get my first exposure to it until I got the Gameboy game when it released in 1990. I didn't quite grasp the intricacies (such as they were) of the game and for some reason couldn't wrap my head around the post-nuclear setting, so Fist of the North Star drifted away from me. I got heavily into toy collecting in the early 2000s, and the series drifted back onto my radar via the weirdly awesome action figures that were coming out of Japan at that time. I still didn't know anything about the series, so I kind of forgot about it again until we received a review copy of the first Ken's Rage game in 2010.
2013 is here, and a new Fist of the North Star game has been released, and I made the firm decision that it was past time for me to know something about this apparently classic manga and anime series. It was with a bit of skepticism that I hunted up the manga before starting the game. It didn't take long after I started reading the series before my skepticism transitioned into awe that I've had this series right under my nose practically my entire life and only just now decided to crack the lid open. I made it through a sizeable chunk of the comic series before I delved into Ken's Rage 2, and suddenly everything made sense. It was like blinders had been taken off my eyes, and I was able to appreciate these characters and their ridiculous situations the way I'd always been meant to appreciate them.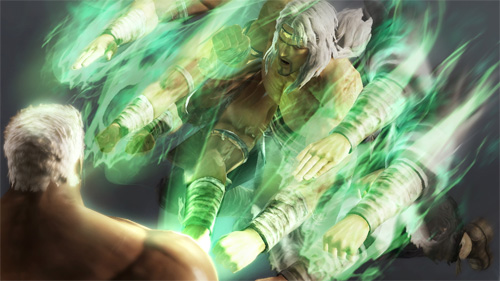 In a nutshell, Fist of the North Star is about a homeless and aggressive acupressurist who is under constant assault from desert hoodlums who arrive in their Mad Max stylings occasionally by way of David Bowie. Outside of the nutshell, the series follows Kenshiro, the sole heir to the Hokuto Shinken school of kung fu. Hokuto Shinken is unique in that it enables its masters to punch people in specific vital points, causing internal chain reactions that usually end with heads, arms, and everything else exploding from the inside outwards. The start of the game finds Kenshiro roaming the post-nuclear wastelands and fighting outlaws who prey on poor common folk in order to steal their food and water. Eventually the story ramps up to pit Ken against rival martial artists, many of them having played some role in his own past. The story really is too complicated and frequently random to properly convey in this review. Suffice to say that there are a lot of setups that provide excuses for Ken to wail of many unfortunate souls' soon to be exploding bodies.
The first Ken's Rage game adapts about half of the manga story into the game's plot, but Ken's Rage 2 goes full tilt by retelling the stories already covered in the first game before running headlong into the rest of the manga. For the sake of full disclosure, I have to admit that I haven't finished the game's super-long story mode (called Legend Mode) yet, but it seems likely that Ken's Rage 2 draws upon the entire manga run to compile its plot. The adaptation in Ken's Rage 2 is more comprehensive than in the first game, but it also is more faithful and deeper. Most cutscenes appear framed manga-style, and the scene and character arrangements come straight out of the manga's visuals. Fans of the series likely will enjoy seeing all the familiar characters, fights, and conversations, played out pretty faithfully in this game. The deaths in the game tend to be less extensively gory than the ones in the manga, which (and I know this sounds ghoulish) is a shame. While on the topic of faithful adaptations, the game preserves the original Japanese audio, so if you are of the "I ain't readin' no subtitles" ilk and don't speak Japanese, you're out of luck here.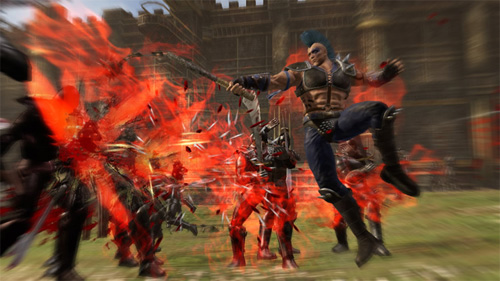 The gameplay itself is very similar to that of the first Ken's Rage, which is in turn very much in the vein of the tried and true Dynasty Warriors series. For most of the game, you'll play as Kenshiro as he runs around beating the snot out of loads and loads of bad guys. The vast majority of baddies you'll encounter are by-the-numbers fist fodder, serving only as speed bumps as you accumulate experience points to level up your fighter. That doesn't mean beating them up isn't fun. In fact, unloading a slew of high velocity punches on a crowd of twenty enemies and then watching them blast away into a vapor of blood can be extremely satisfying. You'll run across bosses of various shades as well, and their difficulties scale well with your abilities as you make your way through the game.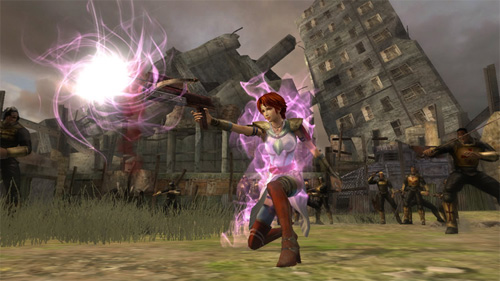 The character building system in Ken's Rage 2 relies both on collecting experience points and accumulating scrolls. You'll earn five different types of experience as you defeat enemies, and the ways you defeat those enemies will determine the sort of experience you milk out of them. Killing a bad guy with a standard punch will give you one sort of XP, while finishing someone with your signature moves will earn a different type. All those experience points accumulate in five meters to level up your five core abilities: Life, Attack, Defense, Aura, and Technique. The first three are self explanatory. Aura is the resource you build up as you deal damage, and you spend it to unleash super attacks. Technique makes dodging, blocking, and other assisting skills more adept.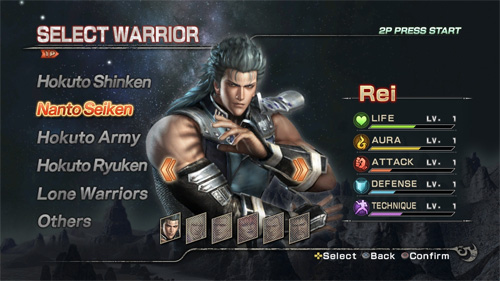 Scrolls are the other half of the stat equation, and you'll collect them by finding them in treasure chests peppered throughout the game, as well as through bonuses awarded at the end of each level, based on how efficiently you slaughtered your way through the masses. You can equip up to five scrolls at a time, and each scroll comes with three slots, each of which may contain a buff for one of the five core stats or none at all. If you equip a scroll with icons for Life and Attack, for example, your Life and Attack skills will go up a level each. The scroll system deepens when you start gaining more complex trait arrangements, because you can get additional bonuses if you line up similar trait icons across multiple scrolls. The scroll system becomes a collecting and matching game, in which you'll constantly hunt for that one elusive scroll you need to maximize some key stat. It's actually quite clever, and my only complaint comes from the inventory limitations. You can carry only a set number of scrolls at a time, and if you pick up more than you can carry you have to choose and throw away scrolls until you're down to the allowed number again. That's a tough choice, because you never know when you might be throwing away a scroll that would match perfectly with the next one you're going to find.
As you play through the familiar manga stories in Legend Mode, you'll unlock new characters that can be used in the game's other big section, Dream Mode. Dream Mode lets you select a character and then play through a series of challenges either as specific stories or in a Free Mode. The stories will progress your chosen character through side adventures that present original and new storylines for established characters. Free Mode is full-on Dynasty Warriors, in which your chosen character must take over a number of enemy bases and defeat the enemy general in order to progress. Your characters earn trait bonuses and can share scrolls with your Legend Mode characters, so there is persistence of stats as you fight your way along each character's encounters.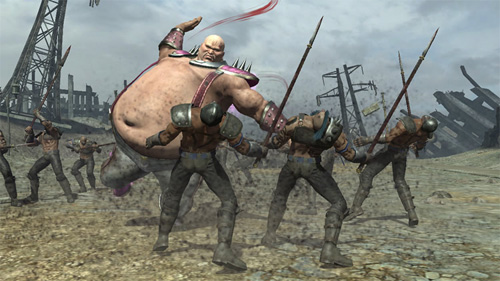 In the end, Ken's Rage 2 is a game that is very similar to its predecessor but, due to refinements and overall amount of content, exceeds Ken's Rage 1 in just about every way. The same set of gamers who enjoyed the first game will like this one, and similarly anyone who didn't like the original Ken's Rage won't find anything to convert them here. Having a familiarity with the characters and story of Fist of the North Star will give you a firmer grasp on what's going on in this game, but the main question is: Do you like beating guys up Dynasty Warriors style? If you answered with an emphatic "yes," then you're likely to enjoy Ken's Rage 2. It delivers on its promise of Fist of the North Star meets DW and brings an accurate, albeit somewhat less obviously gory, translation of the manga to consoles. My affinity for Dynasty Warriors, combined with my newfound Fist of the North Star fandom, has made this game an utterly addictive slugfest that I'll likely continue to obsess over until I've gotten my fill of all its modes and characters.