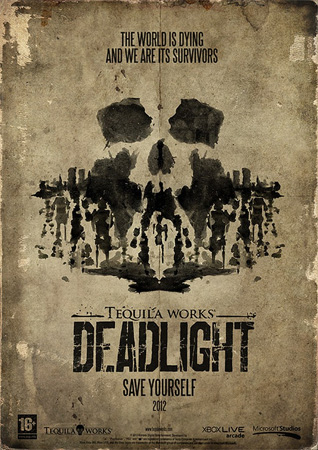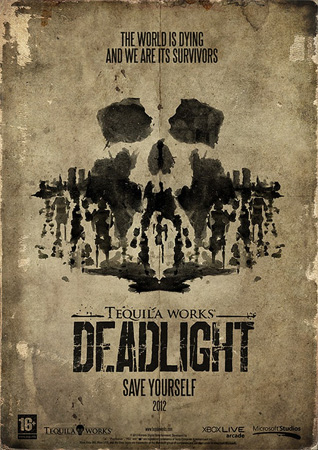 It's no stretch to say that Deadlight was the most widely anticipated release from this year's Summer of Arcade promotion on the Xbox Live Arcade. The Summer of Arcade traditionally has been the launching point for some of this gaming generation's greatest titles, and this first effort from the 2009-founded Tequila Works, based in Spain, looked like the early favorite to carry the torch for 2012. When you look at the specs, there seemed to be no way for this game to go wrong. Though a new developer, Tequila Works boasts former employees of powerhouses like Blizzard, Weta, and Sony on its staff, and the game itself sounded like nothing short of a big bundle of amazement. Advertised as a 2D side scrolling puzzle platformer set in Seattle in the 1980s, the only way Deadlight could have sounded cooler would have been with the addition of zombies. And guess what. There are zombies! Deadlight released through the XBLA on August 1, finally giving its clamoring fans a chance to see whether the game lives up to the advance buzz that compared it to such modern classics as Limbo and Shadow Complex.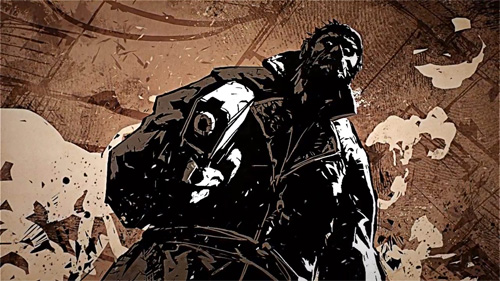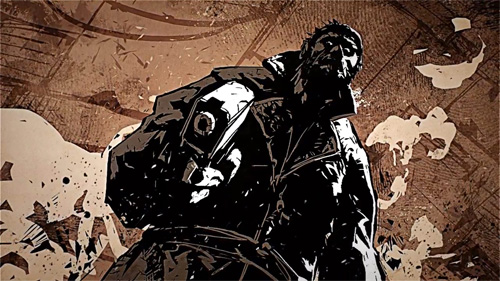 Sadly, Deadlight falls far short of the expectations all the early announcements and speculation had set. It does deliver on its promise of being a 2D puzzle platformer with zombies, but nearly everything about the game is a lesson in wasted potential and disappointment. Before analyzing where the game goes wrong, we should examine where it could and should have gone right. Deadlight opens in 1986 in Seattle and casts you as Randall Wayne, a gruff survivor in the wake of a zombie apocalypse. The story finds him several months after the undead outbreak, and he has joined up with the prototypical team of zombie survivors. Randall somehow lost track of his wife and daughter in the mayhem of the uprising, and now he travels with his new companions to find a rumored "Safe Point" where his family may have gone.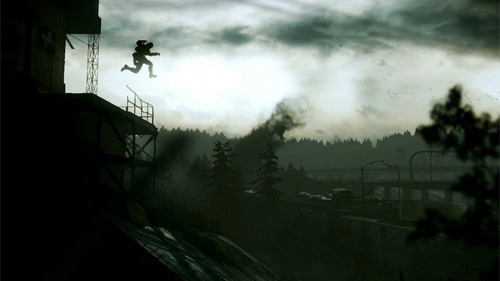 Separated into three acts, the game follows Randall on his journey above and below the streets of Seattle as he fights against and avoids the undead (here called "Shadows" because "zombies" must be quite gauche in 1986), as well as an assortment of antagonistic human survivors. The first act of the game arguably is Deadlight's strongest point. As Randall moves through its levels, he's confronted with hordes of Shadows that he must bypass. He's able to fight them off in rudimentary ways, but he loses stamina as he fights, so the preferable route almost always is to keep away from the monsters either by running from them or by climbing above them on vents, roofs, cars, and other high obstacles. The first few sections of the game set up some honestly clever segments that both make the game accessible and promote the eerie and dark ambiance.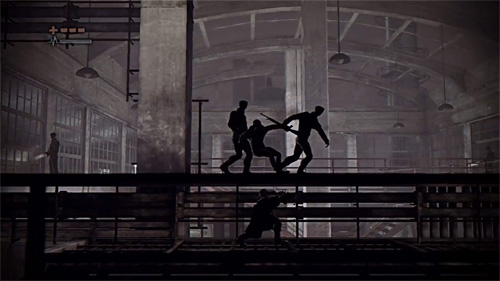 Once Act 2 begins, however the game spirals into a nosedive from which it never recovers. At that point, the game shifts its focus away from avoiding zombies — excuse me, Shadows — in clever ways and supplants that with illogically structured and maddeningly frustrating conflicts with humans. Sure, the undead are still roaming around and they still are a threat, but the arrival of human bad guys drains all the fun out of the monstrous situations from the first act. A big part of the trouble with the human characters is the abysmal voice acting. Deadlight was made in Spain, but it's set in America. That means most or all of the voice work likely was done long distance, and it's also likely that the recordings were inserted into the game by some folks for whom English is not a first language. The result is a bizarrely inappropriate collection of voice actors delivering lines in stilted performances that indicate they were given very little direction or context about their characters or even their place in the story. Much of the dialogue itself is stilted and weird as well, and that becomes a big problem when it's the sole method of conveyance for the story progression.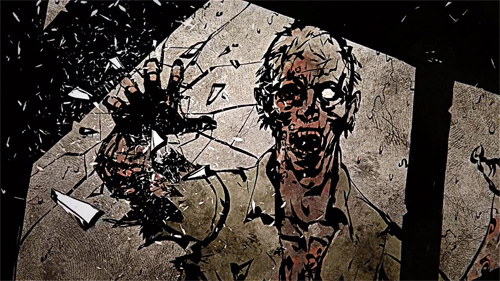 The game consists of a bunch of side scrolling levels, between which we get cutscenes that advance the narrative. The cutscenes are done in a sketchy motion comic book style that actually looks really neat. They're nearly unwatchable, though, because the dialogue content and delivery are so bad. Most of the decisions characters make seem arbitrary, and the conversations with which they justify their decisions often are nonsensical. Take, for example, a conversation Randall has with a completely bizarre and unnecessary character called the Rat in Act 2. The Rat tells Randall, "No time for questions! No time for answers!" After this, Randall follows up by asking the Rat Man a question, which the Rat Man promptly answers. None of that has any context or reason for being spoken, and it's exemplary of the weirdness that permeates Deadlight's characters and situations.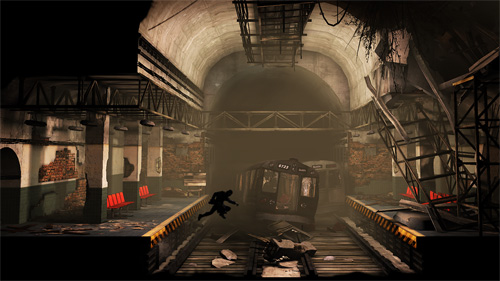 It's hard to care much about the story when the writing and acting are this bad, and (no spoilers here) you can look forward to one of the most predictably telegraphed and least satisfying game endings of the year. Adding disappointment into the mix, Deadlight completely wastes its 1980s Seattle setting, which very much could have been its saving grace. Aside from some mentions of Chernobyl, a few glimpses of the Space Needle in menu and pause screens, and a couple of retro gaming-themed collectibles, there's absolutely nothing in the game that utilizes its unique setting. Randall spends a lot of his time underground, and when he's not there he's usually running through anonymous buildings or down dark streets. He really could be in any urban setting, as there's nothing at all distinctly Seattle (or even American Northwest) about the environment. Similarly, the game very easily could be set in 2012, with its utter lack of anything that evokes an '80s feel.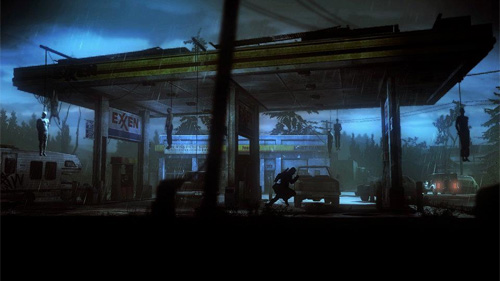 When a game's setting and story are weak, the full weight of the production falls on the gameplay. Unfortunately, Deadlight fails to measure up there as well. Essential components in any platforming game are tight controls and a responsive character. Randall moves sluggishly, and the controls are infuriatingly floaty. One of the moves in Randall's repertoire is a wall jump, requiring you to jump him toward a surface and then time a second jump correctly to have him bounce up higher in the opposite direction. Countless other games have included wall jumping, and it's not an unusual maneuver for this sort of game. Nevertheless, Deadlight manages to make this simple wall jump a point of controller throwing frustration as Randall will leap at walls and slide down them twelve times before eventually randomly deciding to do the wall jump correctly. There's no indication that the player is doing anything wrong. Randall just rarely does exactly what you tell him to do. Fighting Shadows can be just as frustrating, with weird collision detection causing Randall to swing a fire axe completely through an approaching bad guy and then have no remaining stamina to attack again as said bad guy devours him, completely unimpeded by his attack.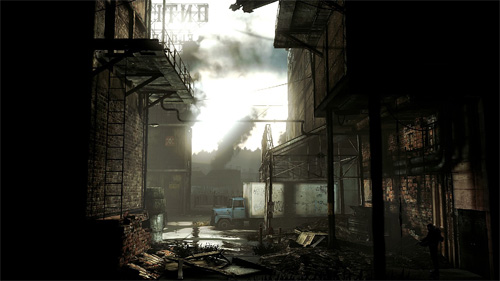 Though Deadlight does not play well, it does look good. From the artistic cutscenes to the atmospheric darkness of the environments Randall traverses, it exudes grungy bleakness better than many similar games that have attempted the same themes. The game's visuals are the point that draws comparisons to Limbo, a previous Summer of Arcade release. The characters of Deadlight usually move about in shadowy silhouettes like those of the character in Limbo, and Deadlight's ramshackle and sloping urban environments recall some of the moments from that earlier game. Where Limbo used its stark style to enhance its puzzles and platforming, however, Deadlight suffers from its own darkness. Many times you'll find yourself sighing after you jump Randall into a pit that looked like a platform because of the dark shading. Surfaces frequently are hard to discern, and that makes for just one more bullet point in the ever growing list of aggravations delivered by Deadlight.
I could not in good conscience recommend Deadlight on the merits of its gameplay, especially in light of its 1200 Microsoft Point ($15) price tag. I absolutely can recommend the game to achievement hunters, though. Deadlight is one of the new XBLA games with expanded achievement rosters, offering up 400 gamerscore points, double that of most previous releases. It also is a very short game, meaning you'll be able rack up some decent achievement points in a relatively brief amount of time. Even with all the frustrations and sections I needed to repeat, I finished the game in less than six hours. If you have the patience to sit through this game for a few hours to add some points onto your Xbox profile, by all means do so. If you've been interested in Deadlight for any other reason, you'd be best advised to move along and save yourself an utterly unfulfilling gaming experience.