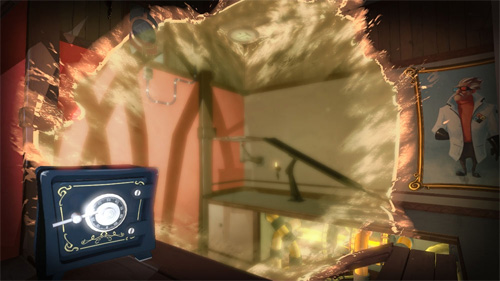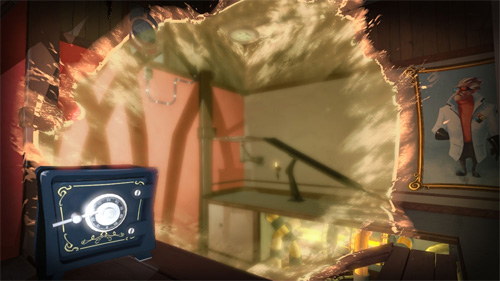 It would be hard to ignore Quantum Conundrum's similarities to Portal even had it not been created by Portal lead designer Kim Swift. A first-person platforming puzzle game with a silent protagonist, it boasts many of the elements which made Portal so popular and fun. But while that makes it a good bet for Portal fans, Quantum Conundrum offers enough unique innovation to stand on its own.
Here's the premise: you're the preteen nephew of the eccentric Professor Quadwrangle, a brilliant scientist who lives and works in a huge mansion. Every so often, your mother drops you off for a visit with your reluctant uncle (voiced by John de Lancie), who thinks of you mostly as a nuisance. On this particular visit, he's in the middle of an experiment when you arrive, as he tells you over the PA system.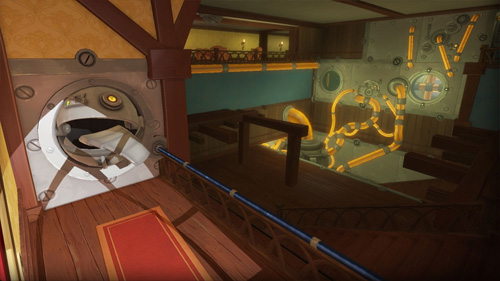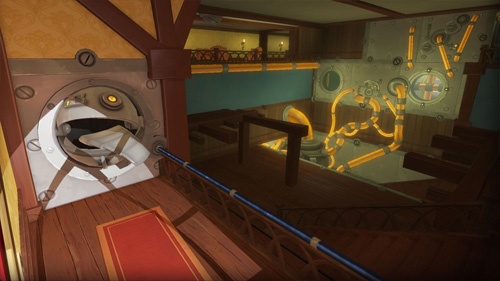 Something goes wrong, and not only have things gone haywire all over the mansion, your uncle is trapped in a pocket dimension with no way of fixing the problem — plus he bumped his head and can't even remember what he was doing when the incident occurred. That's where you come in! Your uncle is tapped into the security feed, so he can see you and monitor your progress as he guides you through the mansion to set things right using one of his greatest inventions: the Inter-Dimensional Shift Device.
The IDS, a bit reminiscent of the Power Glove, allows the player to shift between four dimensions in addition to our own "Normal" dimension. In each dimension, a particular aspect of physics works differently from what we're used to.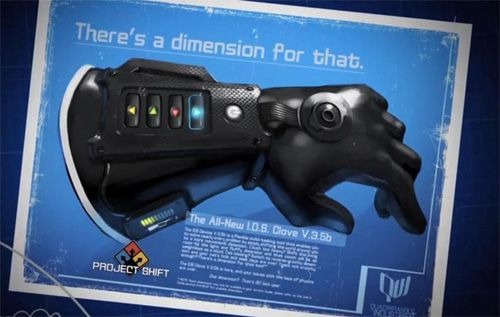 The protagonist is unaffected by these changes, allowing the player to use them to manipulate objects to solve the puzzles in the game. The dimensions are introduced gradually, and many levels only allow shifting between one or two of the dimensions. As your character is a kid, he's shorter than the typical video game character, providing an interesting twist on the first-person perspective.
John de Lancie was a perfect choice for Quadwrangle — he's just the right mix of supportive and condescending as you progress through his mansion. He tells you about the history of the Quadwrangle family, assisted by portraits which change as you shift to reflect the different physics of each dimension (usually to amusing results). He also has a sort of pet creature named Ike who he picked up in his interdimensional travels and who appears throughout the game, sometimes to bring useful items to the player and sometimes just to be adorable (both of which he excels at).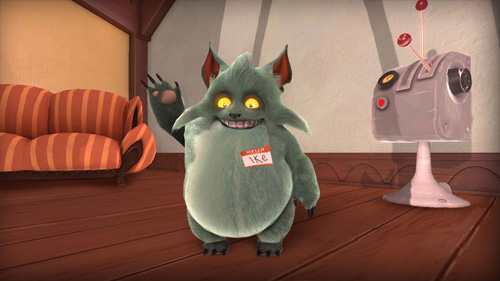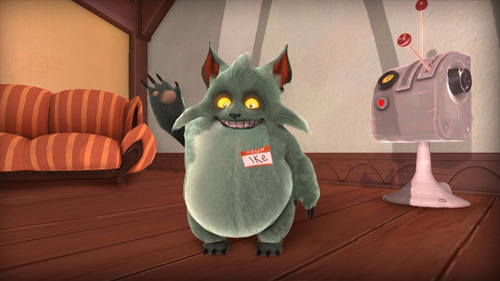 To add to the game's challenge, there are collectibles scattered throughout, many of which require some puzzle-solving to reach, and every level has a Goal Time and Shift Goal to try to beat (with Leaderboards for added incentive) — and these do provide quite a challenge.
The game's whimsical aesthetic and humor make it appealing to all ages of player, and like all good puzzle games, it requires some real thought to make it through. At 1200 MS points ($15), it's on the higher end of XBLA games, but worth the investment for anyone who enjoys exercising their brain. Quantum Conundrum is available through the Xbox Live Marketplace, Playstation Network, and Steam.