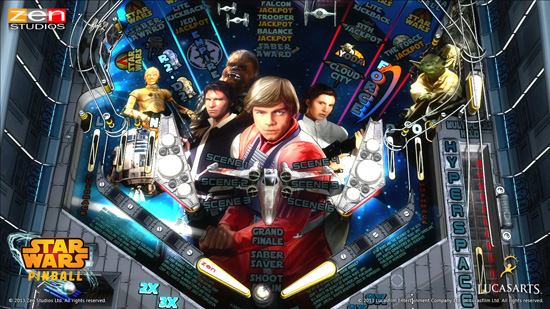 If you're as endlessly addicted to ZEN Studios' Pinball FX 2 as I am, chances are good that you're already playing your way through their newest pinball table releases. If you haven't seen these three new tables yet, get thee to a downloadery! The newest property to join the Pinball FX franchise is Star Wars, and the first three tables are some of the most fun pinball tables we've seen on the platform.
This first set of downloadable tables visits both the classic Star Wars trilogy and the Prequels era to deliver three brand new pinball games focusing on The Empire Strikes Back, The Clone Wars, and Boba Fett. All three tables bring the familiar Star Wars soundtracks to the forefront and feature awesome designs that successfully evoke their corners of the Star Wars universe. The ESB table puts you on board Vader's Executor Star Destroyer, and you get to play through five scenes from the movie as you activate the table's various mission modes. The Clone Wars features 3D character models of both Anakin Skywalker and Ahsoka Tano, and a bucket full o' baddies also shows up. The Boba Fett entry focuses on the infamous bounty hunter as he runs missions for both the Hutts and the Empire. Darth Vader and Jabba make appearances, as does Fett's signature Slave 1 ship.
It's easier to get a sense of these awesome tables by seeing them in action instead of just reading about them, so check out these three gameplay videos that show me doing full single playthroughs on each new board. I'm still learning my way around all the tricks and missions, so the videos are intended to illustrate the look, feel, and playstyles of the Star Wars tables, but they don't espouse any real strategies beyond accidental luck triggering a few things. As a lifelong Star Wars fan, I can't get enough of these newest releases and already am looking forward to what Star Wars characters and events ZEN features in the future.
The Empire Strikes Back
The Clone Wars
Boba Fett
The Star Wars pinball tables are available now as downloadable add-ons for Pinball FX 2.