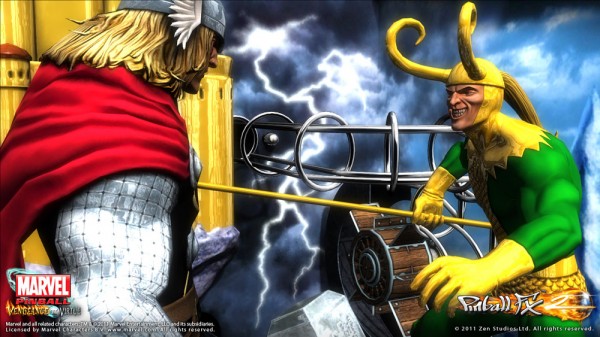 Just in time for the holidays, ZEN Studios has delivered a brand new batch of pinball awesomeness to your Xbox 360 console in the form of Vengeance and Virtue, the newest addition to their Marvel Pinball lineup. Anybody who follows my reviews will know that I'm a huge Pinball FX 2 fan, and every time a new add-on table shows up it's like Christmas morning for me. It usually takes me a week or so to really get the mechanics of each new table down well enough to feel like I can write a knowledgeable and competent review. I usually get the chance to try out the tables early, but I joined the fray on release date with everybody else for this newest batch, so I've only had about a week to sample four full new additions. As such, I'm not as well versed in each table's lingo as I normally am, but I wanted to go ahead and get the word out about the new release.
Pinball FX 2 is ZEN Studios' pinball platform for the Xbox 360. I call it a platform because the FX 2 game itself is a free download that serves as the engine that powers the individual pinball tables. You can't actually play anything with the basic download, but you add content into the platform through buying add-on pinball tables through the Xbox Marketplace. ZEN has unleashed some really awesome and creative tables since FX 2 launched, but their assortment of tables featuring Marvel superheroes and villains has been particularly well received by fans of pinball and of comics alike.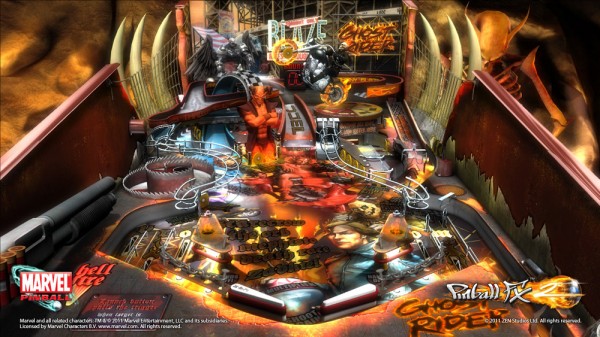 This newest set of tables brings four more sets of heroes and their universes into the mix. Vengeance and Virtue gives us pinball tables inspired by Thor, Moon Knight, Ghost Rider, and The X-Men. Each of the four tables adds an additional three unlockable achievements into the already overflowing roster, for a total of 50 new Gamerscore per table. That's an overall total of 200 achievement points you can unlock with this pack, should you dare!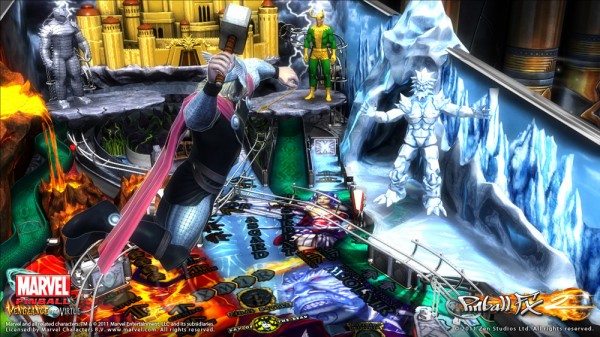 X-Men
The X-Men table features 3D characters of Professor X and Magneto, with voice and dot matrix appearances by various mutant heroes and villains. Everyone from Cyclops and Jean Grey to Mystique and the Juggernaut show up at some point. And yes, Wolverine is here as well, taking some time off from his own character-specific table that was included in the first Marvel Pinball add-on pack. The overall goal of the table is the defeat of Magneto, and he throws plenty of action and conflicts your way, not the least of which is the destruction of the Brooklyn Bridge.
Thor
Thor had a big movie year, and his new pinball table features elements that will be familiar both to fans of the film and of the original comics that inspired it. Four 3D characters appear here, with Thor, Loki, Ymir, and Surtur all showing up to the fight. The table itself is laid out with areas featuring famous realms of Norse mythology. You can travel to Asgard to activate boss fights, and you can head over to the frozen lands to face the Frost Giants. It all works very kinetically, and according to the folks at ZEN, this table features more animation than any other Pinball FX 2 table to date.
Ghost Rider
Don't expect to see Nicolas Cage on this one. Thankfully, the Ghost Rider table eschews the film and takes its inspiration directly from the comics, and notably from the 2006 series and the 2009 Heaven's on Fire storyline. The table aesthetics are best described as hellish, with Lucifer himself looming large toward the left middle. In addition to the big bad, you'll also see 3D character appearances by Ghost Rider and Zadkiel, as well as the laser-firing Orb. Ghost Rider is designed as the most accessible of the new tables for new players, and it's a ton of rewarding fun for longtime Pinball FX wizards as well.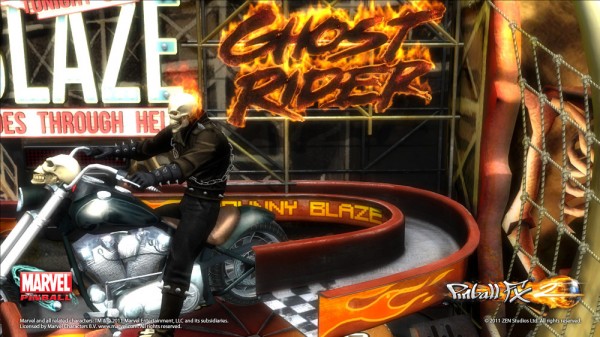 Moon Knight
The fourth and final table in the mix is Moon Knight, who arguably is the least recognizable of these characters for the general public. Despite his lack of fame next to the likes of Wolverine and Thor, Moon Knight translates perfectly into a video game format and specifically into ZEN's unique method of pinball table design. The whole Moon Knight table is geared around powering Moon Knight up for his boss battles with canonical enemies like Bushman, Midnight, and Black Spectre, all of whom appear as 3D characters. The Egyptian spirit Khonsu also shows up to empower Marc Spector. You'll engage in battle with actual health bars for yourself and your enemies, as well as pilot the Moon Copter and weild the Moon Crossbow, a new weapon created specifically for the pinball table.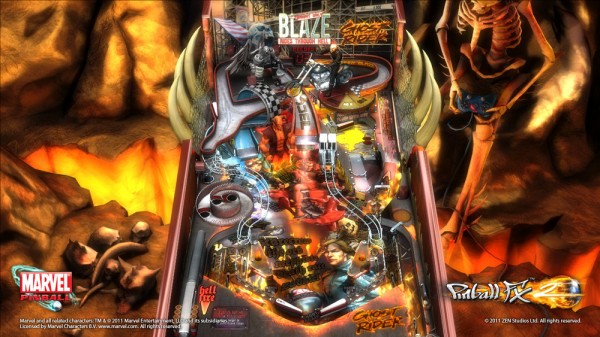 With the great variety and challenge packed into these four new tables, the Vengeance and Virtue pack should keep you busy well into the new year. It arrived on the Xbox Marketplace on December 14 for 800 Microsoft Points, and a PlayStation 3 version also dropped on December 13, priced at $9.99.