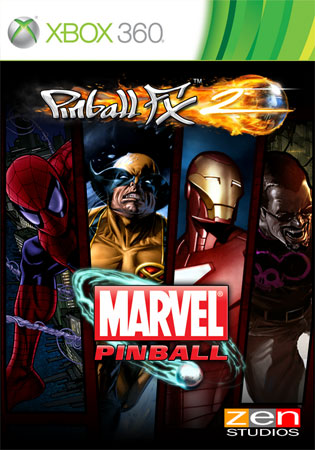 Game: Pinball FX2: Marvel Pinball
Platform: Xbox 360, Playstation 3
Developer: Zen Studios
Release Date: December 8, 2010
Rated: E – for Everyone
The newest virtual pinball tables from ZEN Studios released last week, and this set of four puts Marvel Comics in the spotlight. Here's a look at each of the tables and an assessment of how they play out.
ZEN Knows Pinball
If you're a pinball fan and a video gamer, chances are that you're already familiar with ZEN Studios' outstanding console releases, Pinball FX2 on the Xbox 360 and ZEN Pinball on the PlayStation 3. If not, I can't stress highly enough how essential it is that you play these pinball games right away. Go ahead, I'll wait for you.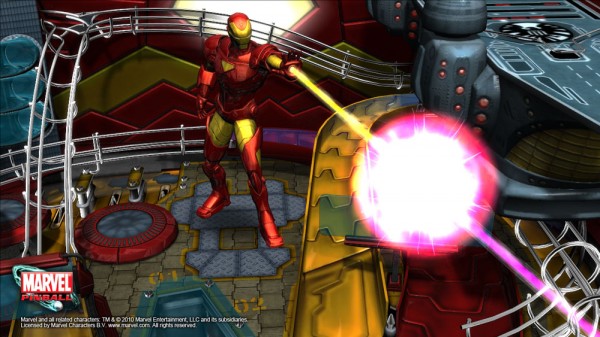 Back now? Good. Prior to trying ZEN Pinball, I wasn't even that big of a virtual pinball fan. That original PS3 game planted the seed, and the 360 release of Pinball FX2 ensured that it would blossom with that game's integration of awesome leaderboards and fantastic table designs. Now I'm a full-on fan and have downloaded all the optional tables, the quality of which only seems to increase with time. Now that ZEN had made me a pinball fan, they decided to speak to another part of my nerdy brain by injecting some Marvel Comics goodness. There are four new Marvel pinball tables, and they are available either as an add-on pack for Pinball FX2 (360) or as a standalone game on the PS3. I've tried both variants but spent the majority of my game time trying to best my friends' scores in the Pinball FX2 version.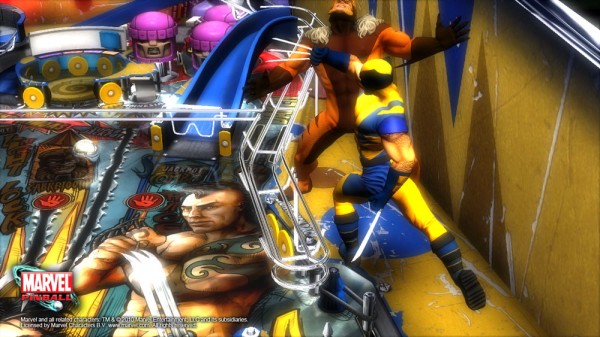 Each of the new Marvel tables is themed after a specific Marvel superhero. The tables prominently feature the hero not only with art and pop-ups and spinners, but also with animated avatars of the characters looming over the pinball action. Additionally, numerous villains from each hero's rogues gallery make appearances, setting the stage for some awesome showdowns in the middle of pinball runs.
Spider-Man
Based on my Xbox friends' stats, the Spider-Man table seems to be the most popular of the new batch of four. With a bright layout that appropriately harnesses a lot of blue and red, Spidey's signature table makes creative use of ramps and chutes to simulate spinning webs to carry your pinball around the table. The Green Goblin, Doctor Octopus, and Mysterio are three of the stages you can activate by shooting at specific targets and lanes on this one. J. Jonah Jameson, Mary Jane, and Aunt May also make appearances either through special modes or through mechanics specific to this table.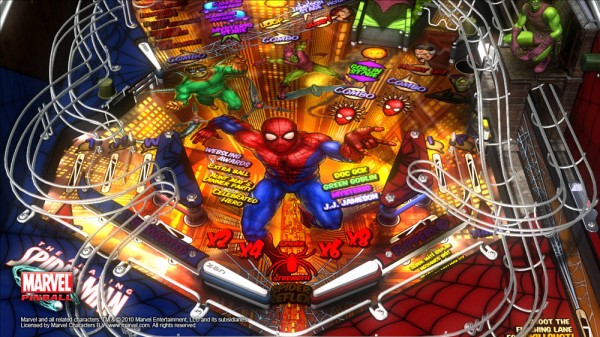 Iron Man
The Iron Man table has a lot of great design in it as well. The basic table looks high-tech and armored, decorated in golds and reds to match Iron Man's armor. Tony Stark himself stands at the top center of the table, just above a big glowing arc reactor. If you hit the right targets, you can suit Tony up in his Iron Man gear and have him take on the likes of Whiplash and the Mandarin. Duels with each of the bad guys will lead to a lot of back and forth action as you try to shoot the correct lanes to activate armor abilities.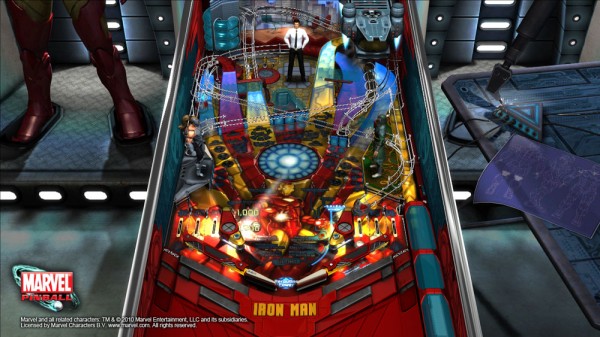 Wolverine
At first glance, the Wolverine table appears a little less decked out than the others in this release. After playing for a while, though, I found that it packs in just as many hidden features and opportunities for cool bonuses and confrontations. The table itself bears graphics of Wolverine, X-23, and Daken, with a lot of character appropriate claw marks and scratches all along the edges. Sabretooth looms near the top of the table, while Silver Samurai hangs out at the top left, just north of a Weapon X tank. Far to the back of the table is a huge Sentinel that interacts with skill shots when you first launch the ball.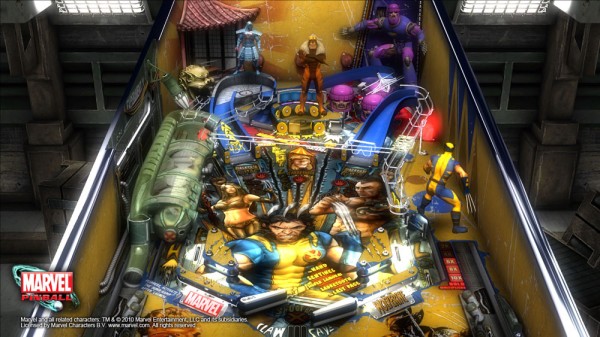 Blade
My personal favorite among the four is probably the least expected, Blade. The Blade table is decorated with some great comic art and has the look and feel of city streets and back alleys. The really cool thing that sets this table apart, though, is its day and night cycle. Areas of the table react differently depending on whether it's "day" or "night" (tracked by a Chronometer), and the overall look of the table changes with new and atmospheric lighting. Hannibal King makes an appearance, as does a UV multiball, loads of vampiric minigames, and a ton of awesome gameplay.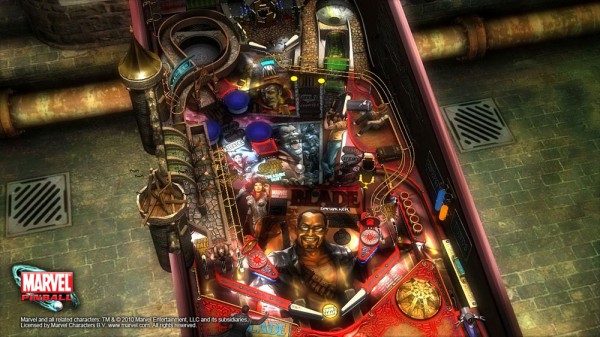 Conclusion
Marvel Pinball is the perfect addition to ZEN's growing stable of pinball tables and titles. Whether you are on the Xbox 360 or the PlayStation 3, check this release out. It plays to the strengths of pinball perfectly while doling out a lot of fun for comics fans.