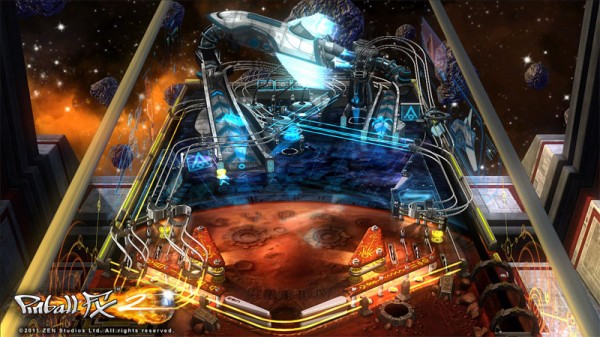 If asked to name my favorite game on the Xbox Live Arcade, I would single out Pinball FX2 with no hesitation. ZEN Studios' amazingly addictive pinball game was a big surprise for me when it released last year, and it became even more terrific after the addition of four Marvel Comics themed pinball tables. Ever since the game landed on my Xbox last October it has been in steady play as I've tried to top my friends' scores and unlock all the secrets from each of its many tables. The folks at ZEN are back this week with their brand new MARS table, throwing space exploration into the mix.
Getting a new table for Pinball FX2 is a little like finding out your favorite ice cream shop has added a new flavor. I'd propose that the new pinball table is even better than that, though, because once you've sampled the new ice cream you're pretty much done with the newness. Not so with ZEN's masterfully designed tables that offer hours of exploration and surprises that constantly drag you in for one more round.
As with all the tables in Pinball FX2, MARS has fantastic theming from the beginning. The table puts players in the role of humans conducting some of the first manned missions to Mars in the year 2100. A space shuttle and a spider-like roving robot figure heavily into the table design, but you'll also see some mysterious additions popping up, including some strange Martian ruins in the shape of a pyramid. Daniel Jackson would love this table.
Much of the fun in trying out a new pinball table is in figuring out the table's secrets and getting into the flow of racking up huge scores. I don't want to spoil any of that for you, but I'd be remiss to write this review without mentioning one of the MARS table's coolest features. As you zip your ball around the table you'll eventually trigger a Zero Gravity multiball mode. Pinball FX2 is no stranger to multiball missions that give you some task to complete while keeping several pinballs on the table at once. This one is unique, though, because the artificial Mars gravity will fail every once in a while, sending your pinballs rebounding and floating up and off the table. You're then faced with the challenge not only of completing your mission but also of just keeping the balls in the play area.
MARS also adds three new achievements to the list, increasing Pinball FX2's overall possible gamerscore by 50 more points. All the add-on tables have added new achievements, bringing Pinball FX2 into a boundary breaking realm for achievement hunters, far exceeding the 200 point gamerscore cap that has been the norm for Xbox Live Arcade releases.
If you're already a fan of the main game, it shouldn't take much convincing for you to grab this new table for your collection. If you've never tried Pinball FX2, this is a great opportunity to see what all the excitement is about. The MARS table releases on April 20, 2011, for 240 Microsoft Points.