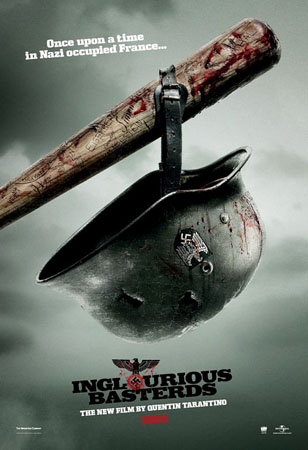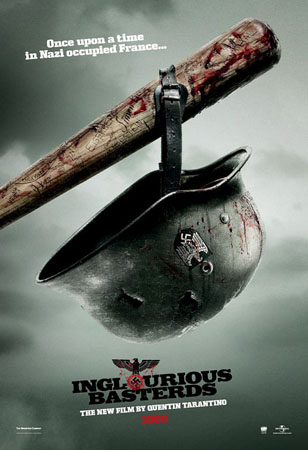 Starring: Brad Pitt, Eli Roth, Diane Kruger, Christoph Waltz, Mélanie Laurent, B.J. Novak
Director: Quentin Tarantino
Written By: Quentin Tarantino
Quentin Tarantino's latest release, Inglourious Basterds, hit theaters this past weekend, much to the delight of fans who have been waiting over two years for another Tarantino film (his last directorial project being the Deathproof portion of the exploitation double-feature Grindhouse, released in 2007). Although the box office numbers for the film are nowhere near those of summer blockbusters like Transformers: Revenge of the Fallen and G.I. Joe, it is clear that Tarantino has nevertheless delivered another cinematic gem — perhaps the best one since Reservoir Dogs and Pulp Fiction, both of which were released in the early 1990s.
Written by Quentin Tarantino (who also wrote Kill Bill: Vol. 1, Kill Bill: Vol. 2, Reservoir Dogs, and Grindhouse: Deathproof), Inglourious Basterds details the efforts of various groups and individuals to orchestrate the demise of the leaders of the third Reich. All of these efforts, which culminate, interestingly enough, at a film premiere, inevitably become entangled with those of the Basterds, a group of Jewish-American and German-born soldiers led by Lt. Aldo Raine (Brad Pitt). The mission of the Basterds is a simple one: find Nazi soldiers, kill Nazi soldiers, and then scalp Nazi soldiers, an exploit that spreads terror throughout the ranks of the Nazi army each time the brutalized, mutilated bodies of their comrades are discovered.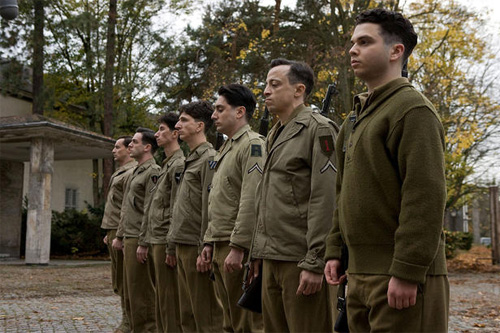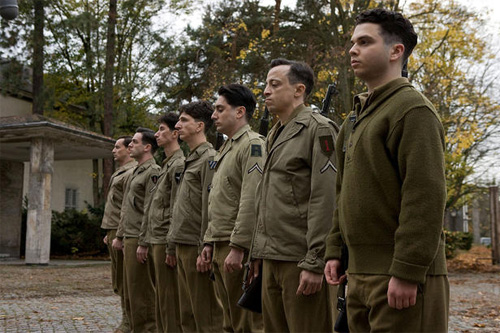 Like many of the films that Tarantino has previously written, Inglourious Basterds's plot is an extensive and complicated one. Tarantino's ability to weave together various narrative threads that, at first glance, appear unrelated into a beautiful tapestry of love, revenge, duty, honor, and glory may be most perfectly exemplified in his latest release. Those complaining about the film's 153-minute runtime should keep one thing in mind: one of the reasons that some scenes may appear to "drag on" longer than they "should" is due to one of the best qualities of the film: the fact that Tarantino does not insult the audience by having his characters speaking English or switching into English with little or no explanation as to why they were doing so. Though it may take a few more minutes to establish why the characters are able to speak to one another in heavily accented English, the result is a film in which the French speak French, the Germans speak German, and the British and Americans speak English… and a little bit of "Eye-talian".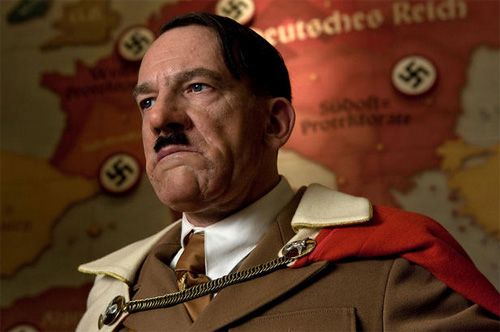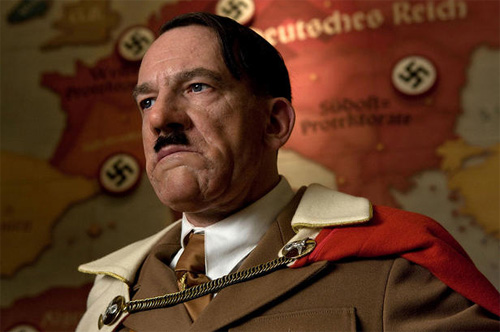 Cinematographer Robert Richardson, director of photography for Tarantino's Kill Bill: Vol. 1 and Kill Bill: Vol. 2, as well as a number of other films including The Aviator, The Good Shepherd, and A Few Good Men, worked magic with the lighting and framing choices made throughout Inglourious Basterds. The scene in which the audience is introduced to Col. Hans Landa (Christoph Waltz), a man of peculiar talents employed by the Führer to ferret out the remaining Jews in German-occupied France, is a particularly good example of Richardson's ability to heighten the emotional tenor of a scene through expert use of cinematography. In this scene, Col. Landa arrives at the home of French dairy farmer Perrier LaPadite and his three daughters, suspected of harboring the only remaining Jewish family among the French dairy farmers of the area. The camera movement and shot framing in this scene are superb — audience members will feel as though they are the ones being interrogated as the camera slowly pans around the wooden table of the LaPadite family's tiny home.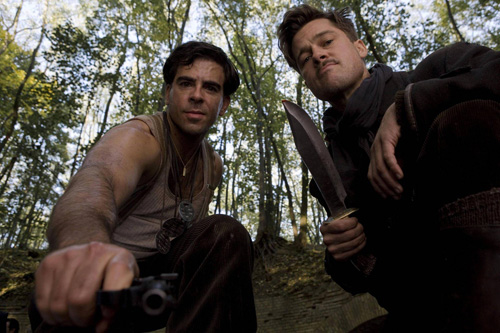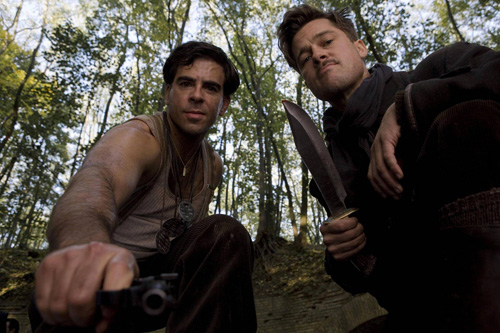 Brad Pitt's portrayal of U.S. Lieutenant Aldo Raine in Inglourious Basterds proves yet again that he is more than just a pretty face. Pitt, supported by actor/director Eli Roth as Sgt. Donny Donowitz (also known as "The Bear Jew" to the German soldiers), provides the majority of the film's comic relief — a surprise for those unfamiliar with Pitt's roles in films like Mr. & Mrs. Smith and Burn After Reading. The real surprise, however, is Austrian actor Christoph Waltz, whose chilling and witty portrayal of Col. Hans Landa, unequivocally dominates the film. Waltz, whose film credits include a vast number of German films (not to mention a bit part as a German soldier in the 007 film Goldeneye) ranging back to the late 70s, brings both a charming ruthlessness and a disturbing sense of amusement to his character, who is being hailed by some as one of the greatest villains of the 2009 movie season. Landa proves to be a constant surprise despite his consistent manner, and the repercussions of his demeanor on those around him — regardless of whether they wear a Nazi uniform or not — are more far reaching than audience members could ever conceive (yet another testament to Tarantino's writing abilities).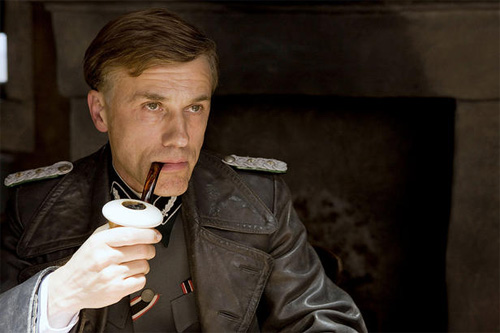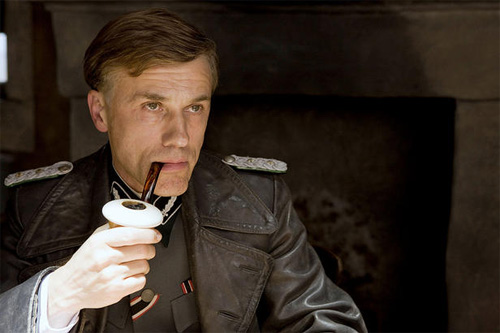 Of course, Waltz's character does not stand alone in the film, and his fellow cast members also deliver noteworthy performances. In particular, Diane Kruger (best known for her role as Abigail Chase in both of the National Treasure films) as German film star Bridget von Hammersmark, actor Daniel Brühl (The Bourne Ultimatum, 2 Days in Paris) as German war hero Fredrick Zoller, French actress Mélanie Laurent (Indigènes) as Jewish survivor Shosanna Dreyfus, and German actor Gedeon Burkhard as Cpl. Wilhelm Wicki of the Basterds all deserve acclaim for their performances, even if they are overshadowed by Waltz.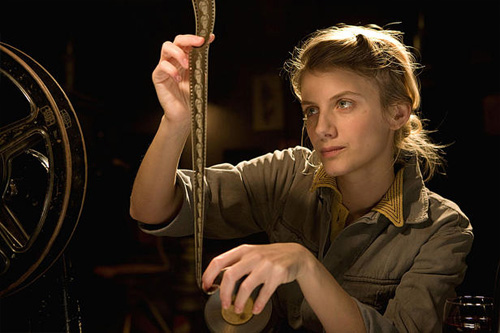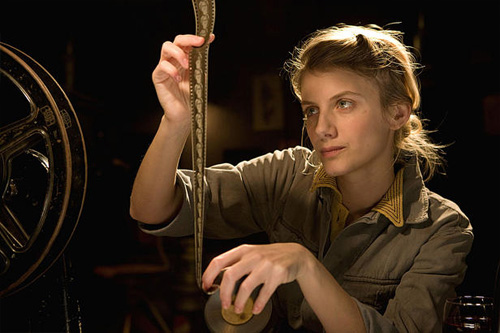 In addition to excellent writing, cinematography and acting, Inglourious Basterds delivers a degree of gore congruent with what Tarantino fans have become accustomed to over the years. Overall, Inglourious Basterds offers a variety of elements that some directors would be hard-pressed to integrate as seamlessly as Tarantino can — violence, humor, gore, and even a bit of history all come together to make Inglourious Basterds a film that will inevitably join the annals of film alongside cult favorites like Pulp Fiction and The Boondock Saints.