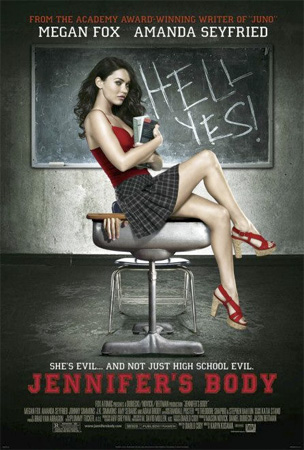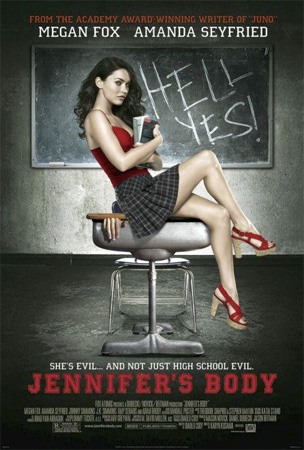 Starring: Megan Fox, Amanda Seyfried, Johnny Simmons, Adam Brody, J.K. Simmons, Amy Sedaris
Director: Karyn Kusama
Written By: Diablo Cody
For those of you out there who don't watch TV, fast-forward through commercials, or tune out whenever you hear the name "Megan Fox," Jennifer's Body is a horror comedy written by award-winning screenwriter Diablo Cody (Juno) that tells the story of a bookish high school student named Anita "Needy" Lesnicki (Amanda Seyfried) and her best friend, the hottest girl in school, Jennifer Check (Megan Fox). Best friends since they were girls, Needy and Jennifer seem to have very little in common, and after a horrible fire at a local bar the differences between the two become even more extreme: Jennifer develops an unnerving taste for human flesh, and Needy is the only one who seems to notice.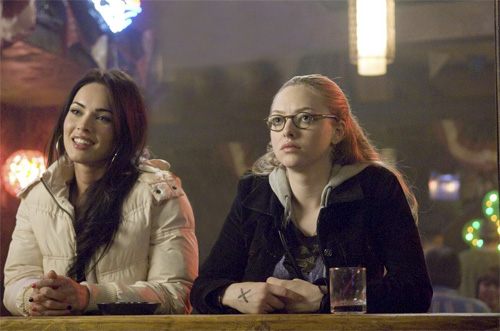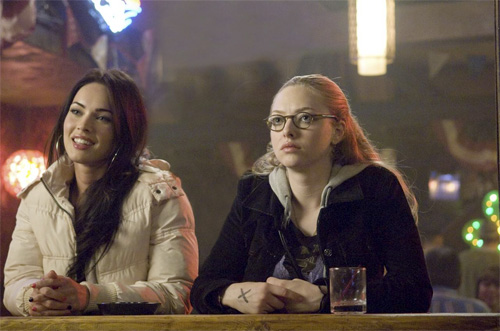 It's very difficult to gauge what audiences' expectations were for Jennifer's Body, although I did hear that a large number of people actually walked out of the movie this past weekend. In my opinion, there are a few factors that can account for this: first, Diablo Cody is best known for winning the Academy Award in 2008 for Best Writing for her comedy-drama Juno starring Ellen Page. This means, therefore, that a significant number of people who enjoyed Juno and know that it was written by Diablo Cody ended up at the theater this weekend expecting to see another Academy Award winning quality film from Cody. Jennifer's Body, although an enjoyable, entertaining horror-comedy destined to become a cult classic among certain sects of B-horror fans, is certainly not an Academy Award winner… nor is it meant to be.
The second consequence of following Juno with a film like Jennifer's Body is that the majority of die-hard Juno fans are die-hard Juno fans because they fell in love with the snarky, somewhat shocking dialogue of Juno MacGuff (Ellen Page) due in part to the fact that it made her "offbeat." Use of the same kind of dialogue in Jennifer's Body, however, is interpreted in an entirely different way by audiences (as it should be), namely due to the fact that Jennifer Check owns the things she says. Jennifer is a vapid, shallow, self-centered princess used to getting her own way, and she thinks so highly of herself that she doesn't care if other people know it. When Jennifer says things like "Shutties" (slang for "Shut up") or "Chip, you're just Jell-O because you weren't invited" ("Jell-O" meaning "jealous"), it doesn't seem contrived or awkward because Jennifer is one of those girls who thinks herself so much better than her classmates that she can say whatever she wants and it won't be questioned.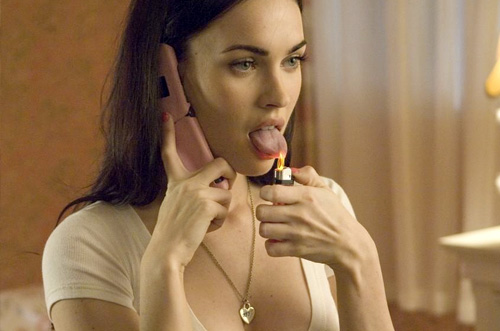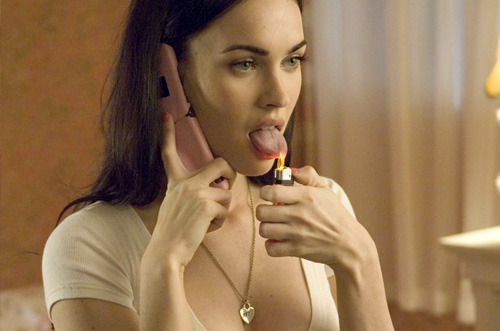 And let me pause for a moment to address those of you who have seen Jennifer's Body and are completely convinced that no high school student in America speaks the way that Jennifer, Needy, and their classmates do. I can assure you that there are, indeed, teenagers out there who use words like "freaktarded" on a regular basis. Just because you haven't met one doesn't mean they don't exist.
Another inherent problem with Jennifer's Body that Juno only benefited from is public opinion of certain cast members. Ellen Page is the type of girl-next-door actress that everyone loves (as her burgeoning film career can attest to), and she portrayed a character in Juno who isn't hell-bent on murdering and then munching on her classmates. Megan Fox, on the other hand, is a much more controversial actress whose actions both on- and off-screen have divided audiences into two major camps; in other words, you either love her… or you hate her. On top of having viewers predisposed to despising Megan Fox (and, in turn, whatever character she plays), Jennifer Check is, as Needy tells her boyfriend Chip, "evil." In fact, "[S]he's actually evil. Not high school evil." It's much easier to forgive an actress that you hate when she's playing someone like Mikaela Banes (Transformers; Transformers: Revenge of the Fallen) than when she's playing someone as ruthlessly self-absorbed as Jennifer Check.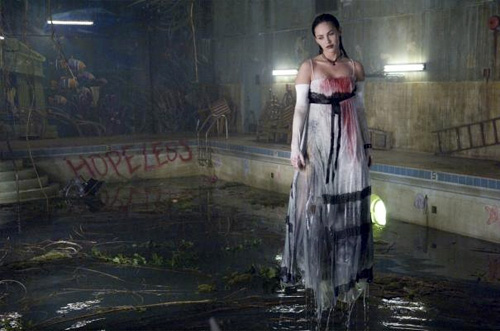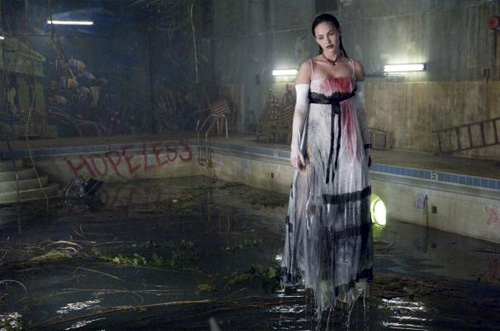 Once we move beyond the hurdles that Jennifer's Body had to overcome even before hitting theaters this past weekend, we can actually take a look at the film itself. Although there are a few things about Jennifer's Body that don't make a lot of sense, such is the tradition of other comedy-horror films like — dare I say it — Evil Dead or Army of Darkness (both of which are referenced in the film). For example, it seems a bit convenient that there just happens to be an abandoned indoor pool close enough to the high school that Jennifer can bring Chip there, thus facilitating a scene in which Megan Fox happens to end up soaking wet in her white formal dress. I will also admit that there is no explanation for what it is that Jennifer Check repeatedly vomits up at different points throughout the film, or what triggers her to do so, but in my opinion these are not deal-breakers for Jennifer's Body. Horror films like this one require a certain "willing suspension of disbelief," and if you're going to get hung up on why a high school girl who is possessed by a demon and enjoys killing her classmates and drinking their blood vomits up blackish crap every so often, then you might as well go see Love Happens, because the B-horror film genre is not for you.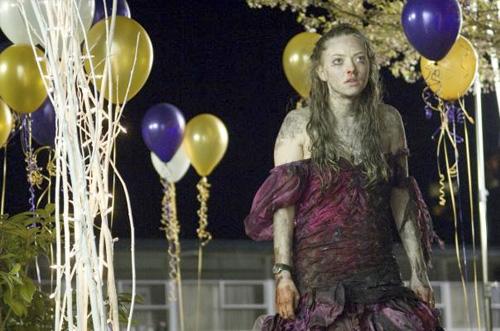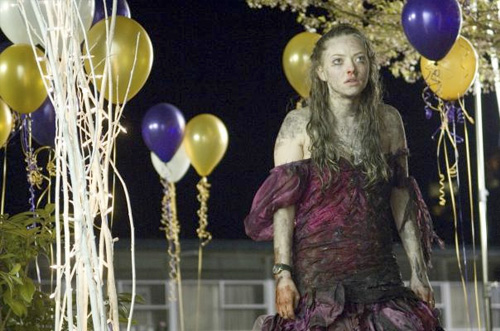 The main cast of Jennifer's Body includes Amanda Seyfried (Mamma Mia!, Mean Girls) as Needy Lesnicki; Megan Fox (Transformers: Revenge of the Fallen, How to Lose Friends and Alienate People) as Jennifer Check; Johnny Simmons (Hotel for Dogs, Evan Almighty) as Needy's boyfriend, Chip; Kyle Gallner (Smallville, The Haunting in Connecticut) as Colin Gray; Adam Brody (The O.C., Thank You For Smoking) as the lead singer of Low Shoulder, Nikolai Wolf; and J.K. Simmons (Extract; I Love You, Man) as the high school science teacher Mr. Wroblewski, who for some reason has a hook where his left hand should be (but hey, accidents happen in the lab, right?). Particularly impressive is Amanda Seyfried's portrayal of Needy Lesnicki, a character capable of making audiences both laugh and cry. Adam Brody and the other actors who played the twisted, sadistic members of Low Shoulder also delivered great performances.
It seems as though audiences and critics alike have chosen to tear apart Jennifer's Body (haha, pun intended) either based on preexisting feelings or misplaced expectations. Little thought is given to the film's genre or intent, causing exceptional performances like Amanda Seyfried's to go virtually unnoticed. Similarly, the film's soundtrack, which features some great songs by Florence + The Machine, Hayley Williams (of Paramore), and Low Shoulder (the band from the movie), is completely overlooked in the wake of Megan Fox hatred, Diablo Cody disappointment, etc. Jennifer's Body is a strongly written, hilariously terrifying movie that has earned a place in my DVD collection, but I would only recommend that serious fans of B-horror movies go to see the film in the theater. For those of you out there that do, you will not be disappointed. For those of you who don't know what Army of Darkness is, don't say I didn't warn you.
Rating: A-
adam brody
,
amanda seyfried
,
army of darkness
,
B horror films
,
diablo cody
,
Evil Dead
,
Jennifer's Body
,
juno
,
megan fox
,
movie review
,
movies-
,
Reviews