Hulu is by far the greatest thing to grace the Internet since that Drunken Hoff video. And, luckily for us, it has the single weirdest collection of completely random feature films! Everything from low budget B-movies no one has ever seen to flicks that have fallen into a pop culture abyss, Hulu is filled with a wide array of quality and not-so quality, and I would be lying to say I don't love 'em all. This week we're taking a look at the intriguingly titled Love and a .45.
Released in 1994, Love and a .45 is an extremely fun independent film that could be described as a Bonnie and Clyde for the grunge era. The title alone was enough for me give it a chance, and within the first 15 minutes I was in love with it. The main characters are a young couple in love named Watty and Starlene, played by the extremely likable Gil Bellows and an incredibly sexy 25 year old Renée Zellweger (and when I say incredibly sexy what I really mean is HOLY CRAP). The couple are lovably unlucky misfits who are planning to tie the knot and leave their life of petty crime behind them. Unfortunately for them a simple robbery was quickly upgraded to a murder thanks to Watty's troublesome friend and partner in crime (literally), the drug addicted Billy Mack played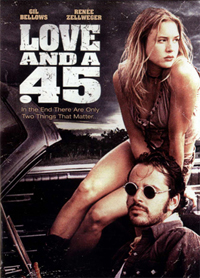 twistedly (nope, not a real word) by the brilliant Rory Cochrane. Though Watty is indeed a crook, he has a unique set of morals that makes him instantly lovable. But unfortunately for him his partner Billy Mack does not share those same morals and eventually friends quickly become enemies. After the murder leads to even worse situations, the young lovers must make a break for Mexico while being followed by both police and other groups who are highly unhappy with them — all while unaware that, thanks to the media, they are becoming pseudo-celebrities.
Along their adventure south they make a few stops which involve some of, in my opinion, the greatest moments in the film. One of which is to get married. Of course, due to their well known "wanted" status they must take certain precautions including tying up and isolating the man who marries them… all with the utmost of politeness and courtesy. Another stop was to visit Starlene's parents, ex-hippies and free spirits played hysterically by Ann Wedgeworth and a voicebox-toting Peter Fonda. And although the characters aren't on screen very much, their chemistry is so great and wildly funny.
The movie definitely has a pulp film influence and was written and directed by C. M. Talkington, who never went on to do anything of any more significance, which comes to a surprise when seeing this movie, being his style definitely has a place in modern filmmaking.
When it comes to performance, this movie is leaps and bounds above the rest of what the early nineties indie film circuit $#&% out at us (I just really wanted to see if the Fandomania head honchos will let me say "$#&%" in an article). And knowing who this cast is nowadays, the incredible performances come as no surprise. Both Renée and Rory went on to star in Empire Records and, soon afterwards, Renée's career was solidified in Jerry Maguire. Although Rory may not be as commonly known, he has continuously and consistently given brilliant performances in both film and television, including one of my favorite performances ever as Charles Feck in A Scanner Darkly. And, to be honest, you can see a very small bit of that character in Billy Mack. And of course this movie came out just off the heels of his memorable role in Dazed and Confused (in which Renée also had a small uncredited role).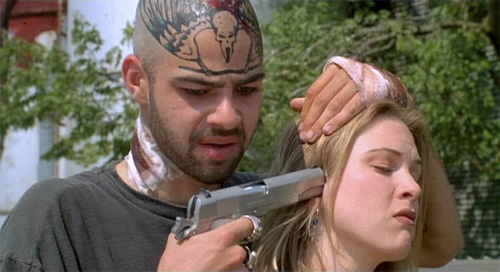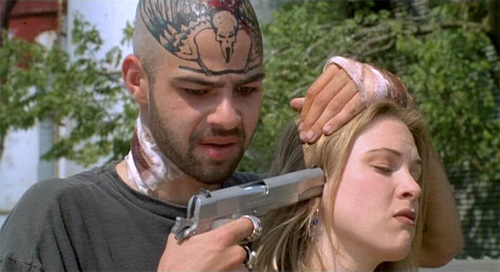 But the real mystery to me lies in Love and a .45's leading man, Gil Bellows. Gil is so amazing in this movie. He has that indescribable trait that certain actors have that instantly make you love to watch them. If this movie were another hour longer I wouldn't have minded, just because he's that enjoyable. And although Bellows has and continues to have an extremely successful career in both film and television, seeing him in this movie really makes me wish he was more of a leading man instead of that incredible supporting actor who was great but whose name you've never learned. The same year this was released, Gil had a role in Shawshank Redemption and went on to appear in television shows like Ally McBeal. Now, I understand that supporting casts can make or break a production… but Gil is just so %#&@-ing good!
So in closing, Love and a .45 is definitely worth your time. Super fun, kind of twisted, pretty funny, and all around sexy. There's no expiration date for it on Hulu right now, so let's assume its expiring… right now!! SO HURRY UP AND GO WATCH IT!!!! AAAAHHHHH!!