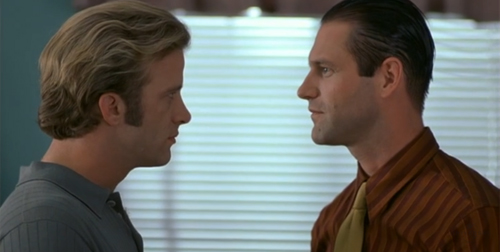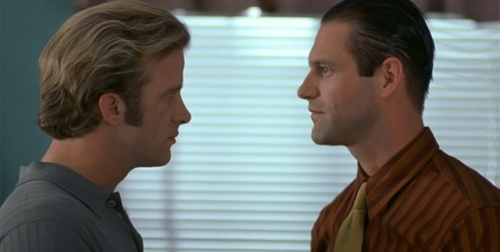 Hulu is by far the greatest thing to grace the Internet since the "a/s/l" system. And, luckily for us, it has the single weirdest collection of completely random feature films! Everything from low budget B-movies no one has ever seen to flicks that have fallen into a pop culture abyss, Hulu is filled with a wide array of quality and not-so quality, and I would be lying to say I don't love 'em all. This time we're taking a look at yet another incredibly fun movie that, without Hulu, I'd probably never see: a star-before-they were-stars-studded 1998 flick called Thursday.
Thursday was the writing and directorial debut of a fellow named Skip Woods. Though Skip never directed again, he went on to write Swordfish, Hitman, X-Men Origins: Wolverine, and even the upcoming A-Team movie.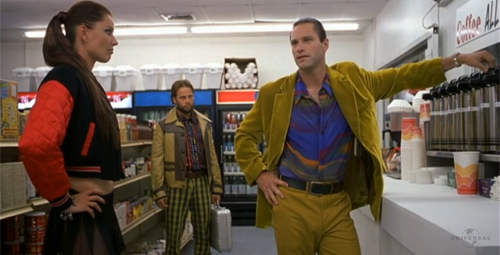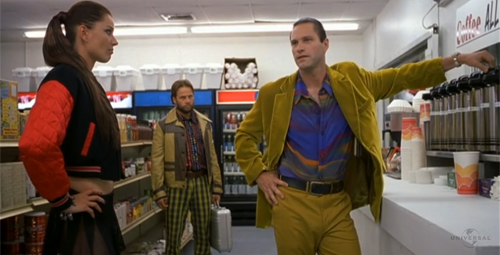 I have to flash back to high school for a moment. Like most nerds, I worked at Blockbuster (youngest assistant manager in the district, thank you very much) and I remember we had a boatload of copies of this movie Thursday that were on sale pre-viewed… I'm talking VHS tapes, baby. There were so many that they were only $1.99! And like every good movie geek, if it's only $1.99 I buy it no matter what it is.
That tape probably was tossed when I gave up on my "every now then I might watch a VHS tape" phase. Now, at the time I brought that VHS home, these names didn't mean much to me but had I known even just a couple years ago that Thursday stars a baby faced and feathered haired (yet STILL bad ass) Thomas Jane, Aaron Eckhart, Mickey Rourke, and Glenn Plummer, who I recognized from his small role in one of my favorite flicks, Poolhall Junkies (but you might know from ER, Saw II, and Sons of Anarchy), then chances are I would've watched it a long time ago. I specifically recall the title because like I said… we had a BOAT-load.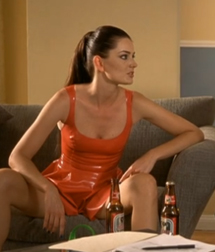 This R-rated, humorous yet dark and twisted flick plays like an over-the-top B-movie stepchild of Quentin Tarantino. Thomas Jane (who sweats likability as usual) plays an ex-drug dealer named Casey who's left the dark days behind and built a new life as an "architect." After four years of living the suburban life, he gets a visit from his past. His old partner in crime (literally) Nick, played by a devious Aaron Eckhart, shows up at his doorstep for a visit and leaves behind a suitcase filled with trouble. Being Casey's wife (played by Paula Marshall, who's been a guest star on every TV show ever) knows nothing about his past, trying to deal with the mess he was left with as well as maintain current normal life is by no means a easy thing to do. One thing it IS is entertaining. (See what I did there? I could write summaries for the back of movie cases, I'm so cheesy.)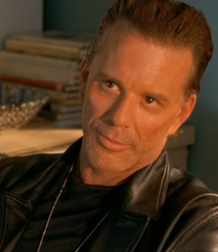 Aside from emotional baggage re-hashed by his old friend's arrival, Casey has a new problem in the form of Nick's new "partner," a tall exotic punk-rock bad girl (very, very, bad girl) played by an insanely sexy and twisted Paulina Porizkova (yep.. the two female leads in this movie are named Paula and Paulina. That wasn't confusing on set AT ALL).
Being that 95% of the movie takes place in Casey's house with various "visitors" it plays more like a character piece than a crime/action/whatever they called it. This might be why it wasn't that well received. It's definitely hard to place and had a little trouble balancing itself out, the biggest problem being that the movie tends to build a bit to a great big bloody event and although it happens, we don't see it. And we shouldn't see it because we are instead exploring the main character's thought process. So in that case it's a little hard to grasp. Other than that, the movie is a fairly typical "changed man but old pro" kind of flick, but I did thoroughly enjoy it and suggest it for anyone who loves any of the actors involved… or just anything with some good ol' fashioned blood, guns, sex, and booze (and the occasional ass-whoopin' with a frying pan). Currently has no expiration date on Hulu. So make with the Thursday!