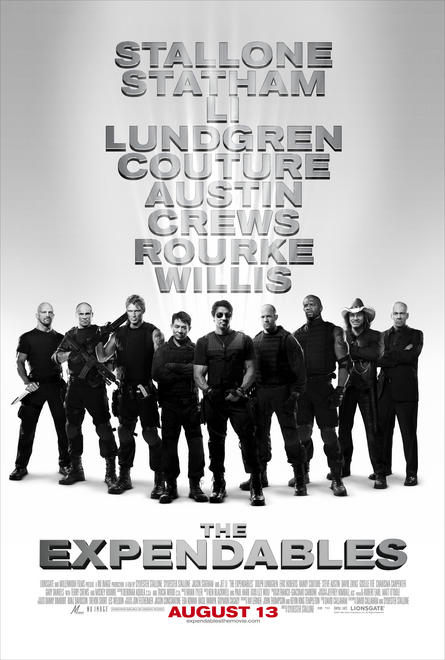 Director: Sylvester Stallone
Screenplay: Dave Callaham and Sylvester Stallone
Cast: Sylvester Stallone, Jason Statham, Jet Li, Dolph Lundgren, Randy Couture, Steve Austin, Terry Crews, David Zayas, Eric Roberts, Mickey Rourke, and Bruce Willis
Rated: R
When I was a kid I would imagine all of my favorite action stars in the same movie. It would have the ridiculousness of Commando, the explosions of Die Hard, and the fight scenes of Enter the Dragon. It would be so action-packed that any movie theater not built to withstand a 6.5 earthquake would crumble during the final reel. The Expendables isn't that movie, but it's as close as I'll ever get. Well, until the sequel, anyway.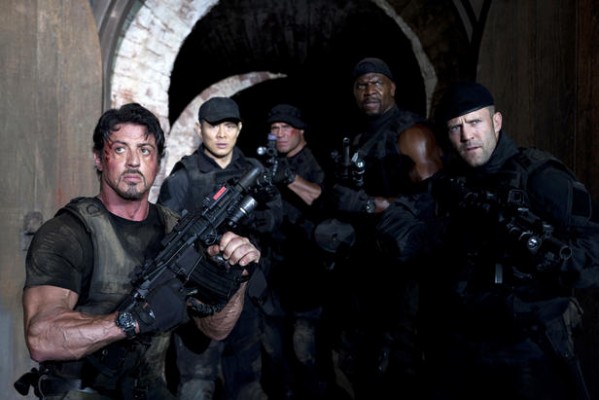 There's a plot, sorta — it's more of an excuse to have Stallone and company fight a small army. The Expendables are a team of mercenaries with goofy fake names like Lee Christmas and Hale Caesar. In what can only be called "The Planet Hollywood Scene" because of the not so secret cameos of Bruce Willis and Arnold Schwarzenegger, Stallone accepts a job that pits his team of action stars against the dictator of a tiny island nation and his AA-12 fodder, err, I mean his military. The catch is that the dictator, played by David Zayas of Dexter, is being coached and funded by a bigger baddie with some muscle of his own.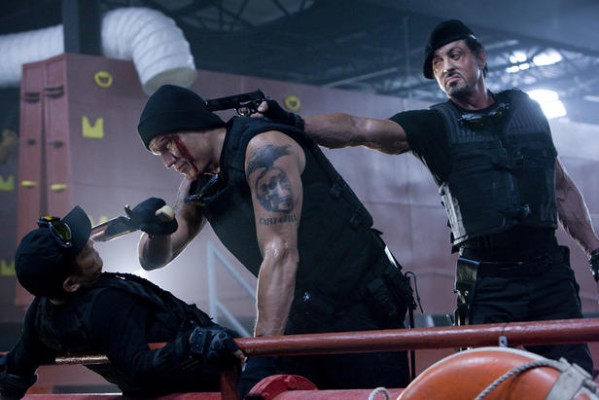 Stallone gives himself the meatiest role as the mercenary who realizes that his own humanity might be salvaged. There's one scene between Mickey Rourke and Stallone that contains a surprising bit of drama (mostly from Rourke), and gives Stallone his motivation for the rest of movie. Jason Statham is once again playing Jason Statham. Jet Li has some of the funniest parts of the movie by playing up his size in comparison to his teammates. Terry Crews and Randy Couture are relegated to background characters, although Couture is given a little more to do. Perhaps the only actual character arc in the movie goes to Dolph Lundgren. Yeah, Ivan Drago. He plays an ex-Expendable who's looking for a bit of revenge for being let go and he's clearly having a great time. Lundgren is easily my favorite part of the movie.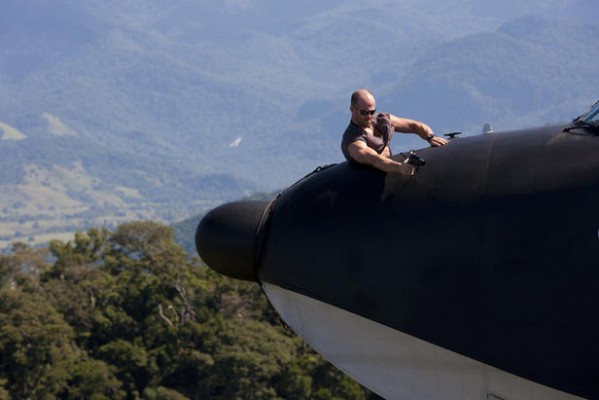 The action is over the top, but it misses the mark on a couple of points — and they're kind of important ones. The fight scenes are a too frantic. There are too many cuts and close-ups that distract from the fights. If you've got Jet Li and Randy Couture in a movie, you should take advantage of their ability to fight without camera tricks. The other complaint I have is the bad guys. There are only three bad guys that present a real threat to our mercenary heroes, but there are five heroes. I know the bad guys don't stand a chance, but I wanna think that they're gonna present a real challenge. I just didn't feel it.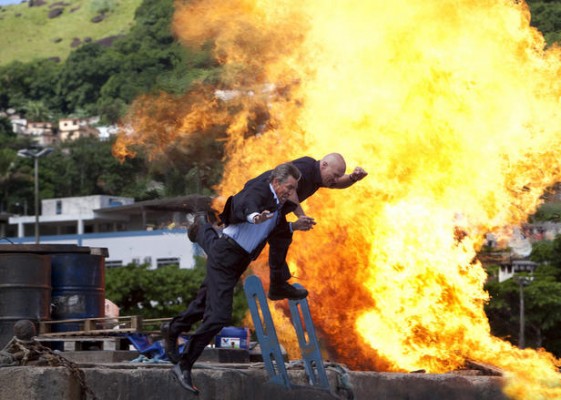 The humor is really obvious, but that's not a complaint. The Expendables is cheesy and so is the humor. It's kinda perfect like that. This whole review is fluff, but here's what you need to know: A whole bunch of stuff explodes (including people), there are fights, a neck-break that'll make you cringe, knives, ridiculous guns, two really pretty women, and more testosterone than has ever been in theaters. Drink a beer, eat a steak, and watch The Expendables. It'll put hair on your chest.
Rating: 4 / 5 Stars