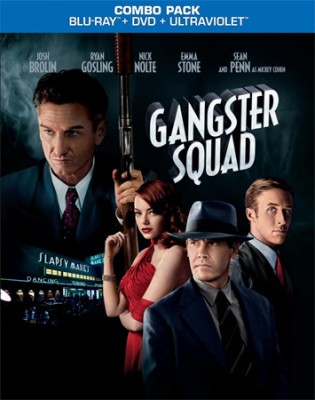 Living in late 1940s Los Angeles would have been a glamorous life, but likely would have ended with your being enslaved by unscrupulous movie makers and / or gunned down by the mob. That's the scene modern pop culture paints for us, at least, and the most recent release to back it up is 2013's Gangster Squad, which arrives on Blu-ray and DVD this week. Having not lived in L.A. or in the 1940s, I can't speak to the veracity of today's depictions of that tommy gun laden era, but it sure does make for some fascinating storytelling.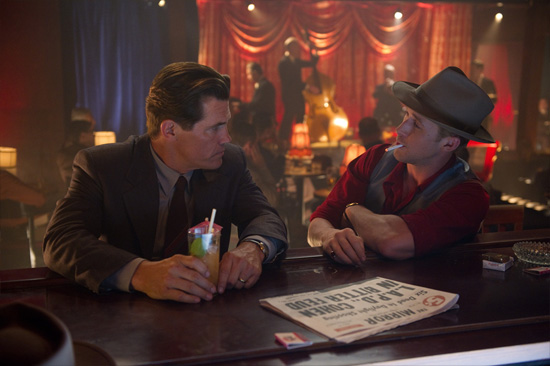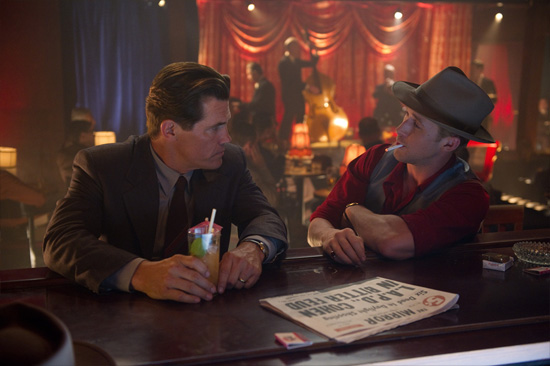 Gangster Squad takes us to 1949 Los Angeles, where mobster Mickey Cohen (Sean Penn) grips the city's underworld in a stranglehold. Mickey Cohen is one of an array of real life bad guys that would go on to live romanticized fictional lives that very likely are far more interesting than the actual criminal existences they had. Cohen in particular has shown up in Bugsy, L.A. Confidential (as well as the James Ellroy books upon which that movie is based), the 2011 video game L.A. Noire, and a number of other novels and movies, so he's a common face for gangster fiction fans. Gangster Squad's portrayal of Cohen is that of a sadistic and egomaniacal thug, and most of his backstory in the film matches up with reality (or at least with reality as presented by the Wikipedia brain trust). Sean Penn looks a little ridiculous under ten pounds of aged mook makeup, but he seems to enjoy hamming it up as Mickey Cohen, delivering beatings and terrible puns with equal aplomb.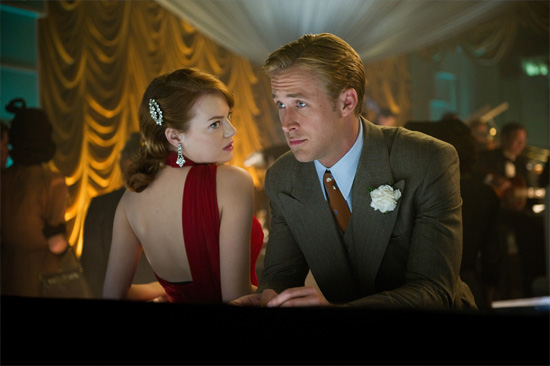 Cohen's criminal domination of L.A. extends even into the police force, and the cops tend to turn a blind eye to his vicious deeds. Police Chief Parker, played by an appropriately grizzled Nick Nolte, is a rare holdout of virtue within an otherwise compromised department. He decides the time has come to take back the city, and he recruits no-nonsense cop John O'Mara (Josh Brolin) to gut Cohen's operation and drive the crime boss out of town. O'Mara assembles a ragtag team of similarly minded officers to help him bust up the syndicate. The eponymous Gangster Squad consists of a full complement of sharpshooters, tacticians, and bruisers played by Robert Patcik, Giovanni Ribisi, Anthony Mackie, Michael Peña, and Ryan Gosling.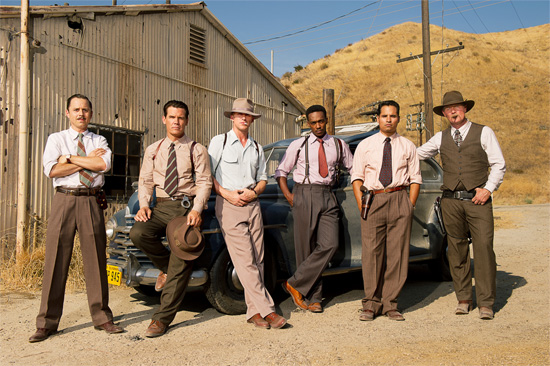 Gosling plays Jerry Wooters, a sergeant with connections on both sides of the law, and he soon crosses paths with Mickey Cohen's moll, Grace Faraday (Emma Stone). Jerry and Grace snap together like Ryan Gosling and Emma Stone shaped magnets are prone to do in there sorts of situations, potentially complicating the Cohen takedown operation. The film follows the Squad as they operate on both sides of the law to destabilize the criminal empire, slowly working their way up the chain. Gangster Squad is neither a cerebral film nor a groundbreaking one, but it is a stylishly fun action flick. Mickey Cohen is a brutal villain, and the central cops are easy heroes to root for.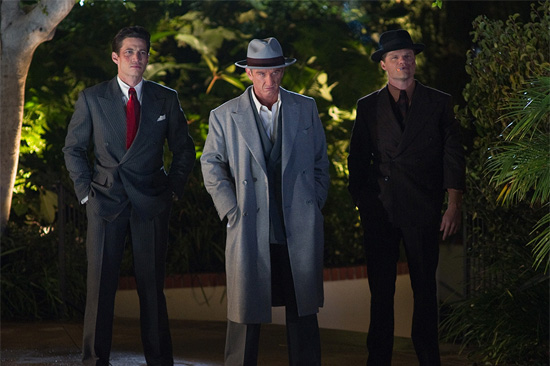 The combo pack that releases this week includes the movie on Blu-ray and DVD, as well as packing in an Ultraviolet streaming code. The DVD has a standard definition of the movie, along with a five minute "Tough Guys with Style" bonus feature. The Blu-ray has the "Tough Guys" feature, as well as an assortment of other goodies including:
Audio commentary with the director
The Gangland Files – Focus Point visual commentary track, with bookmarks to the specific Focus Points that you can watch as separate features
Rogues Gallery: Mickey Cohen – A 46 minute documentary about the life and exploits of the real Cohen
Deleted Scenes – 7 cut scenes with an intro from the director
Then and Now Locations – an 8 minute feature comparing modern day locations in Los Angeles to their 1949 counterparts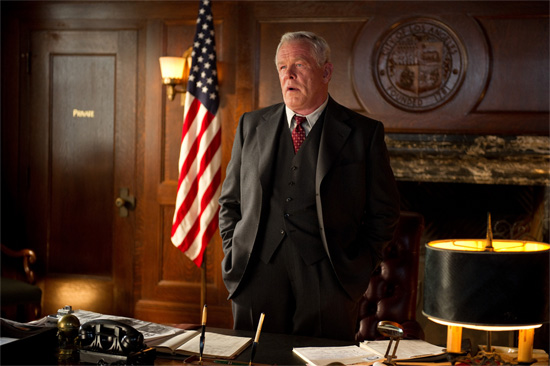 If you're into gangster action, you can't go wrong with Gangster Squad. It's an enjoyable and explosive jaunt through a romanticized late '40s L.A. with just enough historical and cultural touchstones to make it believable. Gangster Squad hit stores on April 23, 2013, and is in stores now.