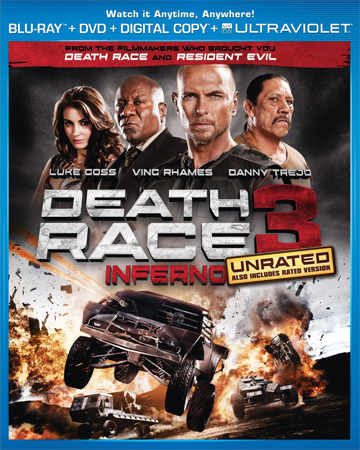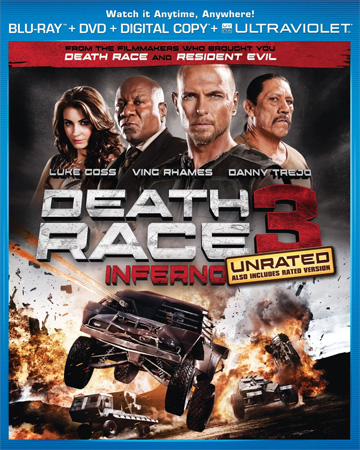 Fast cars, big explosions, scantily clad women, and Danny Trejo. All are hallmarks of the B-action movie genre, and all are boxes that get big checkmarks in Death Race 3. The second direct-to-home video sequel to 2008's big screen debut brings back the cast from Death Race 2 and arrived on Blu-ray and DVD on January 22.
The original Death Race that was in theaters in 2008 is a reboot of Death Race 2000, the 1975 cult classic vehicular mayhem flick that stars David Carradine and Sylvester Stallone. Set in the near future, Death Race presents a penal system so believably corrupted by corporations and overcrowding that Terminal Island Penitentiary has created a pay-per-view event that places inmates behind the wheels of armored and armed cars in races to the death. Death Race opens with the popular and mysterious masked racer / inmate known as Frankenstein (played by Keith Carradine) meeting a fiery demise when a rival blasts his car to smithereens during a race. The remainder of that film shifts its focus to Jason Statham's character, but Frankenstein returns front and center for the prequel series that followed, beginning with 2010's Death Race 2. Luke Goss dons the Frankenstein mask in these origin stories that build the foundation for the 2008 movie, and he returns for another outing in this newest installment, Death Race 3: Inferno.
Some time has passed since inmate Carl Lucas (Goss) apparently died at the end of Death Race 2. The audience knows he survived his car's explosion with extensive burns and returned as Frankenstein, but his friends and pit crew (Danny Trejo, Tanit Phoenix, and Frederick Koehler) still think he's dead and that the Frankenstein they're working with is just some new weirdo in a mask. Death Race owner and prison financier R.H. Weyland (Ving Rhames) has cut a deal with Lucas to keep him driving in exchange for his release from prison if he wins three races, but all agreements are off when ridiculously wealthy British douchenozzle Niles York (Dougray Scott) shows up to acquire Death Race in a hostile takeover. He forces Weyland out of the business and then decides to franchise the Death Race brand by opening the competitions to prisons around the world.
To kick off his insane new venture, York has the most popular racing inmates from Terminal Island flown to Africa, where they will compete in a grueling Baja-style race in the desert. York is wise to the deal Lucas made with Weyland but threatens the lives of Lucas's friends if Lucas doesn't lose his African races, thereby keeping Frankenstein on the pay-per-view show and making money from the sponsors and fans. It's not long before Lucas's pit crew realizes that he's actually alive and is the man behind the Frankenstein mask, and Lucas must decide whether to cave to York's demands or to rebel and go his own way in the race. Naturally, lots of crazy auto stunts follow, punctuated by random fistfights and occasionally heaving and sweaty bosoms.
Death Race 3 is every bit as bombastic, silly, and testosteroney as you'd expect. What you might not expect is how legitimately fun it is to watch. So far, all three movies in the series have delivered on all their promises. They don't pretend to be high cinema or acting masterpieces. They are popcorn action flicks without pretensions to be more than that, and they are addictive visual junk food. The production value is exceptional, especially when you consider the kinds of constraints the producers likely work under for straight to DVD releases. The explosions are big, the set pieces are impressive, and the action is just plain fun to watch.
The Death Race series has brought some great acting talent to it, from Ian McShane and Joan Allen in the first film to Sean Bean in the second. Dougray Scott's villainous performance in this third one is over the top in despicability, and he's almost campy in most of his arch deliveries. It's unclear whether he intends the camp, but it works for his ridiculously slimy villain. Sean Bean makes for a more layered villain in Death Race 2, but Scott presents a serviceable hate target for the audience this time around. Also on board for this third film is Robin Shou, who many might recognize as Liu Kang from the Mortal Kombat movies, reprising his role as racer 14K after playing the character in the first and second films.
Death Race 3 is out now in multiple formats, and the one I checked out comes as a combo pack that includes the Blu-ray, DVD, a download code, and an Ultraviolet streaming code. This one comes with both the unrated and R-rated versions of the movie, though there's less than a minute's worth of difference between the two cuts of the movie. Director Roel Reiné provides an audio commentary, and the roster of bonus features also includes a making-of featurette that runs about 10 minutes in length, alongside an assortment of deleted scenes and a deleted shots montage. Exclusive to the Blu-ray version are an additional alternate opening for the movie and brief behind the scenes clips about shooting the race sequences and Danny Trejo's character, Goldberg.
If you're looking for a fun and light diversion, it's hard to go wrong with the Death Race series. These movies consistently are more fun than they ought to be, and Death Race 3: Inferno deserves a watch if you've enjoyed one or both of the previous two installments. Death Race 3 released on home video on January 22, 2013, and is in stores now.