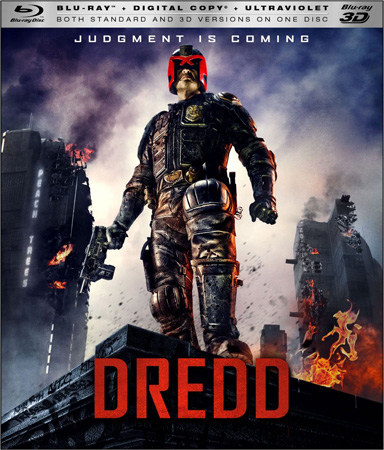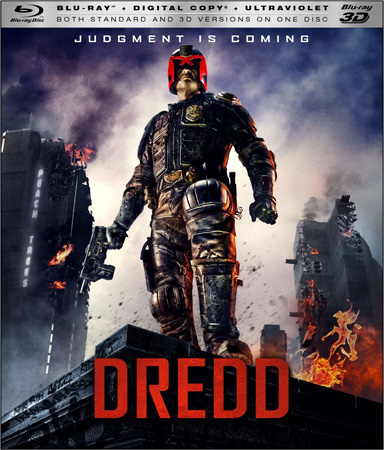 In the 1980s and '90s, there was a whole subgenre of sci-fi action films that looked like big budget blockbusters but played with B-movie sensibilities. The action was frequent and over the top, and the violence was comically extreme. Chief among the roster is 1987's Robocop, accompanied by other memorable fare like Demolition Man, Universal Soldier, and even The Terminator. 2012's Dredd channels all the good, dark goofiness of that era and distills it into a completely enjoyable and uniquely stylized take on a classic comic character. Dredd releases on Blu-ray this week, and I was able to take a look at it before it hit shelves.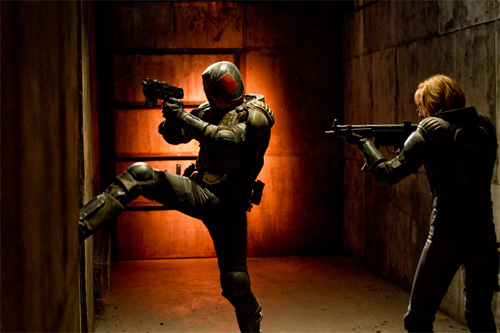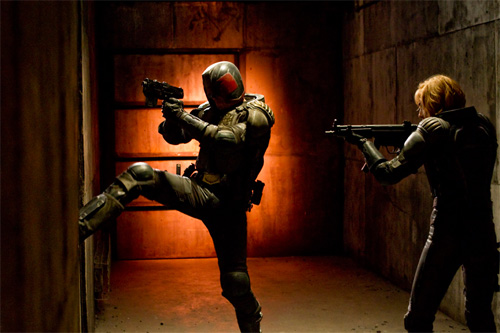 Director Pete Travis's movie is based on characters and settings that originated in 2000 AD, a weekly British pulp comic series that has been running in serial format since 1977 and continues to print new stories today. 2000 AD has created a number of memorable characters, but the most recognizable of them arguably is Judge Dredd. Dredd is a law enforcer in the dystopian future metropolis of Mega-City One. With crime and corruption rampant, the government has sanctioned Judges to apprehend criminals and pass sentencing on the streets with expediency. In effect, Judges are licensed to determine suspects' guilt and, if deemed appropriate, execute them immediately. Judge Dredd is one of the city's most effective Judges, and the comic stories follow his law enforcement career as he takes down crime and investigates cases.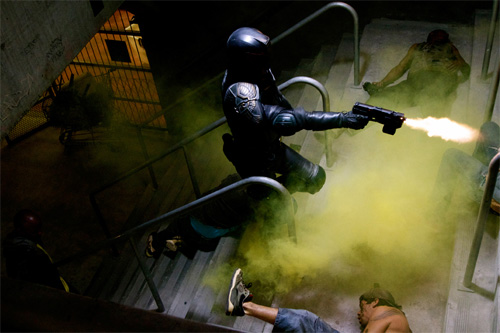 Dredd does a great job of capturing the bleak landscape of Mega-City One, coupled with the extreme measures to which the government has gone to try and wrangle law and order into its citizenry. The movie's visuals are soft and frequently grainy, with oversaturated colors that somehow manage to bleed through as muted. Dredd's jarringly different look takes a few minutes to soak in, but once it does it becomes clear that it's the perfect choice for this fantastical story that is set in a grungy and terrible metropolis. Some of the scenes become dreamlike when they dispense with the graininess and amp up the saturation to punctuate drug induced delirium. The whole thing looks marvelous and does not resemble any other movie I've seen in recent memory.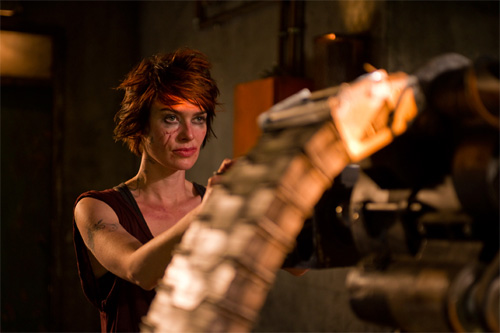 The movie presents a day in the life of Judge Dredd (Karl Urban) as he takes on a rookie for evaluation on the job. The rookie is a potential Judge named Anderson (Olivia Thirlby), who exhibits psychic abilities likely caused by her being a genetic mutant born to parents who were exposed to the radiation that scorches the world outside the walls of Mega-City One. Dredd takes Anderson with him to the Peach Trees slum project, where a multiple homicide has been reported. Peach Trees is a giant skyscraper complex and home to tens of thousands of lower class citizens and thugs. Criminal gangs control its inner sanctums, most notably the gang run by one Madeline Madrigal, aka "Ma-Ma" (Lena Headey). Under her ruthless watch, the drug business is a steady one in Peach Trees, and the newest narcotic on the market is Slo-Mo, a drug that causes the brain to experience reality at a fraction of real speed. Slo-Mo's effect becomes horrifying when Ma-Ma's henchmen force the drug on three victims at the start of the film before skinning them alive and dropping them two hundred stories to agonizing deaths in slow motion. After arriving at the crime scene, Dredd and Anderson identify Ma-Ma's role in the murders, and the bulk of the movie follows their gradual and violent ascent up the skyscraper in pursuit of the crime boss.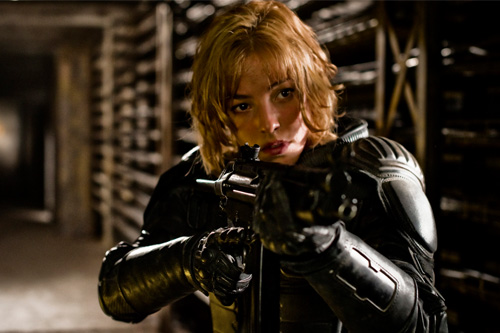 Dredd's unique look translates beautifully onto Blu-ray. Don't be turned away by the graininess. It is surprising, and at first I thought something was wrong with my copy of the movie. After a few minutes, you'll click with the style, and then you won't be able to imagine the film being made in any other way. The movie itself runs about an hour and a half in length, making it slightly shorter than most big screen fare these days. And you know… That slight brevity really works for the movie, helping the overall pacing to feel perfect. Padding and unnecessary length are the bane of many recent films for me (I'm looking at you, Hobbit), and Dredd knows exactly how long it needs to be.
Along with the standard edition of the movie, the Dredd Blu-ray release also includes the 3D version, all on the same disc. There's not a feature length audio commentary, but there are several bonus features to round out the release. The most interesting are two featurettes, each running about fifteen minutes long. The first, "Mega-City Masters: 35 Years of Judge Dredd," is a look back at the origins of Judge Dredd in 2000 AD, complete with interviews with the creators of the character. The second is "Day of Chaos: The Visual Effects of Dredd," giving an intriguing and informative look at how some of the visual trickery in the movie was pulled off, including the outstanding Slo-Mo drug sequences. A few other bonus clips fill out the rest of the Blu-ray's offerings, but each of those runs less than three minutes, with most functioning more as a spoilery trailer than as a bona fide special feature.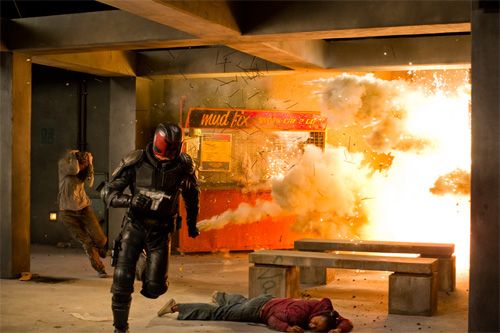 If you saw Sylvester Stallone's much lambasted Judge Dredd adaptation in the '90s, cast it out of your mind. That's not the Judge Dredd from the comics, and that's not what Dredd is. If, on the other hand, you have a nostalgic sweet spot for crazily violent action / sci-fi flicks of the Robocop school, you absolutely need to check this one out. Dredd is a tight and fun thrill ride that never pretends to be anything other than what it is. All pretension is checked at the door, and the resulting movie is one that deserved to do far better than it did (it made only $36.4 million at the box office, on a budget of $45 million). It's a true shame that more theatergoers didn't pay to see Dredd, because this movie is a rare outing deserving of a franchise.
Dredd releases on Blu-ray on January 8, 2013.