Hulu is by far the greatest thing to grace the Internet since that Numa Numa kid. And, luckily for us, it has the single weirdest collection of completely random feature films! Everything from low budget B-movies no one has ever seen to flicks that have fallen into a pop culture abyss, Hulu is filled with a wide array of quality and not-so quality, and I would be lying to say I don't love 'em all. This time we're taking a look at my new favorite movie I can't believe I didn't know existed… Erik The Viking! This movie is awesome! How come you guys never told me about it?!
Erik the Viking was written and directed by Terry Jones in 1989, fourteen years after Jones directed Monty Python and the Holy Grail. There are definitely a lot of similarities between the two films and I would say if you liked Holy Grail, you'll love Erik the Viking. But that doesn't mean if you didn't like Holy Grail, you won't like Erik. I actually feel that Erik the Viking plays a bit more like a Norse version of The Princess Bride than anything Monty Python… but either way, it's one funny movie.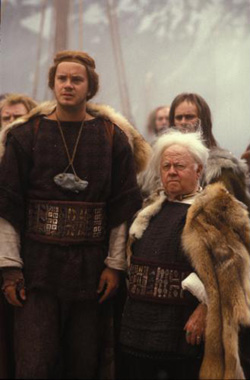 It stars a young Tim Robbins (fresh off the heels of his performance as "Duke" in Bull Durham) in its title role as Erik, who is, indeed, a Viking. This wide variety comedy opens with the inept Erik failing to properly rape and pillage like a good viking should. Unsatisfied with the ways of his people, Erik convinces his men to put an end to the age of Ragnarok, an era in which all men are at war with each other, in which brother kills brother in a neverending time of unrest, where all the land is clouded from the sunlight by Fenrir the Wolf, WHERE MAN WILL DESTROY ALL THERE IS UNTIL NOTHING IS LEFT BU… well, you get the idea. In order to put an end to this dark age, Erik and his men must travel to Asgard (we're all nerds here, I don't have to explain what that is, right?) to plead with the great Norse gods. And many perils stand between Erik and his destiny. What kind of perils, you ask?! FUNNY ONES! Stop asking so many questions! Jeez.
Resounding horns, backstabbing (literal and figurative), the tone-deaf people of Hi-Brasil, cloaks of invincibility, berserkers, a donkey that made me laugh for seemingly no reason, Asian slave masters, sea monsters, a boat with a mouth, the great hall of Valhalla, and even a Christian! — all things you can expect to encounter along this adventure to bring you a good time.
In keeping with his Pythoneous roots, Terry Jones gives the people what we want when John Cleese pops up about a half hour into the movie playing Halfdan the Black (though it's rumored this role was originally supposed to be played by Jack Lemmon but he couldn't do it so Cleese was a last minute phone call… I'm not positive about the validity of that though). Halfdan is an evil leader who is highly enjoying the age of Ragnarok and wants nothing less than for Erik to succeed on his voyage. Hilarity ensues.
Mickey Rooney, Eartha Kitt, Antony Sher (who you might remember as "Dr. Moth" from Shakespeare in Love), an incredibly sexy English actress named Imogen Stubbs, and a large group of incredibly funny folks you've never heard of round out the perfectly cast ensemble.
This is the original U.S. cut of the movie (which I don't think there's a problem with) but apparently Terry Jones was not happy with its somewhat slow pace. Just four years ago, Jones handed the editing reigns over to his son, Bill Jones, for the release of a DVD which is called Erik the Viking: The Director's Son's Cut. That version is apparently only 75 minutes long and features a completely remixed and re-dubbed soundtrack. Having his son Bill re-cut the film is somewhat poetic, being it's based on a children's book that Terry originally wrote for Bill when he was young called The Saga Of Eric the Viking (though, apparently, it's nothing at all like the movie). I've watched this movie on Hulu about 4 times already in 3 days, so I personally can't wait to pick up the DVD.
What it all comes down to is that any movie with a character named Thorfinn Skullsplitter is going to deliver. And for a flick that's 21 years old (this movie can legally drink!) Erik the Viking really holds up. In closing I definitely suggest you head to Hulu and watch this movie right away. I give it 47 and a half bloody axes…. And 2 unbloody ones… out of… oh I dunno, like 50 I guess?
As of now it doesn't have an expiration date! By the power of the gods, GO WATCH!