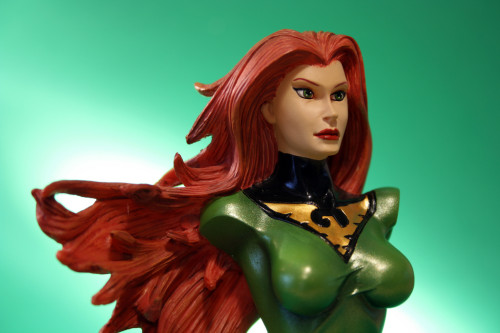 Diamond Select Toys' Marvel Icons line is a series of smaller-scale busts that feature the big name characters of the Marvel Universe. These pieces tend to be a bit hit-or-miss with their likenesses and poses, but some of them have turned out really nicely, especially in consideration of their size. In this photo review, I'm looking at the Jean Grey / Phoenix bust, and I make a surprising discovery along the way.
The Jean Grey bust came out from Diamond Select Toys a few months ago, but I didn't get around to opening and reviewing mine until just today. This bust has a fragile gold scarf waving off Jean's right hip. When I received my first bust, that scarf was broken off in the box, so I had to send it back for a replacement. Some time passed, and eventually the replacement piece came. By then I was in the midst of moving into a new house, so I packed the new bust (after verifying that it was intact) in with the rest of my collection and made the move. Today I delved into unpacking the packed-away statues and found this one. When I went to open the box, I turned it over to check the edition size, and this is what I found: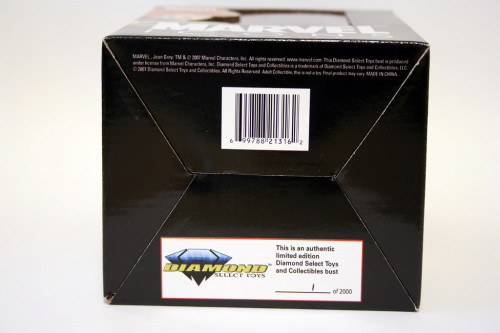 That's right. For the first time ever, I have a #1 edition. Incidentally, this bust is limited to 2000. I've included a shot of the numbered bottom of the bust itself in the Flickr gallery below.
Along with Emma Frost and Elektra, Jean Grey is one of the best looking pieces in this line. Looking straight-on at her face, there's something a little uneven about her eyes, but it's not really noticeable at all when you look at her on display or from other angles. This Jean is in her green Phoenix costume, and I'm a little surprised we didn't see a Dark Phoenix variant made, given that there was an Elektra black costume variant in the same series, as well as a clear diamond variant Emma Frost.
From the top of her head to the bottom of her base, Jean measures approximately 4.25″ tall. Her retail price was $45, and I'd say she's probably worth that, especially in light of the inflated prices some busts of similar or slightly bigger scale are fetching at retail now. You can check out the rest of the photos below or visit the Flickr set:
( Marvel Icons Jean Grey Flickr set )