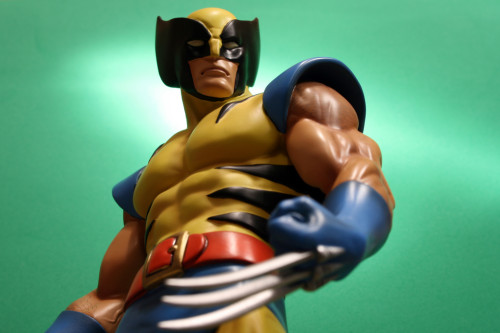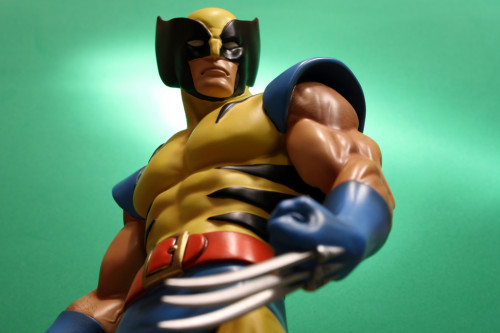 Bowen Designs' Marvel statue line began in 1998, and the company has been pumping out consistently amazing pieces ever since. They're currently in Phase III of their licensing deal with Marvel, and this month sees the release of not one, not two, but SEVEN different Wolverine full-size statues.
The first hitting shelves are the Classic Costume and Brown Costume Museum Style statues. After the jump, I'm taking a look at the Classic Costume version with some photos and info about the piece.
The Wolverine Classic Museum statue comes in three pieces: The main statue, a short circular base, and a taller circular pedestal. The shorter base has holes in it for the pegs in Wolverine's feet. I'm guessing the rationale behind the two bases is that you can opt to display Wolvie on the standard, short "X" base, or you can put that base on top of the taller pedestal to give him a little height and bring him eye-level to your other Bowen pieces. In the comic lore, Wolverine is a short guy, and that translates to the statue with him standing around 10″ head to toe. The base and pedestal give him an extra 2.5″ or so.
Bowen nailed the likeness with this one. From the surly expression to the compact body frame to the popped claws, this is a quintessential Wolverine statue. They even added some nice detailing like the hairs on his arms, and the paint job overall is up to Bowen's usual high standard.
They chose to release a ton of Wolverines all at once, and it would have been pretty easy for them to take the easy way out and differentiate the versions by just changing up the paints. As it turns out, they actually switched up some minor pose details on each of the statues so that they aren't carbon copies of each other. Granted, the Bowen club exclusive version sporting an "X" belt buckle is a bit of a lame excuse for a variant, but for the most part the Wolverine line feels representative and somewhat diverse. This Classic Museum edition features the tigerstripe details as well as the flared blue shoulder pieces that were trademarks of the classic costume and recently became popular again via Joss Whedon's Astonishing X-Men. The adamantium claws have a metallic look and give a nice shine under lights. The first of these statues I opened had one of the right-hand claws broken in the package, so be sure to check him carefully when you make your purchase.
Click the thumbnails to take a look at some shots of the statue below, or browse the full-size images in the Flickr set:
(Bowen Designs Wolverine Classic Museum Statue)