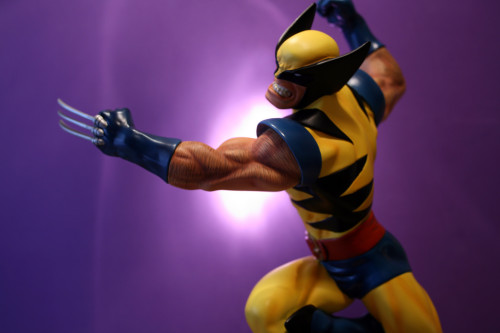 Bowen Designs has been on a roll lately with their Wolverine releases. Over the past few weeks they've unleashed no less than six different limited edition Wolverine statues, not to mention a seventh Bowen Club exclusive statue. I previously reviewed their Wolverine Classic Museum Statue, and now it's time to take a look at their Wolverine Classic Action Statue.
Bowen's statues tend to fall into two categories: "Museum" and "Action," and those classifications are all about the poses. Museum statues usually have the character standing erect, at rest, often in an icon and non-combative pose. The Action statues, on the other hand, are just what they sound like. They have the character leaping into battle or crashing through walls, ready to do some damage. The difference between the two types has never been more evident than with these Wolverine pieces.
I always was a fan of the classic yellow tigerstripe costume for Wolverine, so I went for that version with both of my statues. This action version has Wolverine running up and leaping off a rocky cliff, claws unsheathed and face snarling for blood. This is one of the most dynamic statues I own and is an exciting piece for any Marvel collection.
From the top of his claws to the bottom of the base, this Wolverine statue measures right around 16 inches. The base is a tall rocky precipice with a gnarled tree limb branching off the side. It comes as a separate piece, and it's easy to fit Wolverine onto the top by plugging a metal peg in his foot into a hole in the top of the cliff. Once inserted, the statue stands sturdy and balances well.
The paints on this statue are fantastic, from the shading of Wolverine's muscles in his costume down to the finely detailed hairs on his arms. The claws have a nice metallic look to them and are viciously honed to points that actually feel sharp (although I'm positive you'd snap them off the instant you tried SNIKT'ing anyone).
Overall this is a terrifically made piece, and I can't recommend it highly enough. The Wolverine Classic Action Statue is the best Wolverine collectible Bowen has produced, and it definitely belongs in any X-Men collection. This statue is limited to 1000 pieces and has a retail price of $180.
You can see the rest of the gallery below:
( Bowen Wolverine Classic Action Statue at Flickr )